You are here
US-led strikes on Syria pro-regime forces kill 100 — US official
Tensions between Washington, Damascus escalate over uptick in suspected use of chemical weapons by regime
By AFP - Feb 08,2018 - Last updated at Feb 08,2018
Syrian civlians flee from reported regime air strikes in the rebel-held town of Jisreen, in the besieged Eastern Ghouta region on the outskirts of the capital Damascus, on Thursday (AFP photo)
BEIRUT — The US-led coalition said on Thursday it killed at least 100 pro-regime fighters to fend off an attack on its allies in eastern Syria, in one of its deadliest confrontations yet with forces backing Damascus.
The initial attack was carried out by forces loyal to President Bashar Assad on key oil and gas installations in parts of Deir Ezzor province controlled by US-backed Kurdish forces.
The clash came against a backdrop of escalating tensions between Washington and Damascus over an uptick in the suspected use of chemical weapons by the regime and allied militia.
Meanwhile, regime warplanes rained bombs for a fourth consecutive day on the rebel-held enclave of Eastern Ghouta, outside Damascus, where the death toll soared to 170 since Monday.
According to the US Central Command, coalition advisers were present in the area that was attacked by pro-government forces in Deir Ezzor province late on Wednesday.
"The coalition conducted strikes against attacking forces to repel the act of aggression" against its own personnel and the Kurdish-led Syrian Democratic Forces (SDF) hosting them, it said.
Oil and gas target
"We estimate more than 100 Syrian pro-regime forces were killed while engaging SDF and coalition forces," a US military official said on condition of anonymity.
The SDF and the coalition targeted the attacking forces with air strikes and shelling after "20 to 30 artillery and tank rounds landed within 500 metres of the SDF headquarters location," the official said.
According to the Syrian Observatory for Human Rights, which only confirmed 45 dead among pro-regime forces, the initial attack took place near Khasham.
The head of the Britain-based monitoring group, Rami Abdel Rahman, said the aim of the attack appeared to be the capture of a key oil field and a major gas plant in an SDF-held area.
The Omar Oilfield, one of the biggest in Syria, had a pre-war output of 30,000 barrels per day, while the Conoco Gasfield had a pre-war capacity of 13 million cubic metres a day.
Regime and SDF fighters were involved in several skirmishes in the area last year, as they each conducted parallel operations against some of the Daesh terror group's last bastions.
Damascus and the US-backed Kurdish militia once worked towards the same goal in the region but they were never allied and the death of the Daesh "caliphate" has further strained an already frosty relation.
Syrian state media confirmed that dozens were killed in the clash but appeared to deny the forces were army soldiers, describing the victims as "popular forces".
De-confliction line
According to the observatory, the forces that launched the attack on SDF positions were local tribal fighters loyal to Assad and Afghan Shiite militia fighting alongside the regime.
CENTCOM said the attack occurred 8 kilometres east of the "Euphrates River de-confliction line", referring to a boundary agreed by Russia and the US, with the former's area of operations west of the river and the latter's to its east.
Daesh extremists were flushed out of their last strongholds in eastern Syria and over the border in western Iraq late last year.
But the SDF continues to hunt down surviving militants who have reverted to a clandestine insurgency.
Washington has recently ramped up the rhetoric against Damascus over its alleged use of chemical weapons, including on a number of occasions in January and February.
Chlorine-filled munitions are believed to have been fired several times on rebel-controlled areas, including the enclave of Eastern Ghouta.
Ghouta toll soars
The regime has stepped upped its bombardment of the enclave, which it has been besieging since 2013.
Warplanes dropped bombs for the fourth consecutive day on Thursday, killing at least 22 civilians and wounding dozens, according to the observatory.
The latest bloodshed brought the death toll to more than 170 for the week and left medics completely overwhelmed.
With few bulldozers and precious little fuel to operate them, rescue workers have struggled to reach trapped civilians and are having to work under fire.
"There was a huge, huge escalation against the city. More than one place was reduced to rubble," Abu Mohammad Omar, a 23-year-old rescue worker, told an AFP reporter in the enclave's main town of Douma.
Eastern Ghouta was one of several so-called de-escalation zones agreed last year by three of the main outside players in the conflict — Turkey, Iran and Russia.
Ankara announced on Thursday it would host a new three-way summit to revive efforts to end the war, which has killed at least 340,000 people and displaced millions since 2011.
Related Articles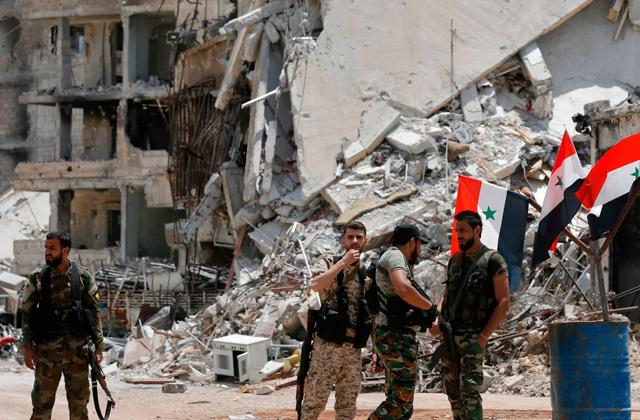 May 24,2018
BEIRUT, Lebanon — A US-led coalition air strike on Syrian army positions overnight killed at least 12 pro-regime fighters in an area where b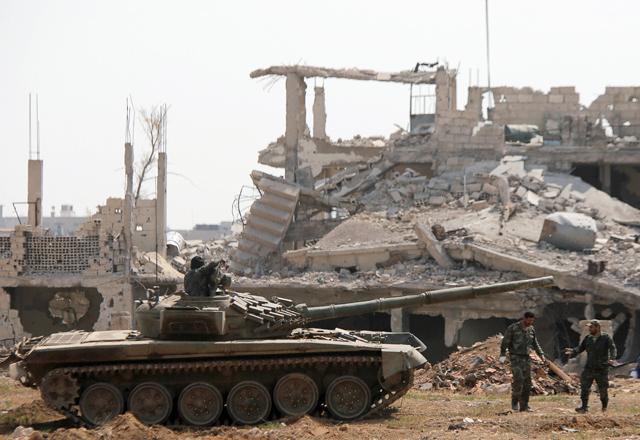 Apr 29,2018
BEIRUT — Rare clashes broke out on Sunday between Syrian regime forces and a US-backed alliance in the east of the country, killing a total
Jun 08,2018
BEIRUT, Lebanon — Daesh militants on Thursday killed at least 17 pro-regime fighters including six soldiers in surprise attacks in southern
Newsletter
Get top stories and blog posts emailed to you each day.