You are here
US-led strike in Syria blocks Daesh extremists evacuated from Lebanon
By AFP - Aug 31,2017 - Last updated at Aug 31,2017
BEIRUT — The US-led coalition carried out an air strike on Wednesday to block Daesh terror group militants evacuated from Lebanon from reaching eastern Syria, its spokesman told AFP.
Hundreds of Daesh extremists and civilians were evacuated Monday from the border region between Lebanon and Syria under a ceasefire deal and were headed to a Daesh-held town near Syria's eastern frontier with Iraq.
"To prevent the convoy from moving further east, we cratered the road and destroyed a small bridge," said coalition spokesman Colonel Ryan Dillon.
The coalition later specified that it "struck individual vehicles and fighters that were clearly identified as Daesh" on a road leading east to the Syrian town of Albukamal on the border with Iraq.
"Daesh is a global threat; relocating terrorists from one place to another for someone else to deal with is not a lasting solution," Dillon said.
The evacuation deal was negotiated between Daesh and powerful Lebanese Shiite movement Hizbollah, which has intervened in the war in neighbouring Syria to prop up the Damascus government.
Hizbollah had fought a week-long offensive against Daesh on the Syrian side of the border with Lebanon, coinciding with a simultaneous assault by Lebanese troops on their side of the frontier.
The battles ended Sunday with the announcement of a deal that would see Daesh forces bussed hundreds of kilometres from Syria's western border with Lebanon to its eastern frontier with Iraq.
Extremists and civilians, including children, left the border region two days ago, but on Wednesday their buses were still held up at the entrance to Deir Ezzor province.
"We know and understand that there are civilians" aboard the buses, Dillon said.
"If we are able to strike them without harming civilians, then we will do so," he said, adding that the coalition was monitoring the convoy's movement in real time.
Asked whether the presence of civilians had prompted the coalition to bomb the road instead of the convoy itself, Dillon said that would be "consistent" with protocol.
'Killed on the battlefield'
The Syrian Observatory for Human Rights told AFP that the buses were in Hmaymah, a Syrian town dozens of kilometres from the Iraqi border.
There was no immediate reaction to the strike from Hizbollah or from Syria's government.
The evacuation agreement had sparked a furious reaction from the United States, which considers Hizbollah to be a "terrorist" organisation.
"Irreconcilable #ISIS [Daesh] terrorists should be killed on the battlefield, not bused across #Syria to the Iraqi border without #Iraq's consent," US presidential envoy to the anti-Daesh coalition Brett McGurk said Wednesday.
"Our @coalition will help ensure that these terrorists can never enter #Iraq or escape from what remains of their dwindling 'caliphate'," he wrote on Twitter.
It was also met with outrage in Iraq, with Prime Minister Haider Al Abadi describing it as "unacceptable" and an "insult to the Iraqi people".
Iraqi forces, who reseized second city Mosul from Daesh in July after a nine-month battle, are fighting the last pocket of militants in the northern province of Nineveh.
The deal was even controversial in Lebanon, where opponents were angry that Daesh militants were travelling "on air-conditioned buses" after having been suspected of killing Lebanese troops.
On Wednesday, Lebanon's president and the chief of the army hailed the "victory" scored against Daesh in the campaign.
"Today, we are announcing Lebanon's victory against terrorism. I dedicate this victory to all Lebanese, who can be proud of their army," President Michel Aoun said at the presidential palace in Baabda, east of Beirut.
After Sunday's deal, Daesh militants who had surrendered led Lebanese authorities to human remains believed to belong to Lebanese soldiers kidnapped by Daesh in 2014.
The Lebanese army had called the fate of the soldiers a "top concern" in its week-long offensive against Daesh.
Related Articles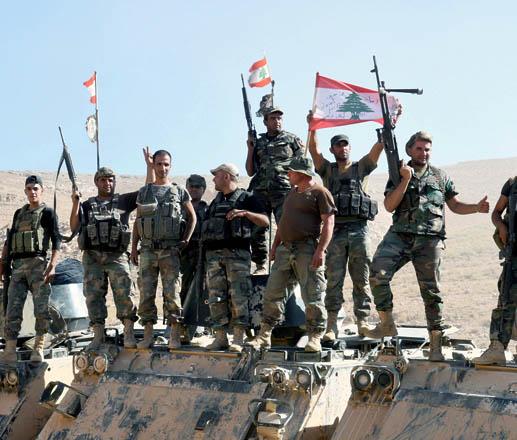 Aug 28,2017
BEIRUT — A convoy of the Daesh terror group extremists and their families began to depart the Lebanon-Syria border zone on Monday under Syri
Jul 31,2017
BEIRUT — Convoys of buses arrived on Monday to transfer thousands of Syrian militants and refugees from Lebanon's border region into rebel t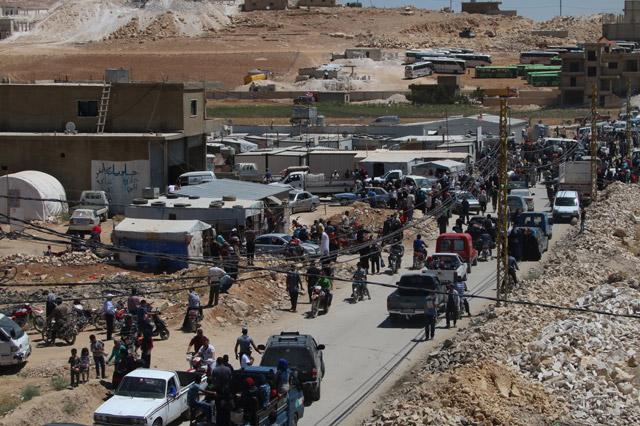 Aug 02,2017
BEIRUT — Buses carrying Syrian militants and refugees left a Lebanese border area bound for a rebel-held part of Syria on Wednesday, under a
Newsletter
Get top stories and blog posts emailed to you each day.