You are here
US envoy to UN will go to Vienna to review Iran nuclear activities — US official
By Reuters - Aug 10,2017 - Last updated at Aug 10,2017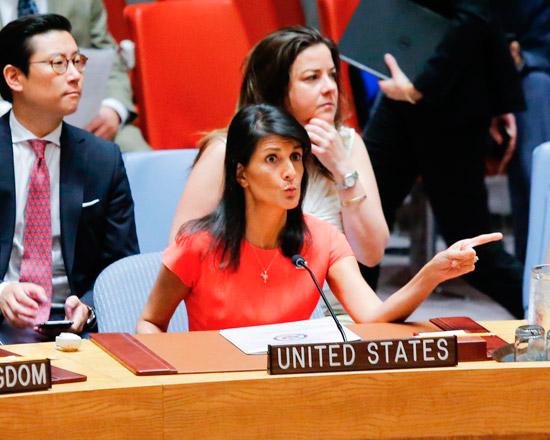 This file photo taken on August 5, 2017 shows US Ambassador to the United Nations Nikki Haley speaking after voting on a US-drafted resolution toughening sanctions on North Korea, at the United Nations Headquarters in New York (AFP photo)
UNITED NATIONS — US Ambassador to the United Nations Nikki Haley will travel to Vienna later this month to discuss Iran's nuclear activities with UN atomic watchdog officials, a US official said on Wednesday, as part of Washington's review of Tehran's compliance with a 2015 nuclear deal.
The official told Reuters that Haley, a member of President Donald Trump's Cabinet, would meet with International Atomic Energy Agency (IAEA) officials and the US delegation in Vienna to further explore the extent of Iran's nuclear activities.
In April, Trump ordered a review of whether a suspension of sanctions on Iran related to the nuclear deal was in the US national security interest. He has dubbed it "the worst deal ever negotiated".
Most UN and western sanctions were lifted 18 months ago under a deal Iran made with world powers to curb its nuclear programme. It is still subject to a UN arms embargo and other restrictions, which are not technically part of the deal.
The IAEA polices restrictions the deal placed on Iran's nuclear activities.
Under US law, the State Department must notify Congress every 90 days of Iran's compliance with the nuclear deal. The next deadline is October and Trump has said he thinks by then the United States will declare Iran to be noncompliant.
The US review of its policy toward Iran is also looking at Tehran's behavior in the Middle East, which Washington has said undermines US interests in Syria, Iraq, Yemen and Lebanon.
"Ambassador Haley has consistently voiced her and the administration's concerns about Iran's illegal missile testing and other harmful actions," said the US official, who requested anonymity.
The United States, Britain, France and Germany have complained several times to the United Nations, most recently last week, about Iran's ballistic missile launches, which they contend are "in defiance" of a 2015 UN resolution enshrining the nuclear agreement.
Under the UN resolution, Iran is "called upon" to refrain from work on ballistic missiles designed to deliver nuclear weapons for up to eight years. Critics of the deal have said the language does not make it obligatory.
The United States imposed sanctions on six subsidiaries of a company key to Iran's ballistic missile programme, a day after Iran's July 27 launch of a rocket that can deliver satellites into orbit.
At the time, Haley said, "The issue with Iran always comes back to mistrust. Iran's widespread support for terrorists tells us we can't trust them. Iran's breaking its obligation on missile testing tells us we can't trust them."
Last week, Trump signed into law additional sanctions on Iran, which Tehran said violate the terms of the nuclear agreement.
Related Articles
Sep 28,2017
UNITED NATIONS — US Ambassador to the United Nations Nikki Haley on Thursday slammed a bid by Russia to shield Iran from inspections by the
Feb 02,2017
DUBAI — Iran's defence minister said on Wednesday it had tested a new missile but this did not breach the Islamic republic's nuclear accord
Jul 29,2017
TEHRAN — A defiant Iran vowed on Saturday to press ahead with its missile programme and condemned new US sanctions, as tensions rise a
Newsletter
Get top stories and blog posts emailed to you each day.