You are here
UN concerned over tens of thousands trapped in Raqqa battle
By AFP - Aug 09,2017 - Last updated at Aug 09,2017
UNITED NATIONS, United States — The United Nations on Wednesday urged those fighting in Syria's Raqqa to remember "obligations to protect civilians", voicing concern over the tens of thousands of people still trapped without access to aid.
An estimated 10,000 to 25,000 people are stuck in the city, the Daesh terror group's main stronghold, said UN spokesman Stephane Dujarric, who noted that "exact figures remain difficult to verify due to the situation on the ground".
"Access to Raqqa is not currently possible for the UN, due to the fighting on the ground," Dujarric said during his daily briefing.
"We remind all military actors of their obligations to protect civilians and ensure humanitarian access, in line with international humanitarian law."
In July humanitarian organisations distributed aid, including food and medications, to some 263,000 people out of at least 46 sites within the Raqqa region, Dujarric said.
The Syrian Democratic Forces, a Kurdish-Arab alliance backed by an international coalition battling Daesh, entered Raqqa city two months ago.
But the force's progress has been hindered by Daesh which is fighting hard to hang on to the de facto Syrian capital of the "caliphate" it self-proclaimed in June 2014.
The SDF is backed by the US-led coalition battling Daesh in Iraq and Syria, which has supplied weapons, air cover and a limited number of troops.
The fight for Raqqa has prompted tens of thousands of civilians to flee, with many wounded by crossfire or Daesh-planted explosive devices during their escape.
Related Articles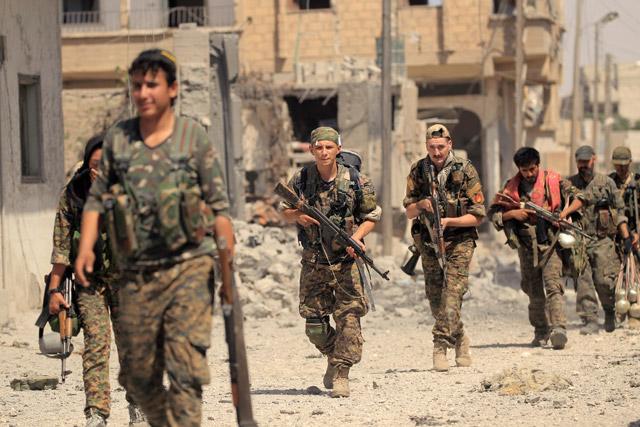 Aug 09,2017
AIN ISSA, Syria — US-backed fighters battling to capture Syria's Raqqa are being slowed by fierce resistance from the Daesh terror group, wh
Jun 13,2017
BEIRUT — US-backed Syrian fighters battling the Daesh terror group pushed closer to the Old City in the extremist stronghold of Raqqa on Mon
Jun 15,2017
BEIRUT — The battle to oust the Daesh terror group from its stronghold of Raqqa is creating daunting challenges for aid groups responding to
Newsletter
Get top stories and blog posts emailed to you each day.