You are here
Turkey, US on collision course over Kurdish role in battle for Syria's Raqqa
By Reuters - Mar 02,2017 - Last updated at Mar 02,2017
This file photo taken on September 2, 2016 shows Turkish soldiers driving back to Turkey from the Syrian-Turkish border town of Jarabulus (AFP photo)
ANKARA/WASHINGTON — Turkey is ruling out compromise with the United States over the involvement of Kurdish militia fighters in an assault in Syria, an obstacle for Washington's plan to deploy its strongest allies on the ground in a decisive showdown with the Daesh terror group.
Donald Trump has made defeating Daesh one of the key goals of his presidency, and his new administration received a draft Pentagon plan on Monday to accelerate the campaign.
Raqqa in Syria, one of Daesh's two de facto capitals along with Mosul in Iraq, is expected to be the scene of the final battle to crush the extremists' self-proclaimed caliphate sometime this year, after a US-backed Iraqi government assault on Mosul already under way since October.
But putting together a united ground force to take Raqqa has so far proven a confounding task in Syria, where the United States, Turkey, Russia, Iran and Arab states have all backed local forces in a multi-sided civil war since 2011. All the foreign powers oppose Daesh, but their Syrian proxies have mainly fought against one another.
Turkey, with the second largest army in NATO, is adamant that Washington should switch support for the planned Raqqa offensive from the Kurdish YPG militia to Syrian rebels Turkey has trained and led against Daesh for the past year.
For the US administration, nervous about whether the Turkish-backed force is large enough and sufficiently trained, the decision sets Trump's wish for quick battlefield victories against the need to maintain its strategic alliance with Turkey.
Ankara views the YPG as the Syrian extension of the Kurdish PKK militant group, which has fought an insurgency in Turkey's southeast since 1984, and is considered a terrorist group by both the United States and European Union.
"Our soldiers will not be fighting together with people who shot us and killed our soldiers and are trying to kill us," one senior Turkish security official, briefed on recent meetings between Turkish and US strategists, told Reuters.
"This message was delivered to the Americans."
President Recep Tayyip Erdogan reinforced the point on Tuesday, saying Turkey "cannot accept" any alliance with the YPG. Prime Minister Binali Yildirim told the ruling AK Party that "working side by side with any terrorist group" was out of the question.
Erdogan, who had an increasingly testy relationship with president Barack Obama, has welcomed Trump's election as a chance for a fresh start. But the two NATO allies appear to be on a collision course over strategy in Syria.
US Army Lieutenant General Stephen Townsend, who commands the US-led coalition effort against Daesh in Iraq and Syria, told a Pentagon news briefing on Tuesday a role for the Kurds was still in Washington's plan.
"There are going to be Kurds assaulting Raqqa for sure," he said. "The number, the size of them, and how many Kurdish units are participating... I can't really say right now."
He said he had seen no evidence linking Washington's Kurdish allies to attacks on Turkey. He did not specifically name the YPG, which fights as part of a US-backed alliance called the Syrian Democratic Forces (SDF) that also includes Arabs.
Turkish officials say the links between the YPG and PKK are beyond dispute and that the group's advances will fuel anti-Kurdish sentiment in predominantly Arab parts of Syria such as Raqqa, and threaten Syria's territorial integrity.
Many alternatives
Turkey entered Syria last August in support of a 3,000-strong force of Free Syrian Army (FSA) rebels, in an operation called Euphrates Shield.
It took Jarablus on the Euphrates River, cleared Daesh militants from a roughly 100 km stretch of the border, then moved south to Al Bab, a strategic town now all but secured after three months of fighting against Daesh.
Turkey's aim was also to stop the YPG from crossing the Euphrates westwards and linking three mainly Kurdish cantons it holds in northern Syria, preventing it from carving out a self-governing territory analogous to Iraq's autonomous Kurdish region. Turkey fears that would embolden its own large Kurdish minority to try to forge a similar territory inside Turkey.
One plan Ankara has presented to Washington would have a Turkish-led FSA force of around 10,000 push south to Raqqa from the YPG-held border town of Tal Abyad. That would roll back YPG gains and separate two of the Kurdish-dominated cantons.
Washington has so far been non-committal.
"We told them there are many alternatives for Raqqa and they didn't disagree," said one Turkish official familiar with the talks. "They said 'we understand your sensitivities, we don't recognise their [YPG] territorial ambitions'."
Turkey and its Syrian rebel force was "ready at any time to do Raqqa, after clearing Al Bab", the official said.
A second senior Turkish official, exasperated at US willingness to work with a NATO ally's enemy, said some in Washington argued they had already invested too much in the YPG to pull out. But he said military planning was still under way and US generals had "taken all this [Turkish] feedback back to Washington."
Local control
Turkey says it has another 7,000 trained Syrian rebels ready on top of the 3,000-strong force active in Euphrates Shield, to which Arab fighters from the US-backed SDF would be welcome.
"We told them we have enough forces, enough FSA. Your generals can see them with their own eyes," the first Turkish official said of the discussions with US counterparts. "Everything needed militarily was concretely explained. They were briefed on the numbers, the strategy and the map."
One possible compromise solution may be that the force that assaults Raqqa, potentially including the YPG, quickly withdraws and turns the city over to local control, including the largely Arab forces backed by Turkey.
"I'm not really sure it really matters what the composition is of the force that goes there to liberate it," said Townsend, the US commander. "What matters really in my mind is the composition of the force that stays there and governs and secures Raqqa after it's liberated from ISIS [Daesh]."
A similar agreement in Manbij, some 120 km northwest of Raqqa, quickly broke down. The YPG helped capture the city from Daesh last year in a US-backed campaign operating under the SDF umbrella, on the understanding with Turkey that it would then withdraw.
Turkey says the YPG remains in the city, and the Turkish army and allied Syrian rebels attacked nearby villages held by the Kurdish militia on Wednesday, a spokesman for the local authorities in the city said.
Turkish officials fear their increasingly warm ties with Russia, one of the main sponsors of Syrian President Bashar Assad, could also complicate their efforts to deepen battlefield alliances with the United States. The Euphrates Shield operation at one point had Russian air support in the fight for Al Bab.
Turkey and Russia sponsored a fragile ceasefire and recent talks between the Syrian government and opposition in Kazakhstan — from which the US was excluded.
But a senior Turkish official said cooperation with Russia was a reflection of the "realities on the ground" rather than a strategic choice, and partly a result of the lack of US support for the Syrian opposition.
"If Obama had not abandoned the Syrian opposition psychologically, politically and militarily, then maybe there would be no Russian military presence," the official said.
Related Articles
Jun 05,2017
ANKARA — The battle to capture the Daesh terror group's Syrian bastion Raqqa started two days ago, Turkey's Prime Minister Binali Yildirim s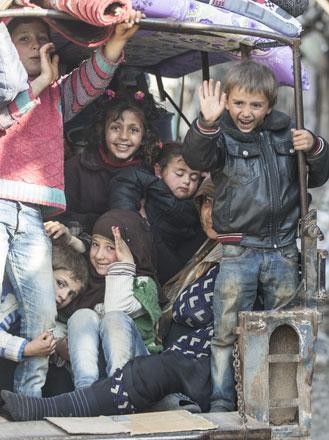 Mar 06,2017
BEIRUT — US-backed Syrian militias cut the last main road out of Daesh-held Raqqa on Monday, severing the highway between the group's de fac
May 16,2017
BEIRUT — The US-backed Syrian Democratic Forces (SDF) militia is set to lead the fight for the Daesh terror group's bastion of Raqqa, but it
Newsletter
Get top stories and blog posts emailed to you each day.