You are here
Turkey says only 100 extremists left in Daesh-held Syria battleground
By AFP - Feb 22,2017 - Last updated at Feb 22,2017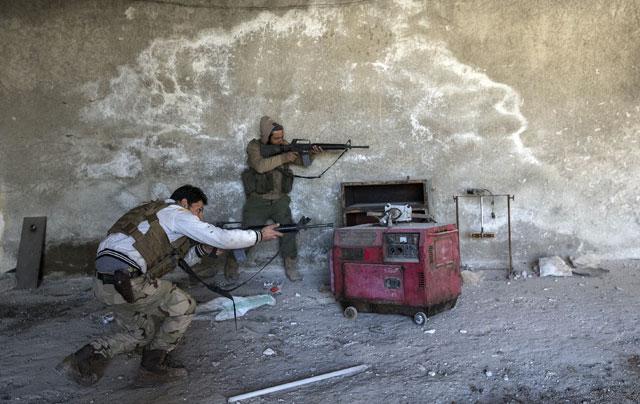 Free Syrian Army members, supported by the Turkish armed forces, clash with Daesh terrorists in Al Bab town of Aleppo during the 183rd day of the operation 'Euphrates Shield' in Aleppo, Syria, on Wednesday (Anadolu Agency photo)
ISTANBUL — Turkey said on Wednesday fewer than 100 extremists were still holed up in the flashpoint Daesh terror group Syrian town of Al Bab, as rebel commanders predicted its capture was imminent.
The fight for Al Bab has seen the bloodiest clashes of Ankara's half-year campaign inside the conflict-torn country and its capture would be one of the most significant reverses for Daesh in Syria.
Speaking to NTV television, Defence Minister Fikri Isik said half of the town of Al Bab was in the hands of Turkish troops and allied pro-Ankara Syrian rebels, after the government repeatedly said it was "largely under control".
"We estimate there are less than 100" Daesh militants left in Al Bab, Isik told NTV. "But they are very dangerous people. Some are snipers, some are potential suicide bombers."
He said the operation to surround Al Bab was "over" with troops now moving from district-to-district to "clean up" the town.
"Until this clean-up inside is completed, it's impossible to say that our work is over," he added.
'Victory in days'
Rebel commanders on the ground told AFP reporters in Syria their forces were facing fierce resistance, with Daesh using snipers and laying roadside bombs.
"We control more than 60 per cent of Al Bab and we will continue until all the town is captured," Saif Abu Bakr, commander of the Al Hamza rebel group told AFP. "We will win the battle at any cost... in the next days, God willing."
He could not say how many extremists were left inside Al Bab but said they were "in a state of collapse".
Mohammad Al Jassem, of the rebel group Jabha Shamiya, added: "We have taken over most of the neighbourhoods of Al Bab, thank God, and I do not think that taking over the entire town will take us long."
An AFP TV reporter saw the pro-Ankara rebels, protected with just light flak jackets, combing through the ruins on the outskirts of the city on foot and in pick-ups, sometimes opening fire towards the extremists.
But Rami Abdel Rahman, head of the Syrian Observatory for Human Rights, told AFP in Beirut that Turkish troops and allied rebels controlled only 25 per cent of Al Bab, with some 700 extremists still fighting there.
Since launching its unprecedented incursion into Syria in August, Turkey has been focusing on Al Bab as the last bastion of Daesh extremists in Aleppo province.
But the battle for the town has been fierce, with most of the 69 Turkish soldiers killed in the Syria campaign dying there.
Civilians 'in grave jeopardy'
The Britain-based observatory has also accused Turkish forces of killing more than 124 civilians in two weeks of air strikes and shelling.
But Ankara has vigorously denied claims that innocent lives have been lost, insisting it does its best to avoid civilian casualties.
The resident and regional UN humanitarian coordinators for Syria said in a joint statement that the United Nations was "deeply concerned" over the fate of some 5,000 civilians trapped in and around Al Bab.
"The conflict in Al Bab has put civilians, many of whom are women and children, in grave jeopardy," said Kevin Kennedy, regional coordinator for the Syria crisis.
The statement expressed concern over the possibility of street fighting inside Al Bab as the battle reaches an endgame "which could place civilians in the area at heightened risk of death and injury".
Turkey has repeatedly said after Al Bab it wants to move onto the de-facto extremist capital of Raqqa to the west and has expressed enthusiasm for a joint operation with partners including the United States to capture the city.
Turkish chief of staff Hulusi Akar held talks with his US counterpart Joseph Dunford last week while US Senator John McCain discussed Raqa with on Monday with President Recep Tayyip Erdogan in Ankara.
"We have the opportunity, we have the power to do this," presidential spokesman Ibrahim Kalin told reporters.
But Turkey is insistent that any Raqa operation must not involve Kurdish militia, who until now have been the main allies of the United States on the ground in the fight against Daesh.
Isik said the new administration of US President Donald Trump "was listening more attentively" to Turkey than the previous team of his predecessor Barack Obama on this.
Related Articles
Feb 23,2017
ISTANBUL — The Syrian town of Al Bab was for three years a key extremist stronghold in northern Syria, whose capture Ankara hopes will give
Feb 23,2017
AL BAB, Syria — Turkish-backed Syrian rebels said on Thursday they had fully captured the town of Al Bab from the Daesh terror group, markin
Dec 27,2016
ANKARA — Turkish President Recep Tayyip Erdogan on Tuesday said the West was breaking promises in Syria, accusing Ankara's partners of backi
Newsletter
Get top stories and blog posts emailed to you each day.