You are here
Turkey bolsters military presence in Syria's Idlib province
By AFP - Sep 17,2018 - Last updated at Sep 17,2018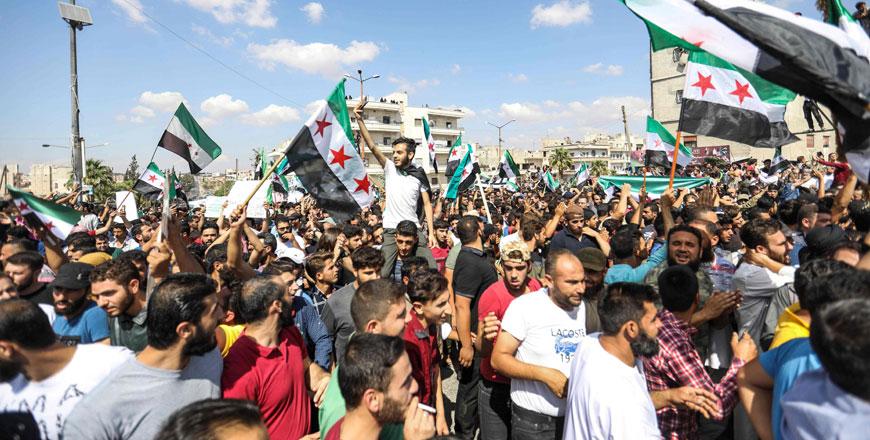 Syrians from the rebel-held northern city of Idlib and its surrounding towns wave the flag of the opposition and chant slogans as they gather for an anti-government demonstration in a main square in Idlib on Friday (AFP photo)
ISTANBUL — Turkey's military has sent its most significant batch of reinforcements to the north-western Syrian province of Idlib in weeks, reports said on Monday, as Ankara seeks to prevent a Moscow-backed assault by forces of President Bashar Assad.
The reports came as President Recep Tayyip Erdogan prepared to meet his Russian counterpart Vladimir Putin in Sochi in a new bid to warn the Kremlin against seeking to take rebel-held Idlib by force.
Under a deal agreed with Russia, Turkey has already set up 12 so-called observation points inside Idlib aimed at monitoring a de-escalation of violence.
The Hurriyet daily said the reinforcements included tanks and other military hardware accompanied by a convoy of some 50 military vehicles.
They were sent over the border on Sunday to the Turkish observation point of Jisr Al Shugur in the south-west of Idlib province.
It was the latest move in recent days by Turkey to shore up one of its observation points but Hurriyet said it was the most significant sent in the current spike in tensions.
Idlib is seen as the last stronghold of armed opposition to Assad after Syria's over seven-year civil war. But some 60 per cent of its territory is controlled by the Hayat Tahrir Al Sham (HTS) terorist group, regarded as a successor to the former branch of Al Qaeda in Syria.
Erdogan has repeatedly warned that an offensive by the regime to retake Idlib would lead to a humanitarian catastrophe and send a new wave of refugees towards Turkey.
In comments published in the Turkish press on Monday, Erdogan warned that the consequences of an offensive on Idlib would be "heavy".
Turkey and Russia in theory are on opposing sides in the Syrian war with Ankara backing rebels seeking the ouster of Assad, while Moscow and Tehran are the president's key allies.
In the last months Turkey and Russia have worked closely together in a bid to bring peace to Syria but analysts say the tensions over Idlib risk testing the alliance.
Related Articles
Aug 30,2018
ANKARA — Iranian Foreign Minister Mohammad Javad Zarif was on Wednesday holding previously unannounced talks with President Recep Tayyip Erd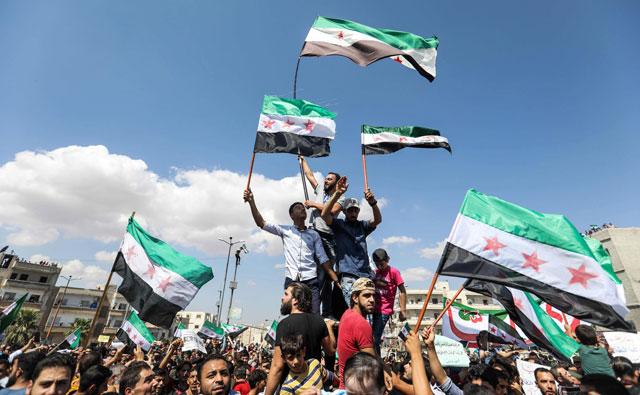 Sep 16,2018
ISTANBUL — Disagreement between Turkey and Russia over how to tackle the Syrian rebel stronghold of Idlib seems to have deferred a looming r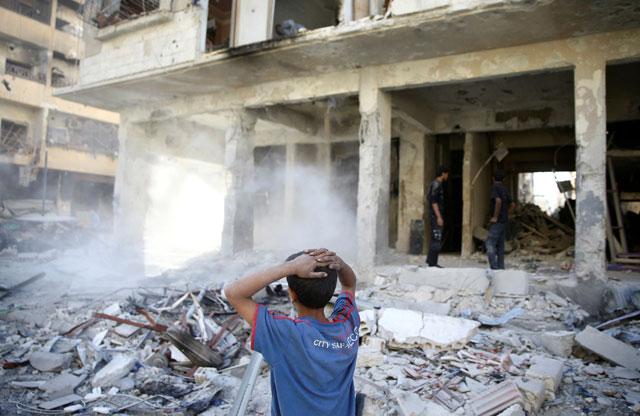 Oct 08,2017
ISTANBUL — Turkish President Recep Tayyip Erdogan on Saturday announced pro-Ankara Syrian rebels were launching a new military operation in
Newsletter
Get top stories and blog posts emailed to you each day.