You are here
Trump slams NY Times for 'foiling' bid to capture Daesh chief
American forces at one point came 'particularly close' to Baghdadi after a 2015 raid — US military official
By AFP - Jul 22,2017 - Last updated at Jul 22,2017
Members of the Counter Terrorism Service inspect a house in west Mosul, Iraq, on Thursday (Reuters photo)
WASHINGTON — President Donald Trump on Saturday attacked The New York Times and its "sick agenda", alleging that one of the paper's reports thwarted a US bid to take out the Daesh terror group chief Abu Bakr Al Baghdadi.
"The Failing New York Times foiled US attempt to kill the single most wanted terrorist, Al Baghdadi. Their sick agenda over National Security," Trump wrote in one of a barrage of early morning tweets.
Trump did not expand on his charge against The Times, or explain what revelation by the daily is supposed to have hampered Baghdadi's capture.
The New York Times told the Politico news site in a statement: "We have asked the White House to clarify the tweet."
US media suggested that Trump may have been referring to a Fox News report about comments made by a top general at a security conference on Friday in Aspen, Colorado.
At that gathering, General Tony Thomas — head of the US military's Special Operations Command — reportedly said that American forces at one point came "particularly close" to Baghdadi after a 2015 raid recovered information about the Daesh group.
Fox News reported that Thomas said US troops had "a very good lead", on the Daesh leader's whereabouts.
"Unfortunately, it was leaked in a prominent national newspaper about a week later and that lead went dead," Thomas reportedly said at the forum.
US Secretary of Defence James Mattis said on Friday that he believes Baghdadi is still alive, following various claims in recent months that he has been killed.
"We are going after him, but we assume he is alive," the Pentagon chief said.
There have been persistent rumours that Baghdadi has died in recent months.
With a $25 million US bounty on his head, Baghdadi has kept a low profile but is rumoured to move regularly throughout Daesh-held territory in Iraq and Syria.
The Iraqi — nicknamed "The Ghost" — has not been seen since making his only known public appearance as "caliph" in 2014 at the Grand Mosque of Al Nuri in Mosul, which was destroyed in the battle for Iraq's second city.
The Times has become a favorite Trump target despite his penchant for reaching out to the daily, including this week, when he gave its reporters a major interview in which he criticised his own Attorney General Jeff Sessions.
In Saturday's tweetstorm, Trump railed against The Washington Post, which is owned by Amazon founder Jeff Bezos, for its "illegal leaks".
"A new INTELLIGENCE LEAK from the Amazon Washington Post, this time against A.G. Jeff Sessions," he wrote on Twitter, adding "These illegal leaks... must stop!"
He also groused about some of his favorite targets: the failure of US lawmakers to repeal "dead" Obamacare, Democratic "obstructionists" and alleged "ties to Russia" by Hillary Clinton, his defeated opponent in last year's presidential election.
Related Articles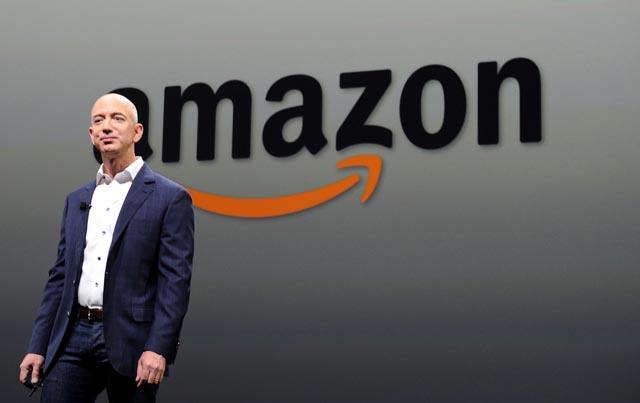 Jun 17,2014
Amazon's mystery unveiling Wednesday is widely expected to be a smartphone, which if managed well could shake up the market and boost the US online giant as a device maker.
Dec 11,2016
WASHINGTON — President-elect Donald Trump dismissed a brewing storm over Russian cyber meddling in the US election, rejecting as "ridiculous
Mar 12,2018
SAN FRANCISCO — Jeff Bezos is officially the richest person on the planet thanks to the success of Amazon — but his bold vision extends to s
Newsletter
Get top stories and blog posts emailed to you each day.