You are here
Trump eyes Supreme Court after appeals court rejects travel ban
By Reuters - Jun 13,2017 - Last updated at Jun 13,2017
This file photo taken on February 8 shows Yemenis, who were among those stranded in Djibouti when US President Donald Trump ordered his travel ban, arrive to Los Angeles International Airport in Los Angeles, California (AFP photo)
WASHINGTON — US President Donald Trump on Tuesday criticized a federal appeals court one day after it handed him another legal setback by refusing to revive his US travel ban on people from six Muslim-majority nations, and appeared poised for the nation's top court to weigh in.
On Monday, the San Francisco-based 9th US Circuit Court of Appeals became the second federal appeals court to reject the Republican Trump administration's bid to undo a Hawaii federal judge's decision that blocked the temporary travel ban in a dispute headed to the US Supreme Court.
The three-judge panel said Trump's March 6 order violated existing immigration law, but did not address whether it was unconstitutional discrimination against Muslims.
Trump's 90-day ban targets travellers from Libya, Iran, Somalia, Sudan, Syria and Yemen.
"Well, as predicted, the 9th Circuit did it again — Ruled against the TRAVEL BAN at such a dangerous time in the history of our country. S.C." Trump said in a post on Twitter, apparently referencing the US Supreme Court.
The nation's top court, which leans conservative after Trump's appointee won confirmation as the ninth justice earlier this year, could act as soon as this week on his administration's request to reinstate the order.
The 9th Circuit, headed by Democratic appointees, largely left in place a nationwide injunction by Judge Derrick Watson of Hawaii that stopped parts of the order, which Trump contends is needed to prevent terrorism in the United States.
Those who have challenged the travel ban dispute that it is needed to protect Americans and argue that the order violates the US Constitution's bar against favoring or disfavouring a particular religion.
Another appeals court, the Richmond, Virginia-based 4th US Circuit Court of Appeals, last month upheld a Maryland judge's ruling that also blocked Trump's ban.
Trump has been on the losing side in all four court rulings on the March order and has asked the US Supreme Court for an emergency review.
In a statement on Monday, US Attorney General Sessions said Trump's executive order was lawful and that the court rulings have had a "chilling effect" on security operations.
Related Articles
Jun 13,2017
SAN FRANCISCO/WASHINGTON — A California-based federal appeals court on Monday dealt President Donald Trump another setback, refusing to revi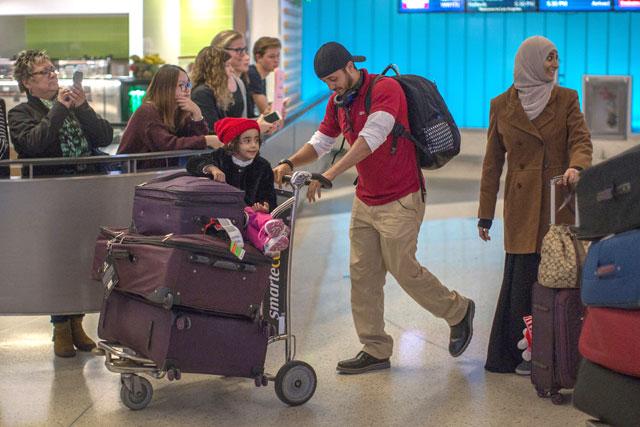 Feb 11,2017
PALM BEACH, Florida/WASHINGTON — US President Donald Trump is considering issuing a new executive order banning citizens of certain countrie
Dec 24,2017
WASHINGTON — A federal judge in Seattle partially blocked US President Donald Trump's newest restrictions on refugee admissions on Saturday,
Newsletter
Get top stories and blog posts emailed to you each day.