You are here
Truce in Syria's Homs province after safe zone agreed
By AFP - Aug 04,2017 - Last updated at Aug 04,2017
A Syrian rebel fighter poses for a picture with a Kalashnikov assault rifle while sitting in a fortified position in the central Syrian rebel-held town of Talbiseh, north of Homs, on Thursday (AFP photo)
BEIRUT — A ceasefire between government forces and rebels went into effect in part of central Syria on Thursday after Russia struck a deal with the opposition on a safe zone.
The zone in northern parts of Homs province is the third to be established in Syria, which has been ravaged by six years of civil war that have left more than 300,000 people dead.
"From 1200 local time [0900 GMT], units of the moderate opposition and government forces will completely stop firing," Russian defence ministry spokesman Igor Konashenkov said.
Konashenkov said Moscow and Syrian opposition groups had reached an agreement on the "operational details" of a "de-escalation zone" north of third city Homs at talks in Cairo on July 31. Moscow has been behind a push to pacify Syria since the start of this year, after tipping the conflict in favour of the regime with its game-changing military intervention in 2015.
Under a plan hammered out in May between Russia, Turkey and Iran at peace talks in Kazakhstan, four "de-escalation zones" were to be established across swathes of Syria.
Last month, Moscow announced the establishment of the first two zones in southern Syria and in the rebel stronghold of Eastern Ghouta near Damascus.
The zone in Homs province is expected to cover towns around Talbisseh, Al Houla and Rastan.
The fourth zone, in northwestern Idlib province, has yet to be established.
'No violations'
Mustafa Khaled, an activist in Talbisseh, told AFP that representatives of the towns were consulted on the deal.
"It is quiet. There have been no violations in the first hour of the agreement," Khaled said.
"But word in the street is that people don't trust the regime or the Russians," he added.
Al Houla too was calm, resident Abbas Abu Osama said.
"There had been escalating bombardment of the town with air planes and artillery. But we haven't heard a single gunshot from the checkpoints around us today," he said.
There was no official announcement from Syria's armed forces, which had issued its own declarations of the ceasefires in the south and in Eastern Ghouta last month.
According to the Russian defence ministry, Russian military police will set up two checkpoints and three observation posts along the boundaries of the Homs zone on Friday.
Rebels have agreed to "unblock" part of a road running through the safe zone between Homs and the city of Hama further north, spokesman Konashenkov said.
A "Committee for National Justice" made up of rebels and local groups would help oversee the implementation of the plan, he added.
Moscow has also deployed military police in the southern ceasefire zone, created after Russia struck a deal with Jordan and the United States last month.
Under a second agreement sealed with rebels in July, Russian forces set up two checkpoints and four observation posts in the rebel enclave of Eastern Ghouta.
Negotiations on the Idlib zone have been complicated by conflicting interests between the international powers and by the presence of large numbers of fighters of former Al Qaeda affiliate the Fateh Al Sham Front.
Russia is planning a fresh round of talks in the Kazakh capital Astana in late August to thrash out more details of its peace plan.
Both Russia and a US-led coalition have been carrying out bombing campaigns against areas of Syria still controlled by the Daesh terror group that have exacted a mounting civilian toll.
Separate raids by Russia and the coalition left at least 40 civilians dead on Wednesday, the Syrian Observatory for Human Rights said.
Coalition strikes on Daesh's embattled bastion of Raqa left 26 civilians dead, the Britain-based watchdog said.
Russian raids on a Daesh-controlled town in the eastern province of Deir Ezzor left 15 civilians, including five children dead, it added.
Related Articles
Aug 10,2017
BEIRUT — Syrian government bombardment on two areas included in fragile "de-escalation zones" in the country killed four people on Thursday,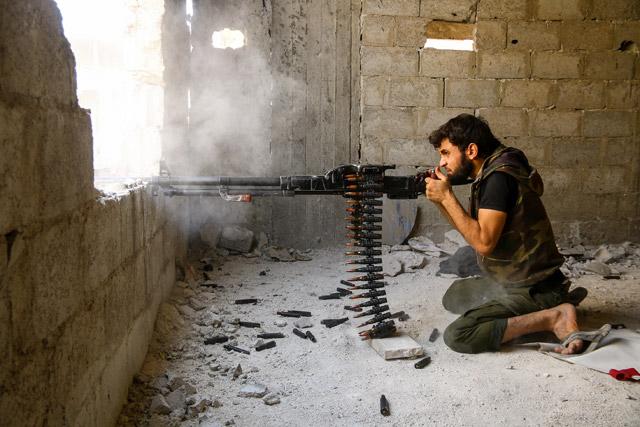 Jul 25,2017
MOSCOW — Russia has deployed military police to monitor two safe zones being established in Syria, it was announced on Monday, with official
Sep 17,2017
DAR AL KABIRAH, Syria — At a mobile medical clinic in central Syria's Homs province, a Russian doctor takes an elderly woman's blood p
Newsletter
Get top stories and blog posts emailed to you each day.