You are here
Tougher fighting, more suicide attacks as Daesh hits back in Mosul
Bodies of 50 people shot by Daesh had been recovered from street in Al Zinjili
By AFP - Jul 03,2017 - Last updated at Jul 03,2017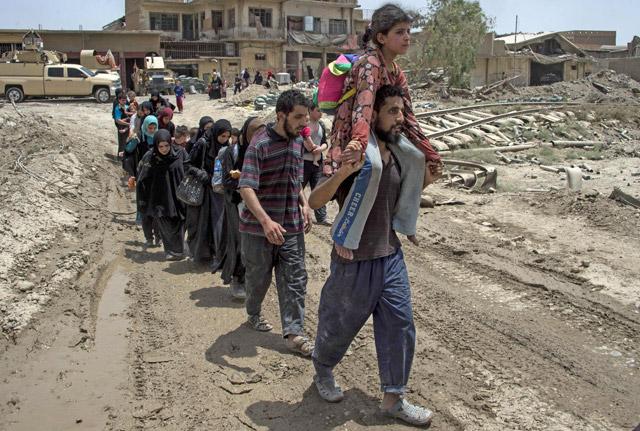 Iraqi civilians flee the Old City of Mosul on Monday, during the government forces' ongoing offensive to retake the city from Daesh group militants. Iraqi forces have been closing in on the Old City in west Mosul for months, but the terrain combined with a large civilian population has made for an extremely difficult fight (AFP photo)
MOSUL, Iraq — Iraqi forces are facing increasingly difficult fighting and a rising number of suicide bombings in the final stages of the battle for Mosul, senior commanders said on Monday.
Following recent suicide bombings by two girls, security forces in the Old City were seen ordering civilians to remove some of their clothing before approaching to guard against the threat.
More than eight months since the start of the operation to retake Mosul from the Daesh terror group, the extremists have gone from fully controlling the city to holding a limited area on its western side, but resistance is still tough.
"The fighting is becoming harder every day because of the nature of the Old City," Staff Lieutenant General Abdulghani Al Assadi, a commander in the elite Counter-Terrorism Service (CTS), said of the area of narrow streets and closely spaced buildings where the end of the battle for Mosul is unfolding.
Iraqi forces have been closing in on the Old City in west Mosul for months, but the terrain combined with a large civilian population has made for an extremely difficult fight.
The same conditions that aid extremist defences also serve to shield Iraqi forces from snipers, Assadi said, and "our losses are not to the level that would prevent us from advancing".
Staff Lieutenant General Sami Al Aridhi, another top CTS commander, said Daesh had increased the number of suicide attacks it is carrying out.
"The enemy has been using suicide bombers, especially women, for the past three days in some of the neighbourhoods. Before that, they were using snipers and bombs more," said Aridhi.
"There are still at least 200 fighters from the [Daesh] organisation" in Mosul, most of them foreigners, he said
"The battle will end in five days to a week."
CTS forces in the old City ordered fleeing civilians to remove some articles of clothing before approaching on Monday in an effort to detect suicide bombers.
Men were told to remove their shirts, while women had to take off veils covering their faces and hair, and flowing abaya robes.
The measure followed two recent suicide bombings — one by a 14-year-old girl and another by a 12-year-old that killed three members of CTS, soldiers said.
Brigadier General Mohammed Al Jawari, the head of civil defence in Nineveh province, of which Mosul is the capital, said the bodies of 50 people shot by Daesh had been recovered from a street in Al Zinjili area in west Mosul.
The recovery of the bodies began on Sunday, following the recapture of a nearby medical complex in which Daesh had placed snipers who fired on the civilians, Jawari said.
Civilians fleeing the fighting are receiving treatment at a makeshift clinic in Mosul.
"People come from the old city of Mosul, where fierce fighting is taking place. They're running away from [Daesh], running away from death, hunger and fear," said Nazar Salih, a doctor at the clinic.
Shahed Omar, a 20-year-old who fled the old city, pointed to two children at the clinic.
"This one's father was killed, and that girl there, her father was killed as well," Omar said.
Security forces have made significant progress since launching a renewed assault on the old city on June 18.
But the impending end of the battle has given rise to the latest round of inter-service rivalry over who gets to declare it over.
A statement attributed to the federal police chief circulated on Sunday, feting "their victory... which was achieved in the territory of Mosul", while police forces in the city celebrated with a band, flags and dancing.
But police commander Lieutenant General Raed Shakir Jawdat later said that while the mission of the federal police was over, other forces were still fighting and an announcement of victory would be made later by the Iraqi premier.
Iraq's Joint Operations Command (JOC) on Monday said that the federal police were still fighting and had not captured all of their objectives.
"Federal police forces continue to fight fierce battles... on the southern front and are advancing toward their targets," the JOC said.
Daesh overran large areas north and west of Baghdad in 2014, but Iraqi forces backed by US-led coalition air strikes have since regained much of the territory they lost.
The recapture of Mosul will not however mark the end of the war against Daesh.
The militant group holds territory elsewhere in Iraq as well as in neighbouring Syria, and has been able to carry out attacks in government-held areas.
Related Articles
Mar 22,2017
MOSUL — The Daesh terror group militants shelled areas recaptured by Iraqi forces in western Mosul, hitting civilians fleeing the fighting e
Jan 22,2017
MOSUL, Iraq — Iraqi forces used to facing deserted, explosives-rigged streets and booby-trapped buildings have not encountered as many bombs
May 14,2017
BAGHDAD — US-backed Iraqi forces pushed deeper into the last pocket of Mosul controlled by the Daesh terror group militants on Sunday as the
Newsletter
Get top stories and blog posts emailed to you each day.