You are here
Time is Netanyahu's ally in weathering Israel legal storm
By Reuters - Aug 10,2017 - Last updated at Aug 10,2017
OCCUPIED JERUSALEM — Israeli Prime Minister Benjamin Netanyahu has described the din of criminal investigations around him as "background noise" and dismissed speculation he will be forced to resign by saying simply on Facebook: "Won't happen." He might just be right.
At the moment time appears to be on Netanyahu's side and — unlike his predecessor Ehud Olmert, who quit and later went to jail for corruption — he leads a relatively stable coalition government and presides over a buoyant economy.
While a former top aide has agreed to testify about two corruption cases in which Netanyahu has been named as a suspect, the prime minister is not required by law to step down even if indicted. Any reckoning may be months away, possibly even allowing him to hold on till elections due in 2019.
Two clocks are ticking for Netanyahu — those of the judiciary and of politics — but they tend to do so slowly, according to Yohanan Plesner, president of the non-partisan Israel Democracy Institute think tank.
This works in favour of Netanyahu's standing. "Over the next year there is certainly no reason to see a change," he told Reuters. However, like other observers, Plesner added the proviso that his assessment was based on the few details of the police inquiries that are publicly known.
Netanyahu's conservative Likud Party has rallied behind him in the absence of clear rivals for the leadership, countering calls for his departure from the centre-left opposition. Likud's religious-nationalist coalition partners, seeing no threat to their agenda, are likewise sticking with him for now.
So far the most potentially combustible development has been a decision last week by Netanyahu's former chief of staff, Ari Harow, to provide evidence in inquiries into the two cases.
The so-called Case 1000 involves gifts that the prime minister and his family received from businessmen, while Case 2000 deals with alleged efforts by him to secure better coverage from an Israeli newspaper publisher.
Netanyahu — who has been prime minister for 11 years, spread over four terms — has denied any wrongdoing. Without naming him explicitly, police investigators have said they saw in the two cases grounds for charges of bribery, fraud and breach of trust.
Similar felony allegations forced Olmert to announce in 2008 he would resign, leading to early elections the following year which brought Netanyahu back to power.
Israeli commentators seized on the similarities, with one TV opinion poll finding that 51 per cent disbelieved Netanyahu's assertion that he was the target of a politicised witch-hunt.
Olmert headed a weakened coalition and was trying to advance a peace deal with the Palestinians in the face of right-wing resistance when he quit. After lengthy legal cases, he finally went to prison last year but was freed on parole last month.
Some caution against hasty comparisons. "I think it is too early to draw conclusions, and that the media festival has been overblown," said Moshe Negbi, legal analyst for national broadcaster Israel Radio. He predicted that any decision to indict Netanyahu could take as much as six months as investigators seek evidence at home and abroad.
Thereafter, as is customary in Israel with defendants in senior positions, Netanyahu would be likely to be granted a similar period in which to ask the attorney-general to reconsider the filing of charges.
If Netanyahu completes his current term to 2019, he will become Israel's longest-serving prime minister, exceeding the country's founding leader David Ben-Gurion.
Related Articles
Mar 30,2015
A Jerusalem court found former Israeli premier Ehud Olmert guilty of corruption Monday in a retrial of allegations he received envelopes of cash from a US businessman, the verdict read.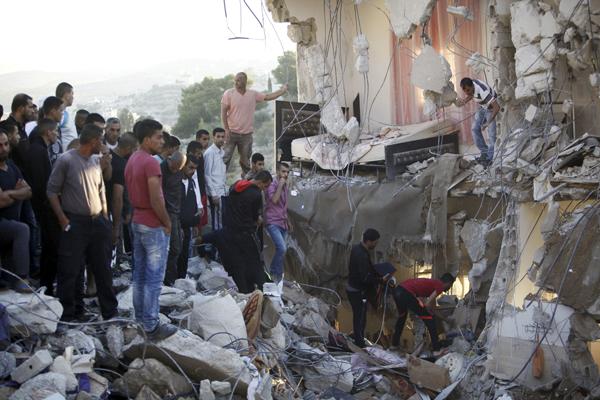 Jul 27,2016
OCCUPIED JERUSALEM — Israeli Prime Minister Benjamin Netanyahu has defended his leadership in the build-up to the 2014 war in Gaza after pro
Jan 26,2014
Israeli Prime Minister Benjamin Netanyahu was under fire Sunday from religious lawmakers following a report that his son was dating a non-Jewish woman, media said.
Newsletter
Get top stories and blog posts emailed to you each day.