You are here
Three dead as renewed clashes hit Lebanon Palestinian camp
By AFP - Sep 09,2023 - Last updated at Sep 09,2023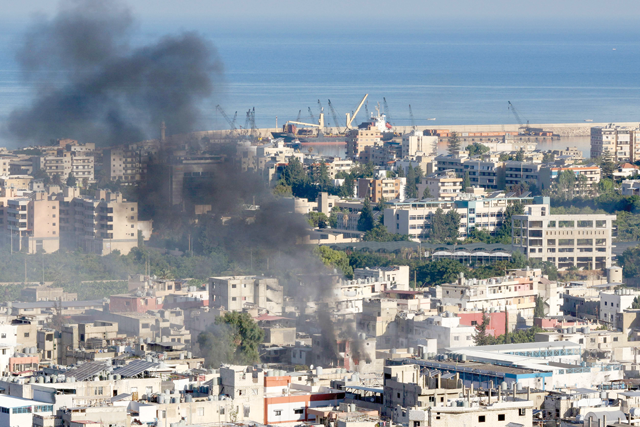 Smoke billows during clashes in the Ain Al Helweh camp for Palestinian refugees, in Lebanon's southern coastal city of Sidon, on Friday (AFP photo)
SIDON, Lebanon — Two fighters and a civilian were killed Saturday in clashes at a south Lebanon Palestinian camp, official media reported, as Prime Minister Najib Mikati rebuked Palestinian President Mahmoud Abbas over the spiralling violence.
Renewed fighting broke out late Thursday in Ain Al Helweh refugee camp on the outskirts of the coastal city of Sidon, just weeks after deadly violence pitted members of Abbas' Fateh movement against Islamists.
Ongoing clashes inside the camp on Saturday killed "one person from Fateh" and an Islamist, while "a civilian was killed by a stray bullet" outside the camp, Lebanon's official National News Agency (NNA) said, reporting dozens of others wounded.
"What is taking place does not serve the Palestinian cause at all and is a serious offence to the Lebanese state" and the city of Sidon, Mikati told Abbas in a phone call on Saturday, his office said in a statement.
Mikati emphasised "the priority of ending military operations and cooperating with Lebanese security forces to address tensions", according to the statement on X, formerly Twitter.
Heavy clashes broke out on Saturday morning after calm had largely prevailed overnight, an AFP correspondent in Sidon said, reporting the sound of automatic and heavy weapons.
The fighting was focused on a school compound belonging to the United Nations' agency for Palestinian refugees, UNRWA, a source in the camp's Palestinian leadership told AFP on condition of anonymity.
Ain Al Helweh is home to more than 54,000 registered refugees and thousands of Palestinians who joined them in recent years from Syria, fleeing war in the neighbouring country.
The camp, Lebanon's largest, was created for Palestinians who were driven out or fled during the 1948 war that coincided with Israel's creation.
'Going through hell'
The Lebanese army, which by long-standing convention does not enter the camps and leaves Palestinian factions to handle security there, called on "all relevant parties in the camp to stop the fighting".
It said it was taking the "necessary measures and making the required contacts to stop the clashes, which endanger the lives of innocent" people.
Dozens of families fled as the fighting intensified, carrying bags packed with basic necessities such as bread, water and medicine, the AFP correspondent said.
Camp resident Mohammed Badran, 32, said he would "sleep on the streets" with his wife and two terrified children rather than return before the fighting ended.
"We were going through hell," he said from a Sidon mosque where his and other families have taken refuge.
A public hospital directly adjacent to the camp transferred all its patients to other facilities because of the danger, its director Ahmad Al Samadi told AFP.
Five days of clashes that began in late July left 13 people dead and dozens wounded, in the worst outbreak of violence in the camp in years.
That fighting erupted after the death of an Islamist militant, followed by an ambush that killed five Fateh members including a military leader.
The United Nations' resident coordinator in Lebanon, Imran Riza, on Friday urged "armed groups to stop the fighting in the camp" and to "immediately" vacate schools belonging to the UNRWA.
"The use of armed groups of schools amounts to gross violations" of international law, Riza said in a statement.
Lebanon hosts an estimated 250,000 Palestinian refugees, according to the UN agency.
Most live in Lebanon's 12 official camps, and face a variety of legal restrictions including on employment.
Related Articles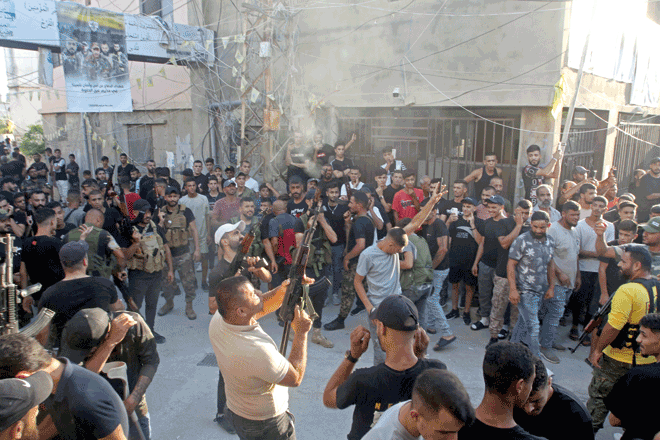 Jul 31,2023
SIDON, Lebanon — Clashes in south Lebanon's Ain Al Helweh Palestinian refugee camp killed at least two people on Monday, medics told AFP, br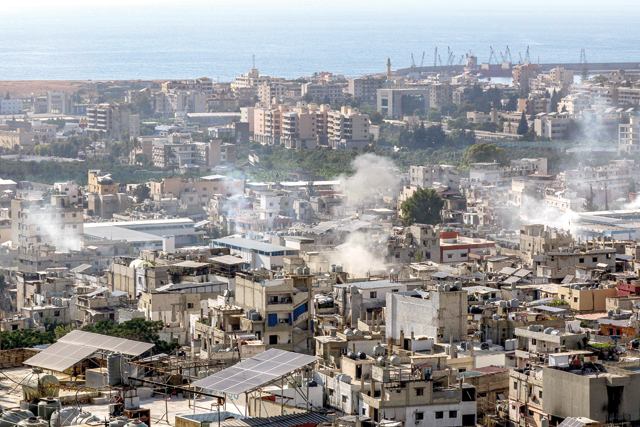 Aug 02,2023
SIDON, Lebanon — Three days of fighting in south Lebanon's Ain Al Helweh Palestinian refugee camp have left at least 11 dead and dozens woun
Jul 30,2023
SIDON, Lebanon — At least six people were killed on Sunday in clashes in south Lebanon's restive Ain Al Helweh Palestinian refugee camp, sai