You are here
Thousands of Palestinian structures under Israeli demolition orders — UN
By AFP - Sep 07,2015 - Last updated at Sep 07,2015
OCCUPIED JERUSALEM — Some 13,000 Palestinian structures in the West Bank are currently under Israeli demolition orders, leaving residents and homes "in a state of chronic uncertainty and threat", the UN said Monday.
A report from the UN Office for the Coordination of Humanitarian Affairs (OCHA) also highlighted the difficulty Palestinians face in obtaining building permits needed to prevent such demolition orders.
More than 11,000 Israeli demolition orders relating to an estimated 13,000 Palestinian structures are currently awaiting implementation in a huge swathe of the occupied West Bank, said the report entitled "Under Threat".
"While only a minority of the orders issued are executed, these orders do not expire and leave affected households in a state of chronic uncertainty and threat," it said.
"Where the orders are implemented, they have resulted in displacement and disruption of livelihoods, the entrenchment of poverty and increased aid dependency."
The report cites data from the Israeli authorities relating to the West Bank zone under full Israeli control, known as Area C and covering 60 per cent of the territory.
The data was obtained through a freedom of information request.
Area C is an administrative region created under the Oslo accords in 1995. Data cited prior to 1995 in the report refers to locations that would later become part of Area C.
Between 1988 and 2014, Israel issued more than 14,000 demolition orders against Palestinian-owned structures, of which upwards of 11,000 are currently outstanding, it said.
"In many cases, the same order targets multiple structures owned by the same household [e.g. their residence, an animal shelter, a storage room and a latrine]," said the report.
Israel disputes the figures
The Israeli defence ministry unit that manages civilian affairs in the Palestinian territories disputed the figures in the UN report, saying data from areas of East Jerusalem not under its supervision was included. It did not provide further details.
The unit, known as COGAT, also noted that, at the request of Palestinians, 13 master plans were "in advanced stages of planning, while four of them have completed the planning process".
It did not respond further to questions from AFP.
Last month 31 international organisations, including Oxfam and Amnesty International, criticised what they called a "surge" in West Bank demolitions.
They cited UN figures showing Israel's destruction of 63 houses and other structures in a single week in August, leaving 132 Palestinians homeless.
Israel has said previously that such demolitions are carried out because the structures were built without the required construction permits.
Palestinians say such authorisation is routinely denied, forcing unlicensed building, an argument echoed by the UN report.
"The planning and zoning regime applied by the Israeli authorities, including the ways in which public land is allocated, makes it virtually impossible for Palestinians to obtain building permits in most of Area C," the report said.
OCHA said there were currently about 300,000 Palestinians living in Area C, and cited Israeli data as saying that about 356,000 Israeli settlers live there also.
Israeli settlements in the West Bank are considered illegal under international law and are a major stumbling block to peace efforts, as they are built on land Palestinians consider to be part of a future state.
Related Articles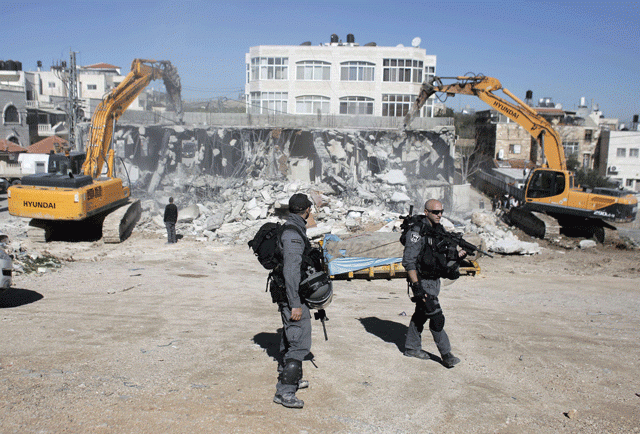 Jan 24,2015
The United Nations has accused Israel of illegally demolishing the homes of 77 Palestinians, mostly children, last week in annexed East Jerusalem and the occupied West Bank.
Aug 13,2016
RAMALLAH — Israel has razed more Palestinian homes and other structures so far this year than in all of 2015, the United Nations said Friday
Feb 22,2017
OCCUPIED JERUSALEM — The United Nations raised concerns Wednesday over newly announced demolition plans in a Palestinian Bedouin village in
Newsletter
Get top stories and blog posts emailed to you each day.