You are here
Terrified civilians hide from gunfire in Mosul preschool
By AFP - Jun 14,2017 - Last updated at Jun 14,2017
MOSUL — The bullets of extremists rain down outside the Mosul kindergarten, where dozens of terrified Iraqi civilians are sheltering from fighting in their northern city.
Confused, scared and exhausted, the civilians — mostly women, including one in a wheelchair — huddle in the preschool after Iraqi forces brought them in for protection.
The sounds of sniper fire, air strikes, and shelling echo all around them, as Iraqi forces fight to dislodge Daesh militants from a nearby building.
Iraqi forces are fighting to retake Mosul from the Daesh terror group, after the militant group overran the city in 2014, imposing its brutal rule on its inhabitants.
Naja Abdallah, 70, says she did not dare leave her house until Iraqi forces arrived in her district of west Mosul, and even then fled with family members under heavy fire.
"We had no more electricity, no water, no medicine — nothing but God's mercy," she says, as sniper and artillery fire continue unabated in the Shifaa district outside.
Iraqi forces have managed to retake most of Mosul since launching the battle for Daesh's last major Iraqi stronghold seven months ago, but the advance has slowed in the last districts under extremist control.
Daesh's grip on Mosul has been reduced to the Old City and several nearby areas, but the militants are putting up significant resistance and up to 200,000 civilians may be caught in the fighting.
Iraqi fighters inside the preschool have led women to one room, while they check the identities of the men — young and old — somewhere else.
The anti-Daesh forces thoroughly screen fleeing civilians in a bid to make sure no extremists escape among them.
'We won't let Daesh sleep'
Omran, a 24-year-old who has grown his beard long like all men under Daesh rule, is one of those who is separated from his family for vetting.
"We've lived through tough, terrifying days. We've really been through a lot," he says, just before he is whisked away.
The fighting intensified around his home in recent days, he says, and his family escaped to their neighbour's house after their own was hit in the fighting.
"I hope to God it all gets better," Omran says.
Women quietly break down into tears after the men are taken away, as an Iraqi commander shouts coordinates over the radio for warplanes and artillery gunmen to target the militants.
Sniper fire intensifies around the building, where civilians are holed up with journalists and members of the interior ministry's elite Rapid Response force fighting Daesh.
Sniper fire hits and gravely wounds a reporter for a local television station, and Iraqi forces intervene to evacuate him to a medical point.
"The sniper will either be killed or flee," says Rapid Response officer Hussein Ali.
The militants are putting up a fight but it is a weak one, he says, an assault rifle in his hands and another slung over his back.
"They have nothing left but snipers and the mines they have been planting."
"We won't let the Dawaesh sleep," he adds.
When the gunfire subsides after about three hours, the Iraqi forces hold up a curtain across the road to block off the view of any extremist snipers and gradually lead the civilians out of the pre-school to a nearby building.
Iraqi fighters accompany them from building to building all the way to the city's medical school, where the soldiers rest for a few minutes before returning to the frontline.
Related Articles
Jul 13,2017
HASSAN SHAM CAMP, Iraq — The US-backed Iraqi offensive to oust the Daesh terror group from Mosul forced Um Youssef to flee her home in the c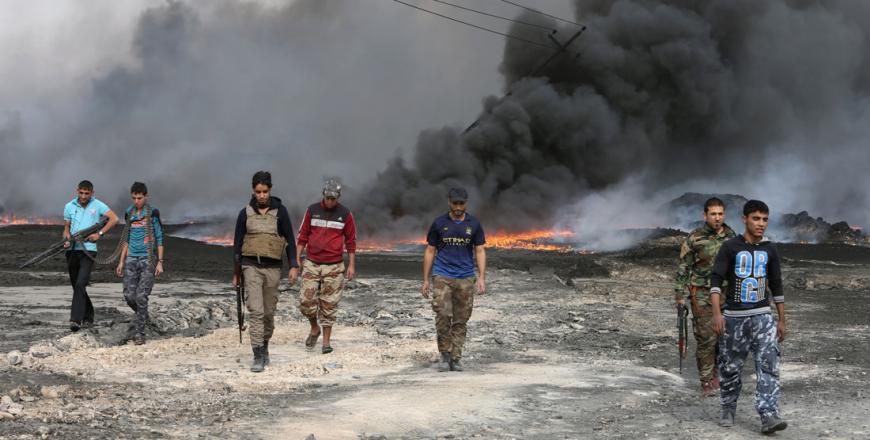 Nov 01,2016
EAST OF MOSUL, Iraq — Iraqi forces battled Daesh militants on the eastern edge of Mosul on Tuesday as the two-week campaign to recapture the
Nov 12,2016
BAGHDAD — Iraqi special forces backed by US and Iraqi air power took control of two districts of eastern Mosul on Saturday after heavy fight
Newsletter
Get top stories and blog posts emailed to you each day.