You are here
Syrian rebels surrender heavy arms in Daraa city — state media
Cradle of Syrian revolution back to government control
By AFP - Jul 15,2018 - Last updated at Jul 15,2018
The Syrian national flag rises in the midst of damaged buildings in Daraa Al Balad, an opposition-held part of the southern city of Daraa, on Thursday (AFP photo)
DAMASCUS — Syrian rebels in the southern city of Daraa were surrendering their heavy weapons to government forces on Saturday, state media said, under a deal brokered by regime ally Russia.
State news agency SANA said opposition fighters in the neighbourhood of Daraa Al Balad, a district in the city's rebel-held southern half, handed over heavy ammunition and other equipment.
It came a day after the regime and rebels began dismantling the dirt barriers that had divided the city for years, AFP's correspondent said.
The agreement reached on Wednesday will see Daraa city — the cradle of Syria's seven-year uprising — fall back into government control.
Negotiated by Moscow, it provides for rebels to hand over heavy- and medium-duty weapons and to "reconcile" legally with the government, according to state media.
Those who rejected the deal would be allowed safe passage out of the city.
The terms mirror a broader deal announced on July 6 for the entire province of Daraa, which would be implemented in three stages: the eastern countryside first, then the city and finally the province's west.
While rebels have handed over weapons to government forces in dozens of towns, no transfers of fighters or civilians to the opposition-held north have taken place yet.
The Daraa deals are the latest in a string of so-called "reconciliation" agreements that typically follow blistering military offensives.
After using the strategy to secure Damascus and other strategic parts of Syria since 2015, President Bashar Assad turned his attention to the south.
Beginning on June 19, Syrian and Russian bombardment pounded rebel areas in Daraa and the neighbouring province of Quneitra, ostensibly protected by an internationally agreed ceasefire.
The onslaught came to an end with the July 6 ceasefire.
Regime forces now hold more than 80 per cent of Daraa province, according to the Syrian Observatory for Human Rights, a Britain-based war monitor that relies on a network of sources inside the country.
Some western areas of the province remain under opposition control, and the deal excludes a southwestern patch held by an affiliate of the Daesh militant group.
Syria's conflict has killed more than 350,000 people and displaced millions since it started in 2011.
Related Articles
Jul 10,2018
AMMAN — The Syrian army and allied troops on Monday laid siege to the rebel-held enclave in Daraa and were poised to gain complete control o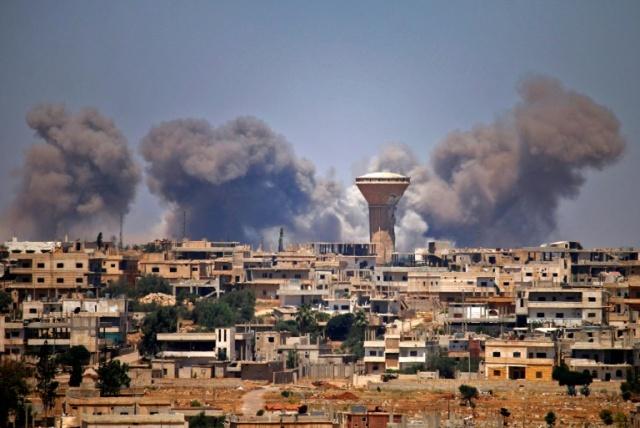 Jul 07,2018
DARAA — The Syrian regime on Friday reached a deal with rebels for the surrender of the remaining opposition-held cities and towns in
Jul 16,2018
AMMAN/BEIRUT — Syrian government forces widened their offensive in the country's southwest on Sunday to Quneitra province, a region adjoinin
Newsletter
Get top stories and blog posts emailed to you each day.