You are here
Syrian and Russian aircraft step up bombing of Aleppo city — monitor
By Reuters - Jun 06,2016 - Last updated at Jun 06,2016
People salvage goods from an aid convoy that was damaged during an air strike in the rebel held area of Al Sakhour district of Aleppo, Syria, on Saturday (Reuters photo)
AMMAN — Nearly 50 air strikes hit rebel-held areas in and around the Syrian city of Aleppo on Sunday in some of the heaviest recent raids by Russian and Syrian government aircraft, residents and a monitoring group said.
The group, the Syrian Observatory for Human Rights, also said an unidentified war plane had crashed in countryside south of Aleppo, in an area where Islamist rebel fighters are battling the Syrian army and Iranian-backed forces. It had no information on what caused the crash.
A civil defence worker said at least 32 people were killed in the rebel-held parts of the city during the air strikes, with 18 bodies pulled from flattened buildings in the Qatrji neighbourhood, the worst hit.
The monitor said dozens of barrel bombs — oil drums or cylinders packed with explosives and shrapnel were dropped by helicopter on densely populated districts.
"This week-long campaign of bombing is very intense and day by day it's getting worse... it is the worst we have seen in a while," said Bebars Mishal, a civil defence official in rebel-held Aleppo.
For their part, rebels hit government-held areas of Aleppo in what Syrian media said was an escalation of mortar attacks on the western districts.
State media said attacks on Sunday on Hamadaniyah, Midan and other neighbourhoods by insurgents killed at least 20 people, in the second day of intense shelling of government-held areas. The death toll over the whole weekend was at least 44.
Aleppo, the country's largest city before the war, has been divided for years between rebel and government-held zones.
Full control of Aleppo would be a huge prize for President Bashar Assad. Russia's military intervention since September has helped to bolster Assad's government.
In the northwestern province of Idlib, meanwhile, residents said Syrian and Russian jets bombed the rebel-held provincial capital, setting fire to a bustling market in the heart of the city. More than 30 people were injured, at least three killed and dozens were unaccounted for, according to an activist contacted in the city.
The Idlib strikes came just days after some of the heaviest raids on residential areas for months, killing more than 30 people and injuring dozens on May 31. Idlib has been a relative haven for thousands of displaced Syrians.
The air raids in Aleppo on Sunday came in the wake of strikes on civilian areas on Friday that residents said were the most intense in over a month.
The Syrian Observatory said the Syrian government raids had targeted the main Castello road that leads into rebel-held Aleppo as part of a campaign to complete the encirclement of the city's insurgent-dominated areas.
A Russian defence ministry statement on Sunday accused militant Syrian rebel groups of firing mortars on the mainly Kurdish-populated Sheikh Maqsood neighbourhood in Aleppo that overlooks the Castello road.
The monitor said 13 people, including six children, were killed on Saturday in the Kurdish-run area by insurgents' mortars.
Rebels accuse the powerful Kurdish YPG of working with the Syrian army to cut the main artery by intensifying their ground attacks on the highway.
The Russians had on Saturday accused militants from radical Islamic groups of bringing at least 1,000 fighters into an area in the southern Aleppo countryside.
The militants have consolidated gains since Friday in the area around the strategic town of Khan Touman, rebels say.
The Nusra Front spearheaded an attack on Khan Touman last month, delivering one of the biggest battlefield setbacks yet to a coalition of foreign Shiite fighters supporting Syrian government forces.
Rebels say Russian jets on Sunday pounded insurgent positions in the area to prevent them from advancing towards the nearby town of Hader, which rebels say is a stronghold of Iranian-backed militias.
Also US-backed forces on Sunday engaged with the Daesh terror group's militants in an offensive that began last Tuesday against the group-held areas in Aleppo province, beginning with the Manbij area where they continued to seize more villages, according to Kurdish sources and the monitor.
Related Articles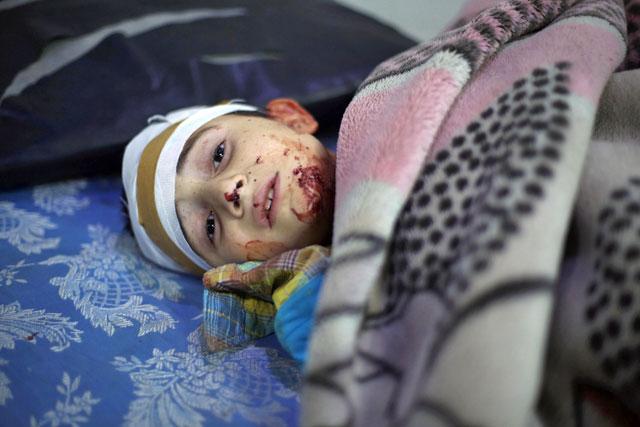 May 09,2016
BEIRUT/PARIS — Syrian government forces and their allies fought insurgents near Aleppo on Monday and jets carried out raids around a nearby
Oct 23,2016
BEIRUT — A leading northern Syrian rebel coalition warned civilians in Aleppo to stay away from government positions around the contested ci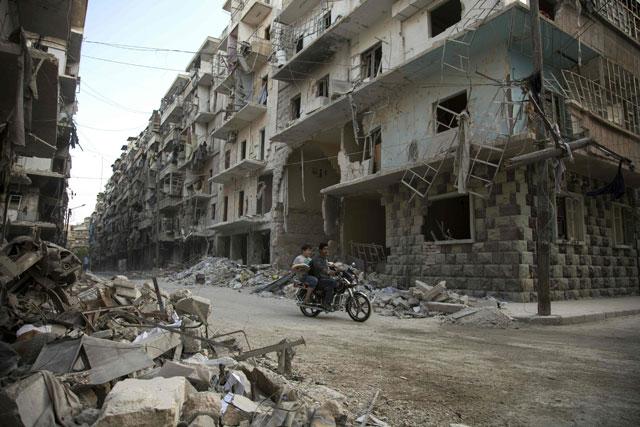 May 05,2016
AMMAN — A cessation of hostilities brokered by Russia and the United States brought a measure of relief to Aleppo on Thursday, but fighting
Newsletter
Get top stories and blog posts emailed to you each day.