You are here
Syria talks restart as regime denies 'crematorium' charge
By AFP - May 16,2017 - Last updated at May 16,2017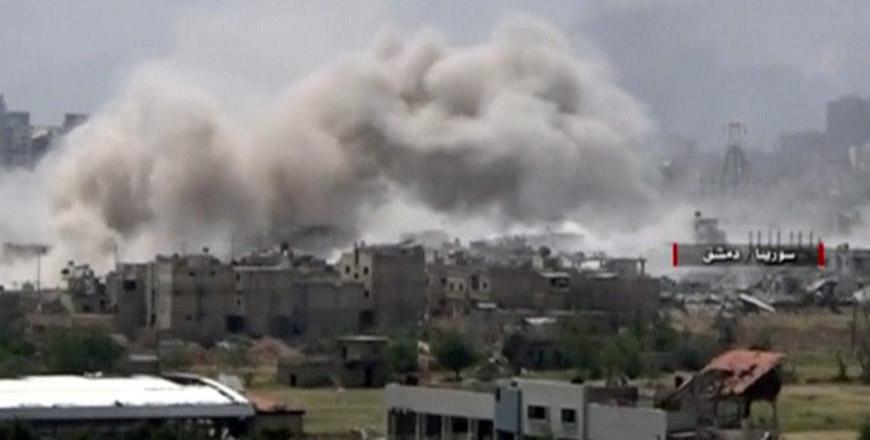 A still image taken from a video uploaded by the Syrian army on Saturday shows smoke rising from Qaboun, on the edge of the capital Damascus, Syria (Reuters photo)
GENEVA — A new round of Syria peace talks opened Tuesday in Geneva as the Damascus regime fiercely denied it used a prison crematorium to hide evidence of thousands of murdered detainees.
Five previous rounds of UN-backed negotiations have failed to yield a political solution to the raging six-year conflict.
UN envoy Staffan de Mistura met with Syrian government negotiator Bashar Al Jaafari at the UN headquarters on Tuesday morning, followed by the opposition High Negotiations Committee (HNC) in the afternoon.
But hopes for a breakthrough remain dim, with tensions rising even further over US claims of new regime atrocities at the notorious Saydnaya prison near Damascus.
The US State Department on Monday accused Bashar Assad's government of using a crematorium to cover up the deaths of thousands of prisoners at Saydnaya — a claim Damascus swiftly denied.
"These allegations are totally unfounded, they are nothing but the product of the imagination of this administration and its agents," state news agency SANA quoted the foreign ministry as saying.
HNC spokesman Salem Al Muslet, speaking to AFP ahead of his delegation's first talks with de Mistura, said the fresh accusations demanded a response.
"The Americans know what's going on in Syria now," Muslet said.
"To save the lives of Syrian people, it needs some action from the [United] States, from our friends, and I hope they will do it very soon."
'Working in tandem'
Syria's government and opposition figures are in Geneva for the first time since the last round of talks closed in late March.
The new negotiations are the latest effort to reach a political solution to a war that has killed more than 320,000 people and displaced millions more.
They are expected to focus on four separate "baskets": governance, a new constitution, elections and combating "terrorism" in the war-ravaged country.
With Assad's negotiators and the HNC expected to be in the Swiss city until the weekend, de Mistura said he wanted to drill down on several issues in hopes of generating solid proposals.
But one issue — Assad's fate — remains a daunting roadblock.
The HNC has insisted the president's ouster must be part of any political transition, a demand unacceptable to the Syrian regime.
The Geneva talks have also been overshadowed by a string of rebel evacuations from the Syrian capital and rival negotiations in the Kazakh capital, Astana.
Sponsored by rebel supporter Turkey and regime backers Russia and Iran, that track produced a May 4 deal to create four "de-escalation" zones across some of Syria's bloodiest battlegrounds.
De Mistura has dismissed suggestions that the Astana negotiations were competing with the Geneva track, saying they were "working in tandem".
'Drop in the ocean'
Assad, however, has given more credit to Astana and has blasted the Geneva process as "merely a meeting for the media".
Another shifting force influencing the talks is the role of the United States, an erstwhile opposition supporter that largely withdrew from the process under President Donald Trump.
De Mistura said Monday he was "encouraged by the increasing engagement, the increasing interest, by the US administration in finding a de-escalation".
Washington appeared to turn up the heat on Monday, warning Russia not to turn a blind eye to Assad's alleged crimes at Saydnaya.
"The United States is on record, has stated many times, that we are appalled by the atrocities that have been carried out by the Syrian regime," said Stuart Jones, the top US diplomat for the Middle East.
"Russia must now, with great urgency, exercise its influence over the Syrian regime to guarantee that horrific violations stop now."
One newly released image, a commercial satellite photograph dating back to January 2015, shows snow melting on the roof of a building attached to the Saydnaya military complex north of Damascus.
This, along with an earlier picture allegedly showing heavy-duty ventilation systems on the structure, appears to support earlier claims by rights groups that Saydnaya is an execution centre.
The head of the opposition delegation to the talks welcomed the US statement, but complained it had come too late.
"This is but a drop in the ocean. What happens in the regime's prisons is much uglier than this," Nasr Al Hariri said.
Related Articles
May 17,2017
GENEVA — Rival Syrian delegations on Wednesday weighed a UN proposal on developing a new constitution for the war-ravaged country, as a new
May 19,2017
GENEVA — A new round of Syria peace talks closed Friday with little visible progress towards ending the country's conflict, as tensions boil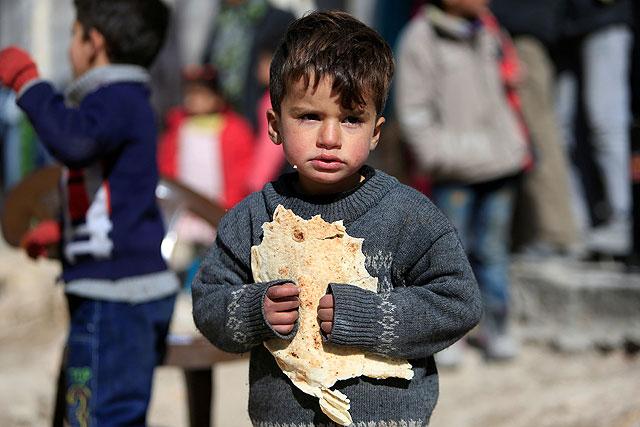 Feb 01,2017
BEIRUT — Syria opposition officials on Wednesday criticised UN envoy Staffan de Mistura after he said he could pick the opposition delegatio
Newsletter
Get top stories and blog posts emailed to you each day.