You are here
Suspected Arab coalition air raid kills 40 at Yemen wedding
By AFP - Sep 29,2015 - Last updated at Sep 29,2015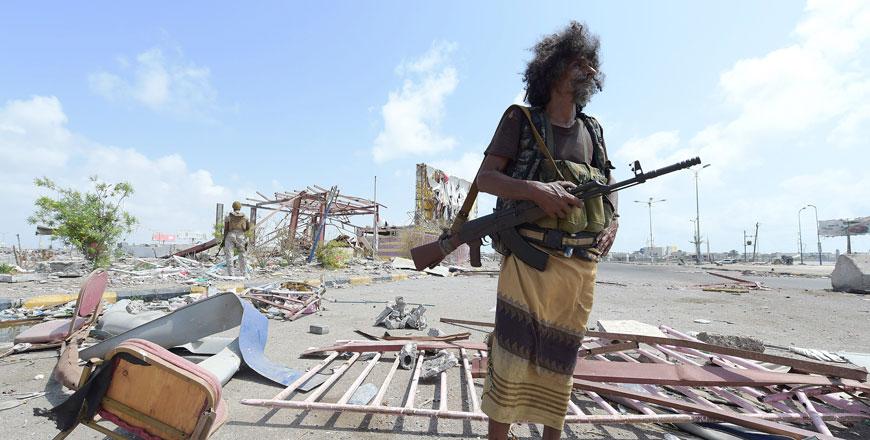 An armed Yemeni man from the Popular Resistance Committees, supporting forces loyal to Yemen's Saudi-backed President Abed Rabbo Mansour Hadi, mans a checkpoint in the southern city of Aden on Sunday (AFP photo)
SANAA — At least 40 people were killed when a wedding hall in southwest Yemen was bombarded Monday in a suspected Saudi-led coalition air strike, medics and witnesses said.
"The bodies of 31 people, including children, have been taken to a hospital in Mokha," said a medical source, who later raised to 40 the death toll at the hall in the Red Sea city.
He said dozens of people were wounded, most of them seriously.
Witnesses reported that warplanes struck the wedding hall in Mokha, which is controlled by Shiite Houthi rebels.
However, one resident who requested anonymity said: "I didn't hear any warplanes."
There was no immediate comment from the Saudi-led Arab coalition, which launched an air war on the Houthi rebels in late March in support of embattled President Abed Rabbo Mansour Hadi.
"This is a new crime that is added to the massacres committed by the Saudi regime against the people of Yemen," said the rebel-controlled Saba news agency, citing official statements protesting the bombing.
Several coalition air strikes have hit non-military facilities killings dozens of civilians over the past six months, prompting condemnation from rights groups.
In late August, an air raid struck a bottled-water factory in the northern province of Hajja, killing 17 civilians and 14 rebel fighters.
Warplanes in July attacked the residences of employees of a power plant in Mokha, killing 65 civilians, while a raid on a dairy plant in the Red Sea port city of Hodeida in April left 35 civilians dead.
The United Nations says nearly 4,900 people, including a vast number of civilians, have been killed in Yemen's conflict since late March.
In July, coalition-backed loyalist forces evicted the rebels from the southern city of Aden and four other provinces in the south. They have since set their sights on advancing on rebel-held Sanaa.
On Monday, loyalist forces backed by Saudi-led ground and air support attacked Shiite rebels near the ruins of the ancient Marib Dam, east of Sanaa, an AFP correspondent reported.
"We have attacked the Huthis from three fronts: north, south and the east," said Marib province's deputy governor, Abdul Wahed Al Gibli.
The head of police special forces in Marib, General Abdo Al Sayani, said 22 rebels had been killed since Sunday.
In the central city of Taez, two sisters and their grandmother were killed Sunday in rebel bombing, the state news agency said.
Yemen descended into chaos after the 2012 ouster of longtime strongman Ali Abdullah Saleh, and security has broken down since Houthi militiamen swept into the capital unopposed last year.
Related Articles
Oct 10,2015
SANAA — Warplanes from the Saudi-led coalition raided positions of the Iran-backed Shiite insurgents east of the rebel-held capital Friday,
Sep 10,2015
SANAA — Warplanes of the Saudi-led coalition on Wednesday bombed Shiite Houthi rebel positions in Sanaa, stepping up attacks in the wake of
Jan 22,2017
ADEN — Clashes in Yemen killed at least 66 people in 24 hours, medics and security sources said Sunday, as pro-government forces pushed to o
Newsletter
Get top stories and blog posts emailed to you each day.