You are here
Somaliland's independence pleas fall on deaf ears
By AFP - May 18,2016 - Last updated at May 18,2016
HARGEISA, Somalia (AFP) —The evening was well under way when a poet took the floor. "The youth have decided. We will never be part of Somalia!" he said as young men and women danced to traditional music.
This scene would not happen anywhere in Somalia apart from Somaliland, a small, semi-autonomous, breakaway island of stability in a state plagued by civil war, instability and radicalism.
"When we talk about the area of the Horn of Africa, people think about piracy and Al Shabab," said Jama Musse Jama, director of the Hargeisa Cultural Centre.
"Here, every week, we have a major cultural event. We have a book fair. Somaliland is working hard to make normal life."
Somaliland declared its independence from Somalia 25 years ago on Wednesday, but no one outside of its self-described borders has recognised it as a country, rendering Somaliland an invisible country.
With no foreign aid or loans, even in the capital paved roads are rare.
Youth unemployment is around 70 per cent and with the Somaliland shilling trading on the streets at 7,000 to the dollar, passersby pushing wheelbarrows full of cash are a common sight.
But Somaliland has largely avoided the Al Qaeda-backed bombings that are routine in Somalia's capital, Mogadishu, and has held regular elections and seen peaceful changes of government.
Compared to neighbouring Somalia, the small self-proclaimed republic is a haven of peace.
Yet while international aid and support pours into dysfunctional Mogadishu, Hargeisa's success is greeted with diplomatic indifference.
A land in limbo
"We are being punished for being too good," said Abdillahi Duale, a former foreign minister who, like many other Somaliland officials past and present, cannot hide his bitterness towards the outside world.
"If we were a failed state, crooks, terrorists, troublemakers, then everybody would come here." Without legal recognition Somaliland is in limbo. The government has a budget of $250 million (220 million euros) and its own currency but cannot access the World Bank or IMF loans needed to develop infrastructure.
"It's like not having air to breathe. I want to be able to go where I want without having to get a foreign passport. I want to be able to expand my business but I have no access to banks," complained Hanad Hashi, a Hargeisa councillor.
As it has been for the last quarter of a century, the issue of recognition burns hot in Somaliland but barely smoulders elsewhere.
Anxious not to dismember Somalia — or encourage their own separatists — the African Union nations stick to the principle of "inviolability of borders" drawn by colonial rulers, and buried a 2005 report in favour of Somaliland's independence.
Meanwhile other world bodies and foreign states are unwilling to oppose the AU on an issue in its own backyard.
"African states are concerned the right to secession would open a Pandora's box," said Alain Peloux, a former French diplomat in the region. "We too have big interests in Africa and we do not want to offend the African countries. We will recognise Somaliland if it comes first from the African Union."
And so Somalilanders are trapped and frustration is growing.
"If the world continues to ignore what is happening we risk another Afghanistan," warned a government official worried by the growing influence of Gulf states that finance mosques, schools and medical services. "This policy of wait-and-see is not working."
Related Articles
Mar 13,2018
MOGADISHU, Somalia — Somalia's parliament has declared "null and void" a port deal signed by breakaway Somaliland that has raised tensions b
Nov 21,2017
MOGADISHU — Muse Bihi from the ruling Kulmiye party on Tuesday declared the winner of last week's presidential poll in the self-proclaimed s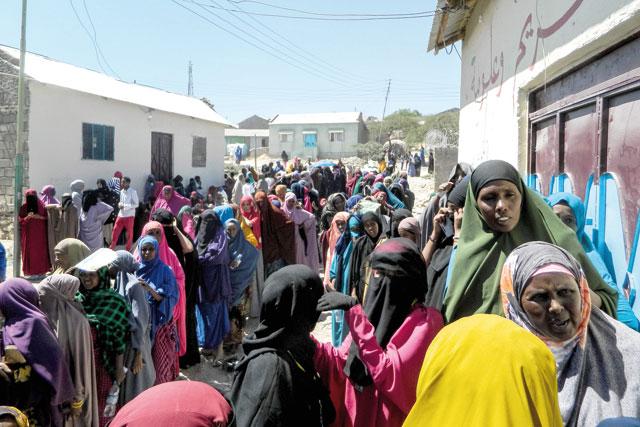 Nov 13,2017
MOGADISHU — Residents of the self-proclaimed state of Somaliland voted on Monday in its third presidential poll, hoping to prove its democra
Newsletter
Get top stories and blog posts emailed to you each day.