You are here
Somali town back in government hands after Al Shabab attack
By AFP - Sep 17,2016 - Last updated at Sep 17,2016
MOGADISHU — Somali government troops backed by African peacekeepers have retaken control of a town close to the Kenyan border hours after its seizure by heavily armed Al Shabab militants, officials and witnesses said.
"Somali government forces and AMISOM peacekeepers took full control of Elwak this morning, the violent elements have fled before the forces reached them," Elwak Commissioner Ibrahim Guled told reporters.
He said six Somali soldiers had been killed when Al Shabab militants attacked the town on Friday. "We have inflicted heavy casualties on them," he added.
A local resident reached by phone told AFP that the assailants pulled out after midnight after looting the military camp. "They have taken everything they found in the camp including three vehicles," said Omar Abdukadir.
Sources said at least 12 people were killed during the clashes late Friday between Somali forces and the Al Shabab militants who were disguised as Kenyan soldiers and riding in military vehicles captured from the Kenyan army.
In January, the Al Qaeda aligned extremist group razed a base run by the Kenyan contingent of AMISOM — the African Union Mission in Somalia — in El Alde in the south, seizing arms and large quantities of munitions.
It was their third assault in months on an AMISOM base.
Related Articles
Sep 01,2015
MOGADISHU — Al Shabab militants stormed an African Union base in southern Somalia on Tuesday, where they say they killed 50 peacekeepers, in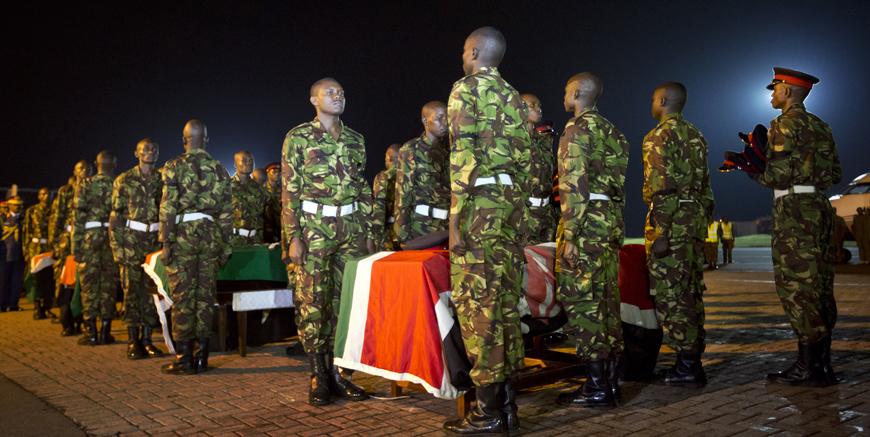 Feb 25,2016
MOGADISHU — As many as 200 soldiers were killed in an attack on a Kenyan military camp in Somalia by Al Shabab militants last month, Somali
Dec 04,2014
A Kenyan warplane crashed in southern Somalia on Thursday, with the Kenyan military saying the crash was due to technical problems while Somali rebels said they had shot it down with a missile.
Newsletter
Get top stories and blog posts emailed to you each day.