You are here
Shiite militias accused of rights abuses
By Reuters - Sep 28,2017 - Last updated at Sep 28,2017
BAGHDAD — Iraqi Shiite militias illegally detained villagers near the Daesh terror group-held district of Hawija in northern Iraq and subjected them to torture and ill treatment, Human Rights Watch (HRW) said on Thursday.
The leader of one of the militias, which are known as Popular Mobilisation Forces (PMF), denied the accusation and said their fighters were strictly following the law in their dealings with civilians fleeing military operations in the area.
Iraq launched an offensive on September 21 to dislodge Daesh from Hawija, which lies west of the oil city of Kirkuk and is one of two areas of the country still under the control of the militants.
Men from villages near Hawija were detained by militias from the Badr Organisation, a pro-Iran, Shiite grouping that is playing a major role in Baghdad's war against Daesh, and were taken to an unknown location, the HRW report said, based on interviews with villagers evacuated to a nearby refugee camp.
The villagers told HRW they had seen militia fighters using their gun butts to beat the detained men. During their detention the fighters brought them food only once and only a small amount of water but did not let them use a bathroom.
"Human Rights Watch has documented that PMF groups, including units affiliated with the Badr Organisation, have screened, detained, and tortured people during the military operations", said the report.
Women were also detained briefly by Iraqi security forces and were questioned about their male relatives' activities before being transported to the refugee camp, HRW said.
"While Iraqi forces do need all the help they can get, the government should not allow abusive forces to use this opportunity for even more abuse," said Sarah Leah Whitson, Middle East director at.
The Iraqi government was not immediately available to comment on the HRW report, but local Badr commander Kareem Al Mohammedawi denied that villagers' rights had been abused.
"We are strictly ordering our fighters to abide by the law and avoid mistreating refugees fleeing the fighting. But when we suspect someone is a terrorist we normally arrest him and hand him over to the security forces," he said.
Hawija and a stretch of land along the Syrian border are the last pieces of Iraq still in the hands of Daesh, which overran about a third of the country in 2014.
Related Articles
Oct 18,2016
DAQUQ — Shiite irregulars will help storm a smaller city in northern Iraq while government troops launch their upcoming offensive against th
Jan 05,2017
ERBIL, Iraq —Militias fighting alongside Iraqi troops against the Daesh terror group are committing war crimes using weapons provided to the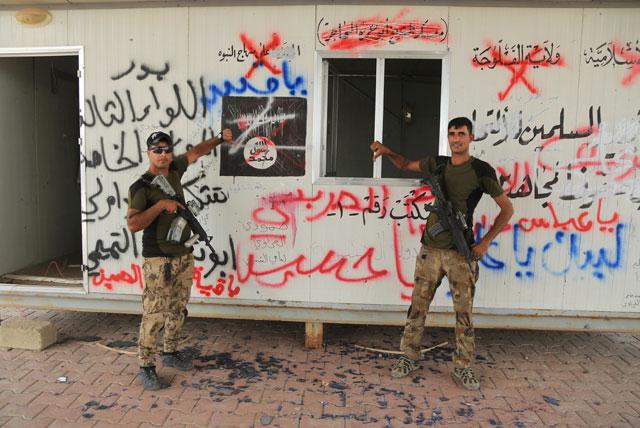 Jul 04,2016
FALLUJAH — A highway overpass in central Fallujah, from which the Daesh terror group militants hanged a captured Iraqi soldier last year, be
Newsletter
Get top stories and blog posts emailed to you each day.