You are here
Saudi sees 'impressive' figures in Trump Cabinet
By AFP - Jan 24,2017 - Last updated at Jan 24,2017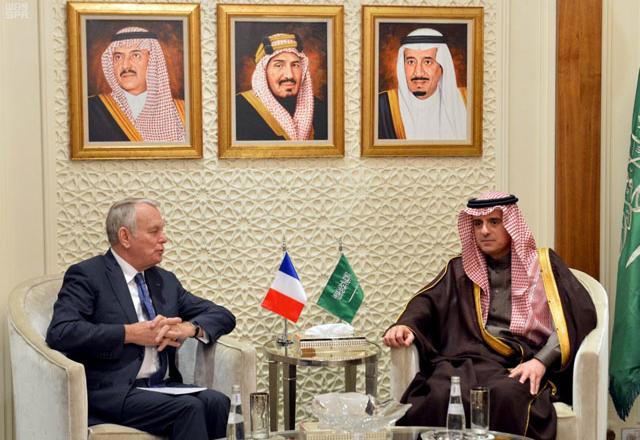 Saudi Foreign Minister Adel Al Jubeir meets with French Foreign Minister Jean-Marc Ayrault in Riyadh, Saudi Arabia, on Tuesday (Reuters photo)
RIYADH — US President Donald Trump has named "impressive" people to his Cabinet, longtime American ally Saudi Arabia said on Tuesday.
Foreign Minister Adel Al Jubeir praised several men who have been selected by Trump for his cabinet, including Secretary of Defence James Mattis, CIA Director Mike Pompeo and secretary of state nominee Rex Tillerson.
"These are very, very impressive individuals," Jubeir told a joint press conference with his French counterpart Jean-Marc Ayrault, who was on an official visit.
"They're highly capable. They're highly experienced and they have a very realistic and wise view of the world and America's role in it," Jubeir said.
Ties between Riyadh and Washington became increasingly frayed during the eight-year administration of former president Barack Obama.
Saudi leaders felt Obama was reluctant to get involved in the civil war in Syria and other regional conflicts.
Jubeir is optimistic that the Trump administration will be more engaged in the Middle East, and particularly in containing Riyadh's rival Iran.
But Trump has threatened to ban Muslims from the United States, and his national security adviser Michael Flynn has argued that Islam is not a religion but a "political ideology".
Jubeir called Flynn "an American patriot" who is very concerned about his country's security, and who believes in working with allies.
"I have no doubt whatsoever that our ability to overcome the challenges will be tremendously enhanced the closer we work together," the Saudi minister said.
As European concerns mount over Trump's foreign policies, Ayrault told the same press conference that he is ready to meet Tillerson "as quickly as possible".
Trump, who took over from Obama on Friday, has prompted European fears of an isolationist Washington.
"The United states is a big country, a global power which also has a responsibility to the rest of the world," Ayrault said.
Even if the US has the interests of its own people to preserve and defend, "that can only happen with an approach which is in our eyes multilateral".
Related Articles
Feb 12,2017
RIYADH —UN Secretary General Antonio Guterres said on Sunday the UN envoy to Yemen had his full support, days after Yemen's Houthi group ask
May 10,2017
AMMAN — His Majesty King Abdullah on Tuesday received a written letter from Saudi King Salman Bin Abdulaziz inviting him to attend the upcom
Mar 13,2018
WASHINGTON — US President Donald Trump removed Secretary of State Rex Tillerson on Tuesday after a series of public rifts over policy on Nor
Newsletter
Get top stories and blog posts emailed to you each day.