You are here
Sale of migrants as slaves in Libya may be crime against humanity — UN
By Thomson Reuters Foundation - Dec 07,2017 - Last updated at Dec 07,2017
African migrants queue to receive clothing aid prior to repatriation, at a detention centre in the Libyan capital Tripoli's eastern suburb of Tajoura, on Tuesday (AFP photo)
NEW YORK — The sale of migrants into slavery in Libya may amount to crimes against humanity, the United Nations Security Council said on Thursday, voicing "grave concern" after footage appearing to show Africans being auctioned there sparked global outrage.
The 15-member council unanimously adopted a formal statement calling on Libyan authorities to investigate the reports of migrants being sold and bring the perpetrators to justice.
Libya's UN-backed government last month said it would take action after a video broadcast by CNN, which appeared to show the auction of African migrants as farmhands for $400, led to protests across Europe and Africa.
"The Security Council expresses grave concern about reports of migrants being sold into slavery in Libya," the statement said. "[It] condemns such actions as heinous abuses of human rights which may also amount to crimes against humanity."
Young African men bound for Europe are frequently caught in trafficking networks and sold for labour in Libya, where many migrants are detained, tortured, and even killed, according to the UN International Organisation for Migration (IOM).
The IOM said last week that it was working with partners to try to empty the detention centres, condemned as inhumane by rights groups and estimated to hold as many as 20,000 migrants.
The Security Council also said the Libyan authorities should work with international organisations and UN agencies to ensure humanitarian access to detention centres in the country.
Hundreds of thousands of other migrants are believed to be in lawless Libya, and many of them are being held by smugglers under lock-and-key in a country consumed by factional violence since strong man Muammar Qadhafi was ousted six years ago.
"Reports that people escaping violence are being sold into slavery in Libya are horrifying," US Ambassador to the United Nations, Nikki Haley, said in a statement. "All countries must do everything they can to end this barbaric practice."
The statement was adopted weeks after the Security Council unanimously backed a resolution urging tougher action to crack down on trafficking and modern slavery worldwide.
The resolution called on countries to adopt anti-trafficking laws, ramp up efforts to investigate and dismantle criminal networks, and provide greater support for survivors of slavery.
Related Articles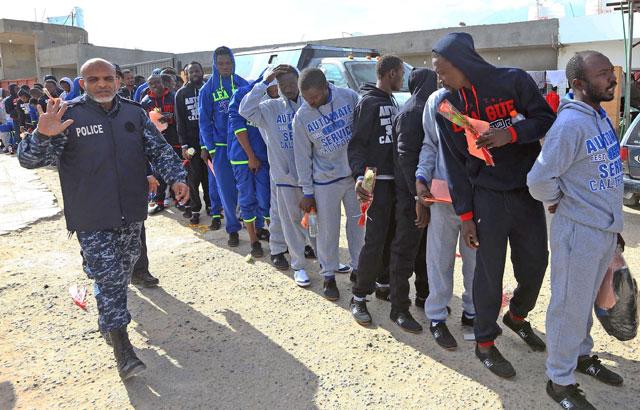 Nov 28,2017
UNITED NATIONS — France said on Tuesday it wanted the United Nations Security Council to consider imposing targeted sanctions on human traff
Nov 30,2017
ABIDJAN — Leaders at an EU-Africa summit called Thursday for the immediate evacuation of nearly 4,000 distressed African migrants in Libya u
Nov 20,2017
UNITED NATIONS, United States — UN Secretary General Antonio Guterres said Monday he was horrified by video footage showing migrants sold as
Newsletter
Get top stories and blog posts emailed to you each day.