You are here
Russia says goal of defeating Daesh in Syria 'accomplished'
By AFP - Dec 08,2017 - Last updated at Dec 08,2017
Hizbollah and Syrian flags flutter on a military vehicle in Western Qalamoun, Syria, on August 28 (Reuters photo)
MOSCOW — Russia said on Thursday that it had completed its mission to liberate Syria from the Daesh terror group militants, though the UN cautioned that a territorial victory was incomplete without a political solution.
Moscow's declaration that Syria had been "completely liberated" from Daesh fighters came amid UN-backed peace talks aimed at ending nearly seven years of bloodshed in Syria, which have faltered over the fate of Syrian President Bashar Assad.
Senior military officer Sergei Rudskoi said at a briefing that Moscow's "goal to defeat armed groups of the ISIL [Daesh] terrorist organisation in Syria has been accomplished", using another acronym for the group.
"There is not a single village or district in Syria under the control of ISIL. The territory of Syria has been completely liberated from fighters of this terrorist organisation," he said.
There has been an "unprecedented" involvement by Russia's airforce in recent days, Rudskoi added, with jets making 100 sorties and staging up to 250 strikes daily.
At the same time, special forces were on the ground directing planes and "destroying the most odious leaders of militant groups behind enemy lines," he said.
But the Syrian Observatory for Human Rights, which monitors the conflict, said Thursday that Daesh still held about 8 per cent of the Deir Ezzor province.
The UN's Syria envoy Staffan de Mistura said at a press conference in Geneva that winning territory back from Daesh did not stamp out the extremists' influence or preclude them from re-appearing in the future in a different form.
"To win territorially against Daesh is one thing," de Mistura said, using an Arabic acronym for the group.
But "to stop any chance for it to actually start again under another name and under another person requires a credible political process, constitution, parliamentary presidential elections under UN supervision," he said.
De Mistura said he expected the Syrian government and the opposition to "seriously engage" in negotiations next week focused on the new constitution and elections, warning both sides against "sabotaging" the process.
The Syrian government said Thursday that its negotiators would fly to Geneva on Sunday for the negotiations, which were halted last week before reopening Tuesday without the government team.
Syria's delegation has called the opposition's insistence on Assad's removal "provocative" and "irresponsible".
The Syrian Observatory for Human Rights' head Rami Abdel Rahman told AFP that Daesh fighters did indeed appear to have been cleared from the western side of the Euphrates River, which bisects Syria's eastern Deir Ezzor province.
"Its biggest presence is on the eastern side of the Euphrates, where it still holds around 8 per cent of Deir Ezzor Province," he said.
The extremist group used to control swathes of the oil-rich province but lost ground after separate offensives by Russian-backed Syrian troops west of the Euphrates and an Arab-Kurdish alliance known as the Syrian Democratic Forces fighting east of the river.
Though its self-styled "caliphate" has now collapsed, Daesh also has a presence in eastern parts of the central provinces of Homs and Hama, and in the Yarmouk Palestinian camp near Damascus.
Backed by the US-led coalition, Iraqi forces have been flushing out Daesh fighters in the desert north from the Euphrates Valley and up to the Syrian border.
Russia began its bombing raids in September 2015 in support of Assad's beleaguered forces.
Those strikes have helped Syria regain control over much of the war-ravaged country.
Rudskoi said "separate sabotage bands of ISIL" could still be operating but would be fought by Syrian government troops, indicating that Russia's involvement would be scaled down.
"With the liquidation of armed bands of the ISIL terrorist group in Syria, the Russian contingent will concentrate its main efforts on providing aid to the Syrian people in rebuilding peace" and ensuring that ceasefire commitments are met, he said.
Last month, President Vladimir Putin said efforts to end the war were entering a "new stage" as the focus shifted from military intervention to political reform.
More than 340,000 people have been killed since the conflict broke out in March 2011 with protests against Assad's rule that sparked a brutal crackdown.
Related Articles
Sep 11,2017
BEIRUT — Syria's army sent massive reinforcements to territory under its control in Deir Ezzor on Monday ahead of a final push for the Daesh
Sep 09,2017
BEIRUT/AL SHADADI, Syria — US-backed militias and the Syrian army advanced in separate offensives against the Daesh terror group in eastern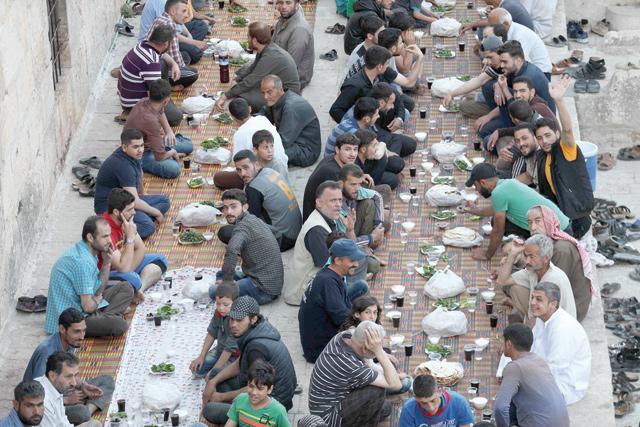 May 27,2018
BEIRUT — Russian fighters were among dozens of pro-government forces killed in eastern Syria this week in a deadly wave of attacks
Newsletter
Get top stories and blog posts emailed to you each day.