You are here
Restive Morocco-Spain border hit by new car ramming incident
By AFP - Jun 18,2017 - Last updated at Jun 18,2017
This handout picture taken on Saturday and released by Guardia Civil shows two African migrants hidden in the boot of a car that forced a frontier post between Morocco and the Spanish enclave of Melilla (AFP photo)
MADRID — A car with five migrants hidden inside rammed its way through a border post between Morocco and the Spanish territory of Melilla on Saturday, the second such incident in two days at the restive frontier.
This method to get migrants into the Spanish territory had not been used in years, but it happened once in March, and again on Friday and Saturday.
Melilla and its sister city Ceuta, some 400 kilometres northwest along the Moroccan coast, are the only two land borders between Africa and the European Union and migrants wanting to get to Europe often resort to desperate measures to get in.
The central government's representative office in Melilla said in a statement that the car came up to the border post normally, queueing with other vehicles.
"When it got near the first police control, it abruptly changed direction, took a lane adjacent to the one it was in and dangerously evaded police controls at high speed," it said.
The car damaged one of the border post's barriers and forced "officers to abandon their posts so as not [to] be run over," it added.
Once inside Melilla, the Moroccan driver abandoned the car but was soon detained by police.
Inside the vehicle, they found five migrants — two in the boot, two others under a false bottom in the rear seats and another in the dashboard.
Three of them were minors.
The incident comes just a day after a another car forced its way through the Melilla border post with nine migrants on board.
Surveillance footage tweeted by Spain's interior minister showed a police officer rushing to close large gates at the border post but being flung to the floor as the car forced the barriers open at high speed.
The border between Morocco and Melilla and Ceuta is regularly hit by disturbances as migrants try to get through by hiding in vehicles or climbing over high fences at the frontier.
Spain announced in March that it would nearly double the capacity of its migrant reception centres in the two territories to 8,500 places from 4,500.
Migrants and refugees also regularly take to rickety boats to cross the Mediterranean between north Africa and Spain.
Related Articles
Aug 07,2017
MADRID — More than 180 migrants stormed a border post between Morocco and the Spanish territory of Ceuta on Monday, careering through with a
Aug 04,2015
MADRID — A Spanish judge on Tuesday remanded in custody a French man of Moroccan origin, whose brother died from suffocation while trying to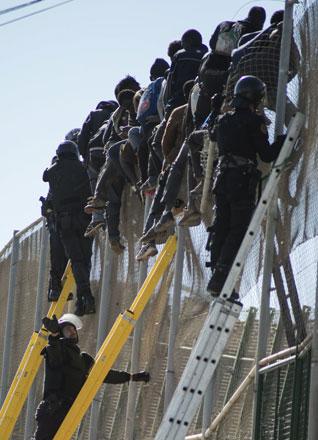 Nov 21,2015
MADRID — Close to 100 migrants tried to storm the border fence from Morocco into the Spanish enclave of Melilla Saturday in a scramble that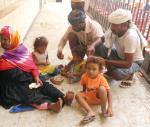 Newsletter
Get top stories and blog posts emailed to you each day.