You are here
Rescuers pull 2,300 migrants, two dead from Mediterranean
By AFP - May 25,2017 - Last updated at May 25,2017
This handout photo released by the Italian Coast Guards (Guardia Costiera) shows a rescue operation of migrants and refugees at sea off the coast of Sicily on Wednesday (AFP photo)
ROME — Around 2,300 migrants were rescued off the coast of Libya on Thursday and two others were found dead in operations carried out by NGO vessels, the Italian coastguard and commercial ships in the area.
The rescue efforts came as the bodies of 35 migrants, including at least 10 children, were being brought to Italy after they fell off an overloaded vessel that was hit by a huge wave while being rescued by an aid boat.
The operations Thursday bring the total number of people rescued to more than 5,900 since Tuesday.
"We've completed our 12th and final rescue for today and there are now 1449 people safely on board," Doctors Without Borders said on Twitter, with photos of migrants packed aboard its vessel Prudence.
"This rubber boat with 100 people was almost sinking," the group had tweeted earlier, posting images a nearly deflated vessel. "Few hours and it would have been too late. Where are the #EU boats?"
Also on Thursday, the Maltese charity MOAS said its Phoenix aid boat was heading for the Italian port of Crotone with 598 survivors and dozens of bodies from Wednesday's disaster.
The boat's crew had been distributing life jackets on a wooden boat with about 700 people onboard when a powerful wave struck, throwing some 400 people into the sea.
As they scrambled to pull them from the water, others were trying to break open a locked hold where hundreds were trapped.
"There are no words for what is happening in the central Mediterranean right now. It is a horrifying tragedy that continues to unfold on Europe's doorstep," said Christopher Catrambone, founder of MOAS, who was at the scene.
"MOAS is doing everything it can but alternative solutions must be found by Europe's leaders if this continuing loss of life is to be mitigated," he said.
More than 50,000 migrants have landed on Italian coasts since the beginning of this year, not counting those rescued in recent days, while more than 1,400 have drowned or are missing, according to the UN.
Related Articles
May 24,2017
ROME — More than 30 migrants, mostly toddlers, drowned on Wednesday when about 200 people without life jackets fell from a boat into the sea
May 04,2015
Around 7,000 migrants were rescued from overcrowded boats crossing the Mediterranean to Europe over the weekend and on Monday, including a woman who gave birth to a baby girl on an Italian navy ship, the coast guard said.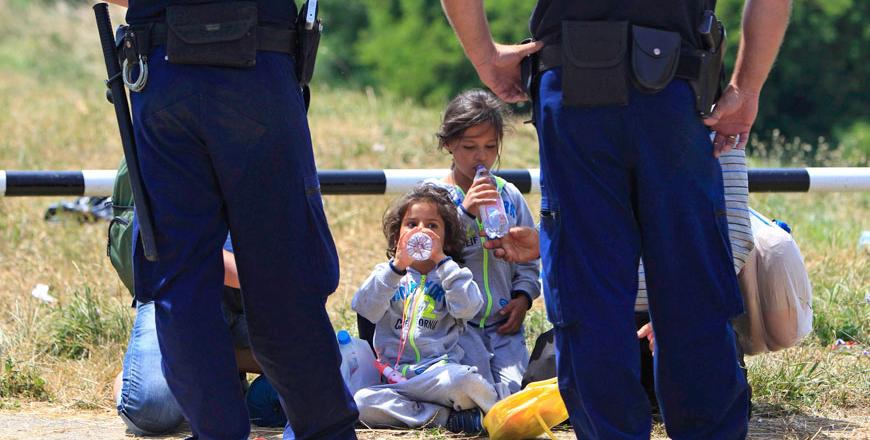 Jun 29,2015
ROME — Italy's navy said on Monday it had begun to recover the bodies of up to 800 migrants from a fishing boat that sank in the Mediterrane