You are here
Pentagon chief vows 'lasting defeat' against Daesh
By AFP - Feb 23,2015 - Last updated at Feb 23,2015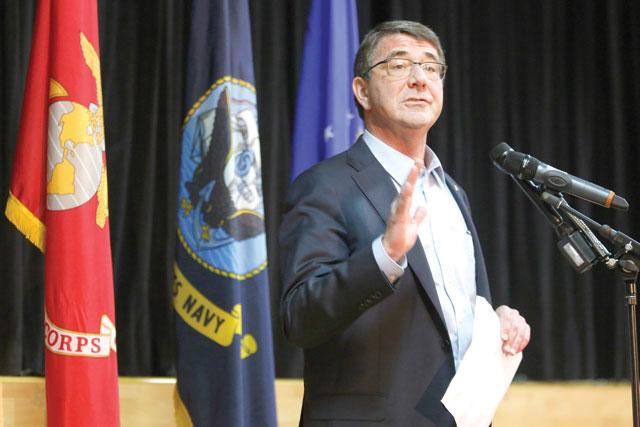 CAMP ARIFJAN, Kuwait — New Pentagon chief Ashton Carter on Monday vowed "lasting defeat" against Daesh terror group as he summoned top generals and diplomats to Kuwait to review the war effort against the jihadists.
Only days after taking office, Carter convened the extraordinary meeting of more than two-dozen senior military officers, ambassadors and intelligence officials at the sprawling US army base of Camp Arifjan.
Speaking to American troops at the base before the talks, Carter said the US-led coalition was "pressing" Daesh "very ably from Kuwait and elsewhere".
"And we will deliver lasting defeat, make no doubt," he said.
Carter said he had called the meeting of commanders and officials "to sit around one table and talk about all of the dimensions of this campaign".
The discussion would look not just at the fight in Iraq and Syria, where US and coalition aircraft have carried out daily bombing raids, but the wider regional struggle against Daesh, he said.
"ISIL [Daesh] is not just a threat to Iraq and Syria. It's a larger threat to the region," said Carter, using an alternative acronym for the Sunni extremist group.
Asked by one soldier if Washington would consider sending ground troops to take on the jihadists, Carter said any additional military action would have to be weighed carefully.
But he added "we'll do what it takes" to prevail.
President Barack Obama, anxious to avoid a drawn-out ground war, has backed an air campaign but ruled out deploying "boots on the ground".
The talks follow more than six months of US-led air strikes that have halted Daesh advances for the most part and enabled Kurdish forces to recapture some ground in northern Iraq and the Syrian town of Kobani on the border with Turkey.
But the jihadists still hold large swathes of territory seized last year across Iraq and Syria and appear to have spread their influence to Libya.
In recent days, Daesh has claimed responsibility for bombings in Libya as well as the murder of 21 Coptic Christians, most of them Egyptian.
Recruiting Sunnis to fight
The meeting of top brass and diplomats was not intended to produce a new strategy but to allow Carter to better understand the challenge posed by the jihadists and the range of efforts aimed at defeating them, said a senior US defence official.
Carter would be looking for an update on the Iraqi government's efforts to recruit other Sunnis into the fight against Daesh, the official told reporters.
Carter, an experienced Pentagon technocrat who took office last week, "wants it to be an open conversation regardless of rank", without formal presentations featuring power point slides, the official said.
Commanders believe the air war against Daesh and the training of Iraqi soldiers is mostly on course, but Baghdad's Shiite-led government has more work to do to persuade Sunnis to take up arms.
"On the military side, things are going well," the official said, adding, however, that "it's still yet to be seen how the Iraqis are really going to lead this thing".
"Thousands" of Sunni tribesmen have signed up to fight but a proposed Sunni national guard was still a long way off, the official said.
"Are Sunnis in the fight? Yes. Are they in the numbers we want? No."
Carter was likely to raise questions about "what it means when we have groups swearing allegiance to ISIL in Libya, in Egypt, in Afghanistan" and "how are we thinking about the next few years of the counter-terrorism fight".
The meeting was to include the commander running the anti-Daesh campaign, Lieutenant General James Terry, as well as the heads of US Central Command, Africa Command, European Command, Special Operations Command and Joint Special Operations Command.
Diplomats and civilian officials due to take part included John Allen, Obama's envoy to the anti-Daesh coalition, as well as the US special envoy to Syria, Daniel Rubinstein, the official said.
US ambassadors to Egypt, Jordan, Kuwait, Saudi Arabia and the United Arab Emirates would also attend.
On his first trip abroad as defence secretary since being sworn in last Tuesday, Carter came to Kuwait after a two-day visit to Afghanistan, consulting commanders about the pace of a US troop withdrawal.
Related Articles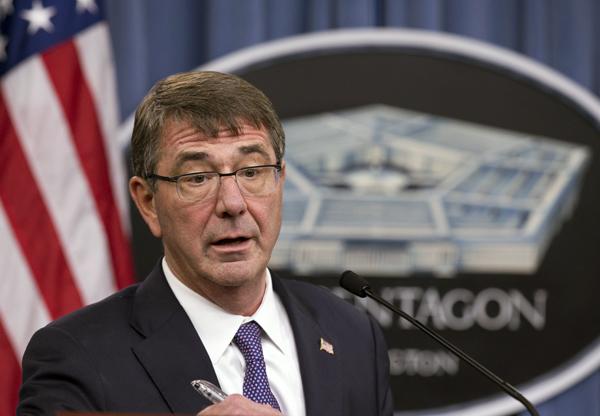 Jan 14,2016
WASHINGTON — A new US force of special operations troops has arrived in Iraq and is preparing to work with Iraqi forces to go after Daesh ta
Oct 24,2015
WASHINGTON — US Defence Secretary Ashton Carter said Friday he expected more raids targeting the Daesh group similar to the mission that fre
Jul 23,2015
BAGHDAD — Iraq has for the first time deployed troops trained by the US-led coalition in their campaign to retake the city of Ramadi from Da
Newsletter
Get top stories and blog posts emailed to you each day.