You are here
Palestinians lay first brick for Gaza reconstruction
By AFP - Jul 22,2015 - Last updated at Jul 22,2015
Palestinians work on a construction site to rebuild houses which were destroyed during the 50-day war between Israel and Hamas fighters in the summer of 2014 on Wednesday in Gaza City's eastern suburb of Al Shejaiya (AFP photo)
GAZA CITY — Palestinian housing minister Mufid Al Hasayneh laid a brick Wednesday for the first Gaza home to be rebuilt since the Israel-Hamas war a year ago, as frustration mounts over the slow pace of reconstruction.
The 50-day war in July-August 2014 killed 2,200 Palestinians, 73 on the Israeli side, mostly soldiers, and destroyed or damaged tens of thousands of homes in the besieged Gaza Strip.
Until now the only repairs have been to homes which were partially damaged, while 18,000 totally destroyed houses remain in ruins.
Israel's ongoing blockade of Gaza, now in its ninth year, has been blamed for the slow progress as well as a lack of international donor support for the territory, ruled by the Islamist movement Hamas.
Hasayneh laid the brick at the Harara family's home in Shejaiya, an area east of Gaza City that was one of the worst hit by Israeli shelling during the war.
"The march towards real reconstruction of the Gaza Strip has begun, and nothing will stop it," Hasayneh said.
"We will see a lot of movement on the reconstruction front in the coming days. We will rebuild all homes destroyed by Israel," he said, thanking several Arab countries including Qatar and Saudi Arabia for their donations towards Gaza's reconstruction.
But the process is expected to take years in the war-torn coastal enclave, whose 1.8 million residents have seen three wars in six years between Israel and Palestinian fighters.
Palestinian refugee agency UNRWA has said that so far it only received enough money for 200 out of the 7,000 houses it is tasked with rebuilding.
Donations pledged at an international conference in Cairo in October have been slow to arrive, and the blockade that has choked Gaza for years is still in place.
Israel controls two of the three goods and personnel crossings into the enclave, and Egypt controls a third.
Israel says more than 1.1 million tonnes of construction material have been allowed in since October through the Kerem Shalom goods crossing.
Egypt last month allowed cement supplies to be brought in through the Rafah crossing.
Critics of the blockade have called for it to be fully lifted to accelerate reconstruction, warning that an ongoing humanitarian crisis could fuel further conflict.
Related Articles
Aug 26,2015
PARIS — Some 35 aid groups from around the world, including ActionAid and Oxfam, launched a joint call Wednesday to end Israel's blockade of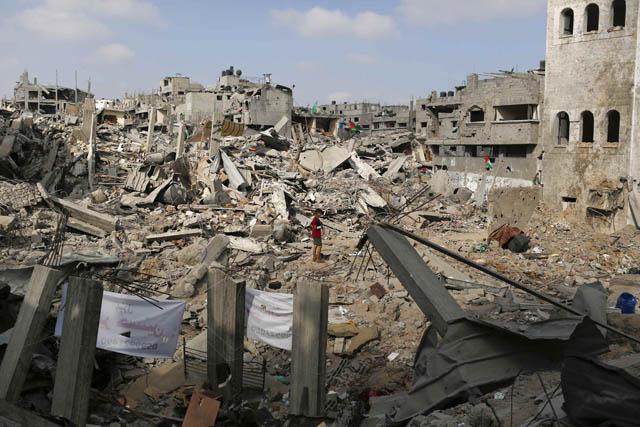 Aug 12,2014
With thousands of homes reduced to rubble and its infrastructure in ruins, Gaza's reconstruction will cost billions and require at least an easing of Israel's blockade to allow in building materials.
Mar 02,2015
UN Middle East peace envoy Robert Serry criticised the international community Monday over the failure to deliver aid promised for reconstructing Gaza, on his final trip to the Palestinian territory.
Newsletter
Get top stories and blog posts emailed to you each day.