You are here
Palestinian court suspends local elections
By AFP - Sep 08,2016 - Last updated at Sep 08,2016
RAMALLAH — A Palestinian court Thursday suspended municipal elections set for October 8 following disputes between the rival Fateh and Hamas movements over candidate lists, jeopardising the first vote since 2006 to involve both parties.
"The court decided in a meeting on Thursday to stop the elections planned for October 8," Hisham Al Hatoo, head of the Palestinian high court in the Fateh-led West Bank, explained.
The Fateh website said a second hearing would be held on December 21, though it was not immediately clear whether the elections could then be rescheduled.
Islamist movement Hamas, which runs the Gaza Strip, boycotted the last Palestinian municipal elections in 2012, but it was due to participate this year.
A Hamas spokesman said it rejected the decision.
"This is a political decision," Hamas spokesman Sami Abu Zuhri said. "We reject the decision to cancel the election and call on everyone to reject it."
Fateh and Hamas have not contested an election since 2006 parliamentary polls, which Hamas won — sparking a conflict that led to near civil war in Gaza the following year.
This year's vote was planned with 81-year-old President Mahmoud Abbas under heavy political pressure as opinion polls have suggested most Palestinians would like him to step down.
There has been no Palestinian presidential election since 2005 and Abbas has remained in office despite the expiry of his term.
The court issued Thursday's ruling in response to a challenge by a lawyer, Nael Al Houh.
Houh said his appeal was based on the fact that the elections were not being held in Jerusalem and over concerns related to polling in the Gaza Strip.
The Palestinians see east Jerusalem, occupied by Israel in 1967 and later annexed, as the capital of a future state of their own.
In Gaza, a court run by Hamas cancelled lists of Fateh candidates in a number of municipalities for "violating the election law", according to a judicial source and a spokesman for Fateh.
The judicial source said five lists in the Khan Yunis area were cancelled for "violating the law and not meeting the necessary conditions".
Failed unity efforts
Despite repeated reconciliation attempts, Hamas and Fateh have failed to bridge their differences and form a unified administration for the Palestinian territories.
The October vote was to choose municipal councils in some 416 cities and towns in Gaza and the Israeli-occupied West Bank.
It was being seen by some analysts as a sign of whether Hamas and Fateh could take a significant step towards reconciliation.
Their divisions are viewed as among the key obstacles in efforts to restart Israeli-Palestinian peace efforts, at a standstill for more than two years.
Some analysts saw Abbas's decision to call for the elections as a failed gambit since he may have been hoping Hamas would again sit out as it did in 2012.
The Palestinian parliament has not met since 2007, the year Hamas, buoyed by its 2006 election victory, seized the Gaza Strip by force, driving out Fateh in a week of deadly clashes.
Hamas caused a shock by winning the majority of seats in the 2006 polls, which were seen by some as the most transparent to be held in the Palestinian territories.
But the international community refused to accept a Hamas government, demanding the Islamist group first renounce violence, recognise Israel and respect agreements signed between Palestinian and Israeli leaders.
The European Union and the United States have blacklisted Hamas as a terrorist organisation.
Israeli security analysts have expressed fear the Islamist movement could eventually also come to power in the West Bank.
Related Articles
Oct 04,2016
HEBRON, Palestinian Territories — The Palestinian government delayed municipal elections for up to four months Tuesday with Fateh and Hamas
Aug 25,2016
GAZA CITY — Hamas said Thursday it will not submit candidates in its own name for upcoming Palestinian municipal elections, while its rival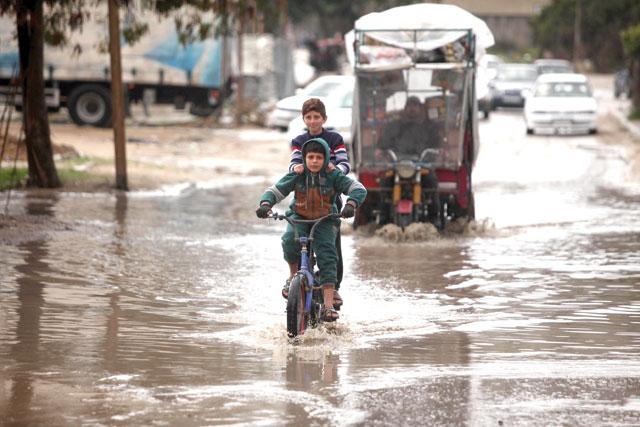 Feb 01,2017
OCCUPIED JERUSALEM — The Palestinian Authority said Tuesday that local elections delayed last October after a spat between political faction
Newsletter
Get top stories and blog posts emailed to you each day.