You are here
NGOs pressure Macron over Saudi weapons as prince visits
By AFP - Apr 09,2018 - Last updated at Apr 09,2018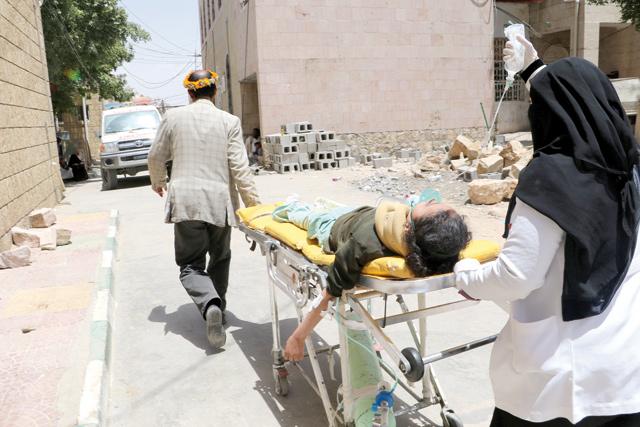 A school girl is being rushed on a stretcher to a hospital after she was injured by an air strike near her school in Saada, Yemen, on Monday (Reuters photo)
PARIS, France — Rights groups on Monday urged President Emmanuel Macron to pressure visiting Saudi Crown Prince Mohammed Bin Salman over the war in Yemen, warning Riyadh may be using French weapons in the conflict.
"France is potentially an accomplice to serious violations of humanitarian laws by selling weapons and military equipment to Saudi Arabia, given what we know is taking place in Yemen," said Aurelie Perrier, coordinator for Yemen and Saudi Arabia at Amnesty International France.
"We want to ask President Macron to stop arms transfers to Saudi Arabia and to lift the blockade on Yemen," she told AFP at a protest under the Eiffel Tower as Prince Mohammed kicked off his visit to Paris.
Two other groups, the Weapons Observatory (Obsarm) and the International Federation for Human Rights (FIDH), said the sheer volume of French weapons exports to Saudi pointed to the likelihood that they have been deployed in Yemen.
The groups said much of the equipment was suitable for use in Yemen, while "confidential testimony" also pointed to the presence of French arms on the ground.
"If these indicators do not constitute proof, they throw serious suspicion on the massive presence and use of French military equipment in Yemen," they said in a statement.
Saudi Arabia has since 2015 led a coalition bombing and blockading Yemen in a conflict that has left 10,000 people dead.
A combination of fighting, disease and food shortages has led it to be dubbed the world's worst humanitarian crisis by the United Nations.
Prime Minister Edouard Philippe's office insisted last month that French land weapons sold to Riyadh were "defensive" and being used in Saudi Arabia to deter cross-border attacks.
He added that "surveillance measures" to track the use of French weapons had been "strongly reinforced in recent months" and that France was meeting its international commitments.
As the 32-year-old crown prince continues an international charm offensive that has included stops in the United States, Britain and Egypt, rights groups urged Macron to pressure his guest on human rights violations.
The prince has used his tour to project his reforms — including the historic lifting of a ban on women driving, cinemas and mixed-gender concerts — as part of his pledge to modernise the Kingdom.
Prince Mohammed "considers himself a revolutionary, but if so, then he has to end the institutionalised oppression that has continued to build even after he came to power," said Amnesty France director Sylvie Brigot-Vilain.
"Especially regarding voices that oppose the regime, who increasingly find themselves behind bars."
Related Articles
Apr 04,2018
PARIS, France — Ten rights groups urged French President Emmanuel Macron on Wednesday to use a visit by Saudi Crown Prince Mohammed bin Salm
Apr 09,2018
PARIS, France — Saudi Arabia will use French expertise to set up a national opera and orchestra under an agreement signed on Monday that und
Mar 29,2018
PARIS, France — France on Thursday accused Iran of supplying weapons to Houthi rebels waging a three-year fight against a Saudi-led coalitio
Newsletter
Get top stories and blog posts emailed to you each day.