You are here
New round of Syria talks set for March 23 — UN envoy
By AFP - Mar 09,2017 - Last updated at Mar 09,2017
UNITED NATIONS — Syria's government and opposition groups are invited to resume peace talks in Geneva on March 23, the UN envoy said Wednesday, as the United States pledged support for the negotiations.
Staffan de Mistura announced the date after reporting to the Security Council on the results of the last round of talks on ending Syria's six-year war.
"My current intention is to bring the invitees back to Geneva for a fifth round, with a target date of the 23rd of March," he told reporters after the meeting.
The new round will focus on governance, constitutional process, elections and counter-terrorism and there may also be discussions on reconstruction, said de Mistura.
The European Union and the United Nations will host a conference in Brussels on April 5 on Syrian reconstruction but the assistance will only starts flowing once a political transition is in place.
US Ambassador Nikki Haley told reporters after the meeting that the new US administration supports the Syrian peace process and wants the talks in Geneva to continue.
"This is very much about a political solution now at this point and that basically means Syria can no longer be a safe haven for terrorists," she said.
"We've got to make sure that we get Iran and their proxies out," she added.
Russia and Iran are backing President Bashar Assad militarily in the war against a myriad of opposition fighters backed by Turkey, the United States and Gulf countries.
"We are going to continue to watch the process, but it's one that we support and one that we want to see a solution to," she said.
Russia, Turkey and Iran are expected to convene a new meeting in the Kazakh capital of Astana to prepare for the Geneva talks.
Previous rounds of peace talks have hit a wall over the future role of Assad, accused by the West of stoking the violence that has left 310,000 dead since March 2011.
The UN envoy sounded cautiously optimistic, saying that while there were no "miracles" during the last round, "we achieved much more than many people had imagined we could have."
"No one left. Everybody stayed. They were focused. We got an agenda. We got a timeline and we got some agreement, even on substance," he said.
Related Articles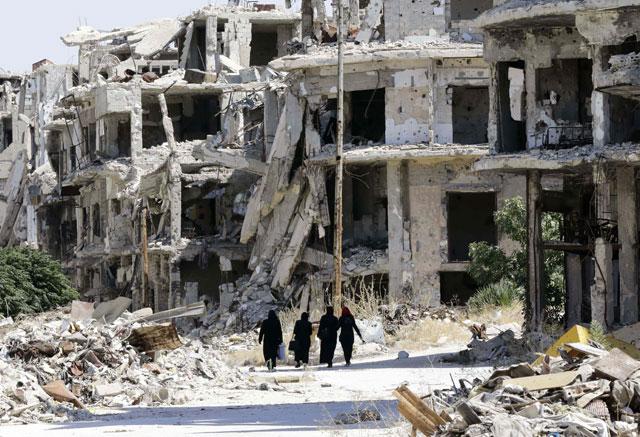 Mar 13,2017
BEIRUT — Syrian rebel factions will not attend a new round of negotiations with government figures in the Kazakh capital, an opposition dele
Jul 11,2017
GENEVA — The UN's Syria envoy said Monday that the stars may just be beginning to align for peace after six years of savage conflict as the
Apr 17,2016
GENEVA — Syria's opposition High Negotiations Committee (HNC) threatened Sunday to suspend its participation in UN-backed peace talks if the
Newsletter
Get top stories and blog posts emailed to you each day.