You are here
Netanyahu backs US embassy move to Jerusalem though signals no urgency
By Reuters - Jan 29,2017 - Last updated at Jan 29,2017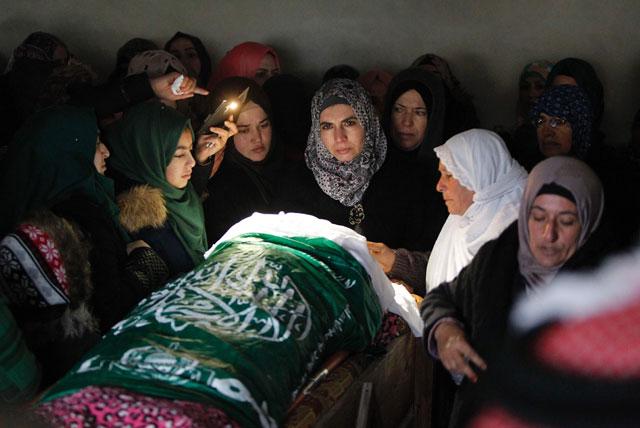 Fatima (centre), the mother of Majd Al Khudur, a Palestinian woman who was killed by Israeli occupation forces last year, attends the funeral of her daughter in the occupied West Bank village of Bani Naim on Saturday (AFP photo)
OCCUPIED JERUSALEM — Prime Minister Benjamin Netanyahu voiced support on Sunday for moving the US embassy to occupied Jerusalem but mentioned no time frame, after a Republican activist accused Israel of pressing the Trump administration to delay the pledged step.
In an interview with Israel's Haaretz newspaper, Marc Zell, head of the Republicans Overseas Israel branch, said new US President Donald Trump was "proceeding cautiously because of concerns raised by Israeli officials".
Trump's team spoke often during the presidential campaign about shifting the embassy from Tel Aviv to Jerusalem, Israel's self-proclaimed capital and a holy city at the heart of the Israeli-Palestinian conflict.
But a week ago, Trump's press secretary, Sean Spicer, lowered expectations of an imminent announcement about an embassy move that would anger the Arab world and possibly touch off violence.
Palestinian officials said the embassy's relocation would kill off any prospects for peace. The Palestinians want East Jerusalem — which Israel captured in a 1967 war and annexed in a move not recognised internationally — for the capital of a state they seek in the occupied West Bank and the Gaza Strip.
Israeli officials said last Sunday the embassy issue was barely discussed in a 30-minute telephone call between Trump and Netanyahu, who are to meet in Washington early next month.
Netanyahu addressed the matter in general terms in public remarks to his Cabinet on Sunday that were described by Israeli media as a response to Zell's accusation of foot-dragging.
"I want to take the opportunity to make it unequivocally clear that our position has always been, and remains so now and at all times, that the US embassy should be here, in Jerusalem," Netanyahu said, without directly mentioning Zell.
Currently, no country has its embassy in Jerusalem, the Israeli foreign ministry said. Costa Rica and El Salvador did until a few years ago, but they are now in Tel Aviv.
"Jerusalem is Israel's capital and it is right and proper that all of the foreign embassies, and not only the American embassy, move here. I believe that in time, most of them will indeed come to Jerusalem," Netanyahu told the Cabinet.
The international community says Jerusalem's final status should be determined via direct negotiations between Israel and the Palestinians — talks that collapsed in 2014.
Israeli officials have said they do not want a US embassy move rushed and political commentators have noted that its relocation would damage the stronger relations Israel has been quietly building with the Sunni Muslim world.
Related Articles
Jan 17,2018
OCCUPIED JERUSALEM — Prime Minister Benjamin Netanyahu said Wednesday he believed the US embassy in Israel could be moved from Tel Aviv to J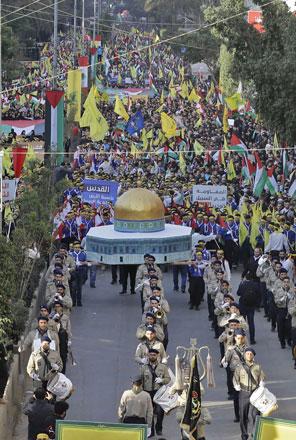 Dec 11,2017
BRUSSELS — Prime Minister Benjamin Netanyahu took his case to Europe to ask allies to join the United States in recognising occupied Jerusal
Mar 13,2018
AMMAN — A group of MPs on Tuesday called for a "strong" denouncement of the Israeli law to strip residency from Jerusalem's Palestinians, sa
Newsletter
Get top stories and blog posts emailed to you each day.