You are here
'Mosul parents sedate children, fearing discovery by Daesh'
By Thomson Reuters Foundation - Mar 23,2017 - Last updated at Mar 23,2017
Iraqi civilians flee the city of Mosul as Iraqi forces advance in their massive operation to retake Iraq's second city from Daesh extremists on Wednesday (AFP photo)
LONDON — Terrified Iraqi families fleeing fierce fighting in Mosul are drugging their children with sedatives or taping their mouths shut to prevent their cries alerting Daesh militants as they try to escape, aid workers say.
Hala Jaber of the International Organisation for Migration (IOM) said men caught trying to leave would be shot while women were sometimes tied up and left outside in the cold as a warning. Militants are also using civilians as human shields.
"Families often leave at night and in the early hours of the morning and have to walk with their children. The kids get tired and if they cry it's very difficult," Jaber told the Thomson Reuters Foundation by phone from Erbil, east of Mosul.
"Families are sometimes putting duct tape on their children's mouths or even giving them Valium or tranquilisers just to keep them quiet so that they are not found out by ISIS [Daesh] and captured or shot."
She said IOM staff had heard similar stories from families fleeing other Daesh-controlled areas in Iraq.
Iraqi forces launched a campaign to retake West Mosul a month ago after capturing the eastern side of the city in January.
Aid agencies say the situation is desperate for up to 600,000 people who remain trapped with shortages of food, water, fuel and medical supplies.
The UN refugee agency said on Thursday that 157,000 people had reached a reception centre for residents fleeing the fighting.
Amy Christian, an Oxfam spokeswoman in Iraq, said civilians reaching safety were "very traumatised, hungry, dehydrated and completely exhausted".
Some had given their children sedatives to shield them from the terror as they fled, she said.
"My family gave drugs to the young children," teenager Noor Muhammed told Oxfam after escaping with 27 people.
"Parents gave sleeping medicine to their children so they wouldn't be horrified by the fighting; also, [so that] when they ran at night under the darkness they wouldn't be found because of the children," Muhammed said in a statement provided by Oxfam.
Specialist teams are helping children arriving at displacement camps with psychological support.
"The things the children have seen and been through are beyond what any human being should see," Jaber said.
"They've witnessed hands being cut off, beheadings and killings. A lot of them are in shock."
But Jaber said the children were remarkably resilient.
"They were drawing tanks with ISIS flags [when they arrived]. Now they're drawing flowers and happy faces," she added.
up
28 users have voted, including you.
Related Articles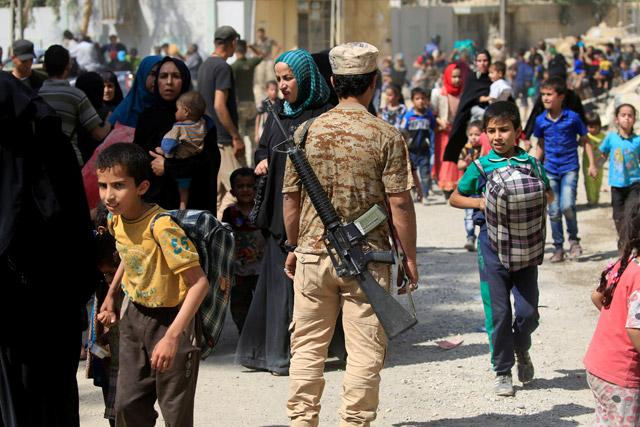 Jun 07,2017
KHAZIR, Iraq — After fleeing the battleground city of Mosul, Yusra Mohammed says her children were detained by Iraqi Kurdish forces and she
Mar 20,2017
BAGHDAD — Iraqi forces battled the Daesh terror group militants on Monday to push into Mosul's Old City where thousands of civilians remain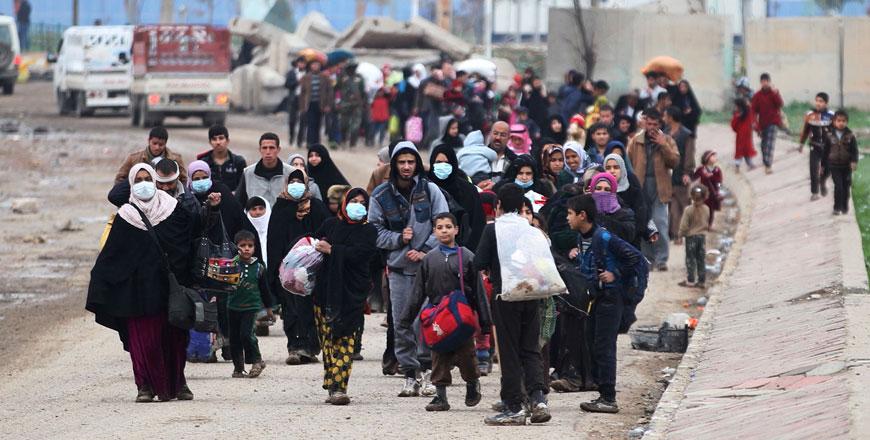 Mar 15,2017
MOSUL — Nearly 100,000 people have poured out of west Mosul in less than three weeks as Iraqi forces fought to retake the area from extremis
Newsletter
Get top stories and blog posts emailed to you each day.