You are here
Morocco vows probe after protests over fish seller's death
By AFP - Oct 31,2016 - Last updated at Oct 31,2016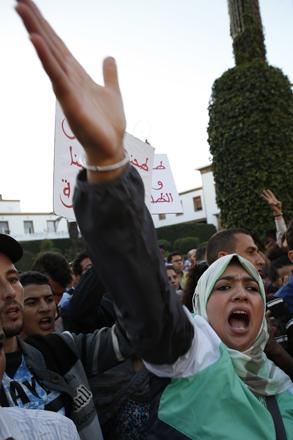 A Moroccan woman shouts as some thousands of Moroccans protest against the death of Mouhcine Fikri last Friday in the northern city of Al Hoceima in Rabat, Morocco, on Sunday (AP photo)
RABAT — Moroccan authorities were promising on Monday to investigate the death of a fish seller whose crushing in a rubbish truck sparked widespread demonstrations.
Mouhcine Fikri, 31, was crushed to death on Friday in the truck in the northern city of Al Hoceima as he reportedly tried to protest against authorities seizing and destroying his wares.
His death in the Rif — an ethnically Berber region long neglected under the former king and at the heart of a 2011 protest movement for reform — has triggered outrage in other cities including the capital Rabat.
Thousands attended Fikri's funeral in Al Hoceima on Sunday after an image of his inert body — head and arm sticking out from under the lorry's crushing mechanism — went viral on social media.
The gruesome picture was splashed across the front page of newspapers on Monday alongside photos of the protests — in Al Hoceima as well as in smaller Rif towns, but also in Casablanca, Marrakesh and Rabat.
"Morocco is in shock. The horrific death of the fish seller has caused tears in the Rif and outrage among Moroccans," the daily Akhbar Alyoum said.
Images on social media showed hundreds of high school students protesting in Al Hoceima on Monday morning.
Around 2,000 people attended a later demonstration in the town, some carrying pictures of Fikri and others Berber flags.
Autopsy results quoted by the media on Monday showed "fractures of the five first ribs left and right" and reported death from "haemorrhagic shock after a chest wound".
The circumstances of the fishmonger's death have remained unclear.
But a human rights activist said on Sunday that the authorities had forced him to destroy several boxes of swordfish, which it is illegal to catch using driftnets.
'Illegal' swordfish
Fikri threw himself in the truck after his goods were crushed by the machine, Fassal Aoussar from the Moroccan Association of Human Rights (AMDH) said.
Interior Minister Mohamed Hassad late on Sunday vowed that an investigation would be held to "determine the exact circumstances of the tragedy and punish those responsible".
He said authorities found "a large quantity of swordfish" in his car at a police checkpoint and "a decision was taken to destroy the illegal goods".
"All questions are about what happened after that," he said.
"We cannot accept officials acting in haste, anger or in conditions that do not respect people's rights."
It was the self-immolation of a street vendor in Tunisia in late 2010 in protest at police harassment that sparked Tunisia's revolution and the Arab Spring uprisings across the rest of the region the next year.
The AMDH on Sunday warned of a "possible repeat" of the 2011 protests in the Rif, just a week before Morocco starts hosting international climate talks.
King Mohammed VI ordered a "thorough and exhaustive investigation" into Fikri's death and the "prosecution of whoever is found responsible", the interior ministry said.
The king — who was in Zanzibar at the weekend on a tour of East Africa — sent the interior minister to "present his condolences" to Fikri's family, it said.
Morocco is due to host the COP22 climate talks in Marrakesh from November 7 to 18.
Related Articles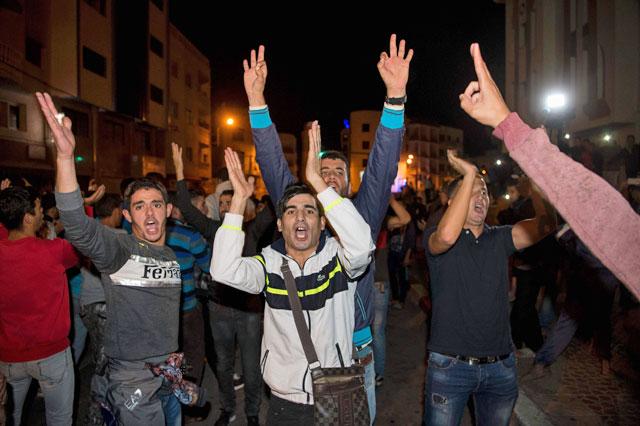 Nov 01,2016
RABAT — Morocco has arrested 11 people suspected of involuntary manslaughter over the death of a fish seller whose crushing in a rubbish tru
Jun 05,2017
RABAT — Moroccan authorities on Monday arrested two more leaders of a protest movement, after demonstrators rallied for more than a week aga
Nov 05,2016
HOCEIMA, Morocco — The anger is palatable in Hoceima, a Moroccan port on the Mediterranean Sea.
Newsletter
Get top stories and blog posts emailed to you each day.