You are here
Little sign of progress towards Syria peace
By AFP - Feb 01,2014 - Last updated at Feb 01,2014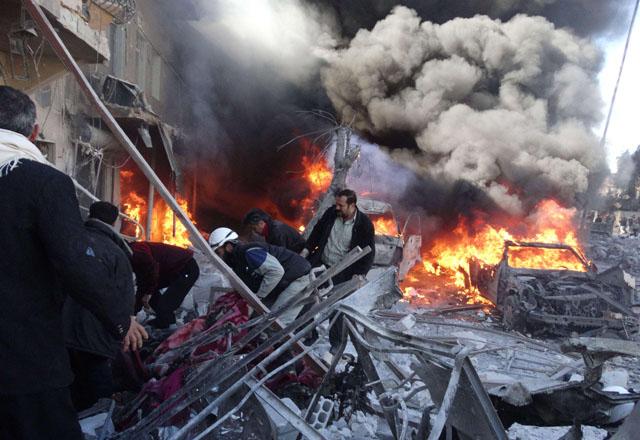 BEIRUT — Syrian government and opposition delegations leave 10 days of peace talks with few results and a follow-up meeting uncertain, but analysts and negotiators say the discussions are an important beginning.
The immediate post-mortem on the talks from Syrian Foreign Minister Walid Mouallem was blunt.
"I regret to tell you that we have not reached tangible results during this week," he said as the talks wrapped up in Geneva on Friday.
Despite persistent pressure from UN-Arab League envoy Lakhdar Brahimi, and co-sponsors Russia and the United States, the two delegations failed to agree on a single point.
No ceasefire was signed, talks on a transitional government never began, and a mooted deal to allow aid into the besieged Old City of Homs went nowhere.
Opposition National Coalition chief Ahmad Jarba said the regime had failed to show "serious commitment" during negotiations.
"The talks were obviously not a success," said Salman Sheikh, director of the Brookings Doha Centre think tank.
"The other disappointing thing was that there was hope that the momentum would come from some sort of a deal on humanitarian access. That hasn't happened," he added.
The failure to secure humanitarian access ranks among the larger disappointments of the talks, dashing hopes the government might ease its blockade of besieged rebel-held enclaves as a goodwill gesture.
In the end, the regime offered to allow women and children to leave the Old City of Homs, but aid convoys on standby to enter were left waiting.
Desperately needed food did reach the besieged Palestinian refugee camp of Yarmouk on Thursday and Friday, but the plight of civilians trapped in the south Damascus camp had not even been on the Geneva agenda.
The talks have also done nothing to slow the pace of killing in Syria, where more than 136,000 people have died since the conflict erupted in March 2011, an NGO said Saturday.
The Syrian Observatory for Human Rights said nearly 1,900 people were killed between the start of the talks on
January 22 and their penultimate day on Thursday.
'A modest beginning'
A second round of talks is proposed for
February 10, but Mouallem said he could not confirm the regime's participation without first consulting President Bashar Assad.
Mouallem also said on Saturday the US had asked to "negotiate directly" with his delegation, but that they had "refused to do so before [US] Secretary of State John Kerry apologised for what he said at the conference".
Kerry said Assad "will not be part" of any transitional government.
The tone in Syria's state media on Saturday was also far from conciliatory.
"In Geneva, the Syrian delegation spoke as the voice of Syrian rights. They spoke from the heart," said government daily Al Thawra.
It said the opposition, by contrast, had said "nothing but what was dictated to them on a piece of paper by their master".
"They were a subservient humiliated slave, and an obedient client," it charged, alluding to the opposition's Gulf Arab and Western backers.
But despite the deadlock, Jarba confirmed the opposition would attend the next round of talks, and Brahimi said there had been glimpses of common ground.
"This is a very modest beginning, but it is a beginning on which we can build," he said on Friday, while admitting disappointment at the failure to achieve humanitarian access.
He was due to hold talks in Munich on Saturday with both Russia, which backs the Assad regime, and the US, which supports the opposition.
Volker Perthes, director of the German Institute for International and Security Affairs, said the talks were a "first step towards possible success".
"At least, the two parties recognised the respective other side as someone they have to negotiate with," he said.
Both sides defied the expectations of many not by only showing up to the talks, but also by not walking out, despite tense moments and mutual recriminations.
"This isn't much, but more could not have been expected," Perthes said.
And reports the US Congress has secretly approved resuming weapons deliveries to "moderate" Syrian rebel factions suggest the opposition gained something by attending the talks.
Massoud Akko, a member of the technical team in the opposition delegation, acknowledged little progress had been made, but said the opposition won symbolic victories.
"This is the first time that the Syrian regime has accepted to discuss the future of Syria with Syrians, so I think this is something that we have won," he told AFP.
up
24 users have voted, including you.
Related Articles
Feb 01,2014
Syrian government and opposition delegations leave 10 days of peace talks with few results and a follow-up meeting uncertain, but analysts and negotiators say the discussions are an important beginning.
Jan 13,2014
Moscow and Washington made a joint call Monday for Syria's regime and rebels to agree to ceasefires in parts of their battle-scarred country ahead of peace talks this month.
Feb 09,2014
Aid teams evacuated hundreds of exhausted civilians from besieged districts of the city of Homs on Sunday, as Syria's regime and rebels again accused each other of violating a truce.
Newsletter
Get top stories and blog posts emailed to you each day.