You are here
Libyan pro-gov't advance slows as Daesh hits back in Sirte
By AFP - Jun 14,2016 - Last updated at Jun 14,2016
Forces loyal to Libya's UN-backed unity government clash with militants in the city of Sirte, 450 kilometres east of Tripoli, during an operation to recapture the city from the Daesh terror group, on Sunday (AFP photo)
SIRTE, Libya — An intense fightback by the Daesh terror group in Libya's Sirte slowed an advance by pro-government forces Monday into the extremists' North African stronghold.
Forces allied with Libya's unity government made rapid gains in Sirte last week, pushing Daesh out of the port and the airport on the edges of the coastal city, 450 kilometres east of the capital Tripoli.
But the advance, under cover of air strikes and heavy artillery, slowed as pro-government fighters reached residential areas near the city centre.
Most of Sirte's residents have fled but officials have said some 30,000 civilians remain in the city.
"We are trying to advance slowly today," a member of the operations command told AFP. "There are no big clashes so far, but the most important thing is that we are trying to advance."
As the fighting degenerated into a street-by-street battle, Daesh militants holed up in the central and northern parts of the city hit back with sniper fire, improvised explosives and suicide car bombings.
Three Daesh militants drove cars laden with explosives at pro-government troops and a field hospital on Sunday, killing at least one fighter and injuring four others, a unity government spokesman told AFP.
A group of pro-government fighters responded by attacking Daesh positions at the main western entrance to the city on Sunday afternoon.
They came under intense fire from the extremists and withdrew as evening fell, an AFP journalist at the scene reported.
A pro-government fighter was injured by sniper fire during the operation and taken out of the area.
But another fighter involved in the battle sounded an upbeat note on the operation.
"Our ground forces will advance despite the difficulties," he said.
The AFP journalist filmed pro-government fighters firing assault rifles at Daesh positions from inside buildings on the edge of the city.
One fighter was injured and lay on the steps next to building as his colleagues shouted for medical assistance.
"The infantry has advanced inside Sirte with a great deal of effort," said Mohammed Al Fadel, a pro-government fighter.
Unified command
Daseh — which is estimated to have some 5,000 militants in Libya — seized control of Sirte last year and turned it into its main base of operations in North Africa.
The loss of the city would be a major setback for the group, which has also been losing territory in Syria and Iraq where Daesh established its self-declared "caliphate" in 2014.
The forces battling to oust the extremists from Sirte include militias from western cities, notably Misrata, and the guards of eastern oil installations that Daesh has repeatedly tried to seize.
Under the command of Libya's UN-backed Government of National Accord (GNA), they launched the assault on Sirte, the hometown of Libya's ousted dictator Muammar Qadhafi, a month ago.
Directed from a joint command centre in Misrata, 190 kilometres to the northwest, pro-GNA forces have deployed tanks, rocket launchers and artillery in the fight for the city.
Forces from Misrata — who have an arsenal that includes MiG fighter jets and attack helicopters — carried out dozens of air raids against Daesh.
Pro-GNA forces entered Sirte last week, taking the city's port on Friday and advancing on residential areas in the city's east.
Following rapid gains, a spokesman for the pro-GNA forces predicted on Thursday the city would fall "in two or three days".
But the advance slowed over the weekend, as Daesh responded with machineguns, mortar rounds and sniper fire, as well as car bombings.
According to medical sources in Misrata, at least 140 pro-GNA fighters had been killed and 500 wounded since the operation began on May 12.
Related Articles
Aug 07,2016
TRIPOLI — Libya pro-government forces backed by US air strikes said Sunday they would soon launch a final assault to retake the coastal city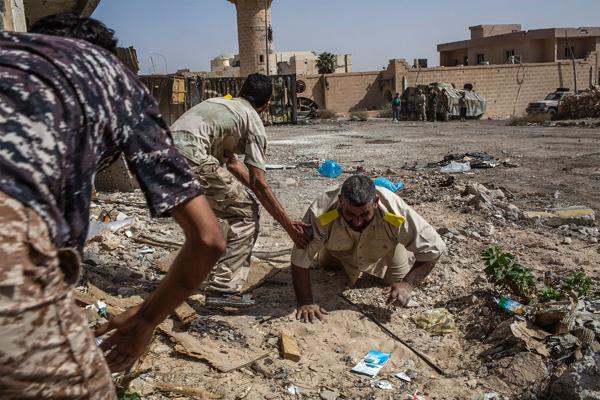 Oct 03,2016
TRIPOLI — A Dutch journalist was killed by sniper fire on Sunday while covering clashes in Libya's coastal city of Sirte, as unity governmen
Aug 04,2016
SIRTE, Libya — Crouched behind a cement wall to avoid sniper fire, Libyan pro-government fighters say US air strikes on the Daesh terror gro
Newsletter
Get top stories and blog posts emailed to you each day.