You are here
Libya militia clashes spread beyond Tripoli towards Zawiya oil port
By Reuters - Aug 07,2014 - Last updated at Aug 07,2014
TRIPOLI — Clashes in Libya spread from Tripoli to the western town of Zawiya near Tunisia's border, where a large oil port is located, killing four people over the last two days, local town council officials said on Thursday.
Foreign governments have mostly closed their embassies and evacuated staff after three weeks of clashes turned Libya's two main cities — Tripoli and Benghazi — into warzones in the worst fighting since the NATO-backed war against Muammar Qadhafi.
Three years after Qadhafi's fall, Libya's government has been unable to tame rival brigades of former rebel fighters who have allied themselves with competing political factions in a struggle over post-war spoils.
The fighting in Zawiya is part of a broader struggle between two loose confederations of former rebels and their political allies whose rivalries have exploded into street battles that have killed more than 200 people in the past three weeks.
Brigades allied to the town of Zintan — based in the city some 130km southwest of Tripoli — and their anti-Islamist Qaaqaa and Al-Sawaiq units are battling Islamist-leaning Libya Shield brigades loyal to the central, coastal town of Misrata who say they are fighting former Qadhafi allies.
"Four people were killed and nine others were wounded when Warshafana militias [from Zintan] allied with Qaaqaa and Al-Sawaiq brigades attacked Libyan Western Shields," Zawiya council's president Abdelkarim Salem Al Beh said.
"Libyan Shields have been protecting the main coastal road to the Tunisian borders," he said.
Another local security official confirmed clashes between fighters loyal to Warshafana against the Libya Shield brigades.
But Zawiya's port, a major terminal that is fed by the El Sharara oilfield, was safe, its managing director said.
"The clashes are around 20 kilometres from the port. The port is operating normally, and at least one tanker leaves everyday exporting oil," Youssef Hamza, managing director of Zawiya port told Reuters.
Zawiya port is connected to El Sharara in the southern desert and its pipelines started operating a few months ago after months of blockades by armed protesters.
"All fuel depots for domestic consumption and for exports are full, and all tankers load once they arrive," Hamza said.
Libya's oil output dropped to about 450,000 barrels per day (bpd) from 500,000 bpd last week, but a spokesman for the state-run National Oil Corporation said oilfields were still secure despite clashes in the capital Tripoli.
Libya's oil infrastructure has been targeted repeatedly since 2011 by armed groups, tribes and protesters who have taken over fields, blockaded ports or switched off pipelines.
On Thursday Tripoli was quieter for days after weeks of clashes as Misrata brigades try to oust Zintan fighters from Tripoli Airport, which they have held since Gaddafi's overthrow.
Sporadic gunfire persists in the eastern city of Benghazi, where the self-declared Revolutionaries Shura Council, an alliance including former rebels and militants from the Al Qaeda-linked Ansar Al Sharia, has been fighting regular forces.
The fighting is also shifting to the political arena.
The new House of Representatives, elected in June, on Wednesday called for an immediate ceasefire under United Nations supervision. But Libya's Islamist Justice and Construction Party, an arm of the Muslim Brotherhood, has rejected the House of Representatives sessions held in the eastern town of Tobruk, away from the fighting.
Already some Islamist-leaning lawmakers and former parliamentary deputies allied with the Misrata brigades involved in Tripoli clashes have rejected the new parliament as unconstitutional because it held sessions in Tobruk.
"We urge lawmakers to reconvene again to salvage the country's transition to democracy and hold their first meeting in the city of Benghazi," a party statement said on Thursday.
Related Articles
Aug 13,2014
Libya's parliament on Wednesday voted to disband the country's militia brigades and called on the United Nations to protect civilians in an effort to end the worst fighting between armed factions since the 2011 fall of Muammar Qadhafi.
Aug 10,2014
Heavy shelling resumed in the Libyan capital Tripoli on Sunday after three days of relative calm following more than a month of street fighting between rival armed factions battling for control of the city's airport.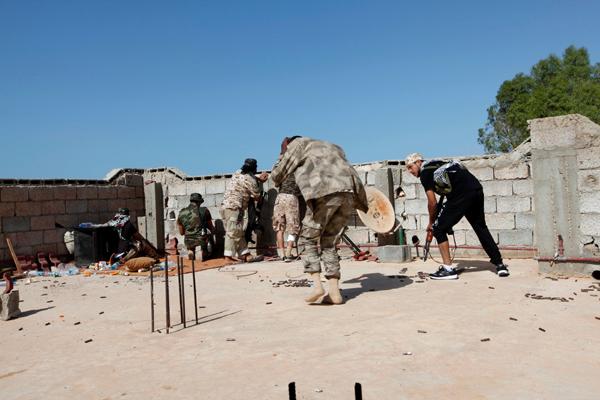 Jul 11,2016
SIRTE — When Western officials cajoled Libya's warring factions to support a unity government this year, they said it was a chance for the r
Newsletter
Get top stories and blog posts emailed to you each day.