You are here
Lebanon fears more attacks after multiple suicide bombings
By Reuters - Jun 28,2016 - Last updated at Jun 28,2016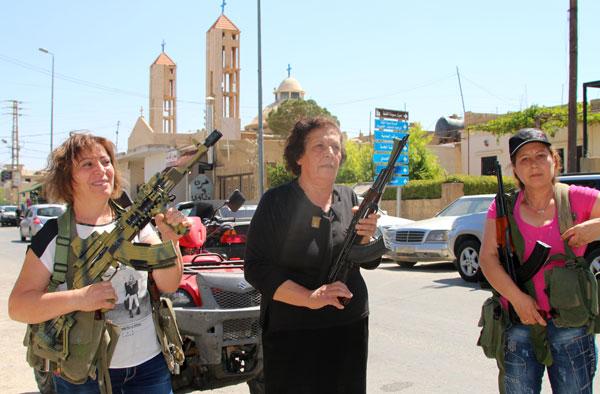 Lebanese Christian women hold weapons as residents of the Christian village of Qaa, near the Lebanon's border with war-ravaged Syria, secure the area on Tuesday after two waves of suicide bombings struck the village killing and wounding several people (AFP photo)
BEIRUT/QAA, Lebanon — The Lebanese government warned on Tuesday of a heightened terrorist threat after eight suicide bombers targeted a Christian village at the border with Syria, the latest spillover of that country's conflict into Lebanon.
The village of Qaa was targeted on Monday in two waves of suicide attacks that killed five people. The first group of bombers attacked before dawn and the second later at night, two of them blowing themselves up near a church.
Security officials believe Daesh militants were behind the attack. There has been no claim of responsibility.
In reference to the number of attackers, the Lebanese government said the attack and the "unfamiliar way" it was carried out represented a new phase of "confrontation between the Lebanese state and evil terrorism".
Prime Minister Tammam Salam "expressed his fear that what happened in Qaa is the start of a new wave of terrorist operations in different areas of Lebanon", Information Minister Ramzi Jreij said in televised comments after a cabinet meeting.
Extremists have repeatedly struck in Lebanon since the eruption of the war in neighbouring Syria, where the powerful Lebanese Shiite Muslim group Hizbollah is fighting in support of President Bashar Assad.
Interior Minister Nohad Machnouk said the attackers had come from inside Syria, and not refugee camps hosting Syrian refugees who number more than 1 million in Lebanon, according to the UN refugee agency UNHCR.
Army commander General Jean Kahwaji said militants had started a new phase "but it is not certain that they have a new plan". Speaking in Beirut ahead of a meeting with Salam and other security chiefs, he said the bombers included a woman.
Local authorities imposed curfews on Syrian refugees in the area following the attacks. The Lebanese army said it had mounted dawn raids on Syrian refugee camps, detaining 103 people for being illegally present in Lebanon.
The majority of Syrian refugees have no legal status in Lebanon due to the complications and costs of obtaining or renewing residency rights under rules imposed by the Lebanese government, aid agencies say.
In Qaa, residents armed with assault rifles fanned out in the streets for several hours on Tuesday, citing the need to protect the area. They later dispersed when the army asked them to go home. The head of the Qaa local council had on Monday night urged residents to shoot anyone suspicious.
Security sources said Hizbollah deployed dozens of armed men in nearby villages to help secure the area.
"We are not leaving for sure, we are staying here ... we are not afraid. We are not leaving our land," Maher Rizk, a café owner, said.
The UNHCR said the northern region of Lebanon's Bekaa Valley hosts a significant population of vulnerable people, both Lebanese and refugees.
"Law enforcement authorities are conducting follow-up security operations in the area. At a time of heightened tensions, it is important that the communities stand together," Matthew Saltmarsh, senior UNHCR communications officer, said.
Related Articles
Jun 28,2016
AL QAA, Lebanon — A string of suicide bombings killed at least five people shortly before dawn on Monday in a Lebanese village near the vola
Jul 05,2015
QAA, Lebanon — The barren mountains separating the Lebanese village of Qaa from Syria have helped shield it from the war raging next door, y
Jun 28,2016
AMMAN — The government on Monday condemned the terrorist attack on a Lebanese village near the Syrian border, the Jordan News Agency, Petra,
Newsletter
Get top stories and blog posts emailed to you each day.