You are here
Leaders of Egypt, Turkey visit Saudi Arabia
By AFP - Mar 01,2015 - Last updated at Mar 01,2015
RIYADH — Egyptian President Abdel Fattah Al Sisi held talks in Riyadh on Sunday, coinciding with a visit to Saudi Arabia by his Turkish counterpart who Cairo accuses of backing the banned Muslim Brotherhood.
Sisi and Turkish President Recep Tayyip Erdogan, whose relations have been strained since Sisi ousted his Islamist predecessor Mohamed Morsi in July 2013, did not meet in the oil-rich Gulf state.
Sisi's brief visit came after a satellite television last month broadcast a leaked audio recording in which he apparently suggests that Gulf monarchies have more money than they need and should give more to Egypt.
Sisi swiftly initiated telephone conversations with his allies in the Gulf, including with Saudi Arabia's King Salman who reportedly told him that relations with Cairo were "strategic".
On Sunday, the Saudi monarch greeted Sisi upon his arrival, the official SPA news agency reported.
The leaders discussed "bilateral cooperation... and affirmed the deep strategic relations between the kingdom and Egypt, and their eagerness on strengthening them," said SPA.
They also held talks on "regional and international developments."
Saudi Arabia, the United Arab Emirates and Kuwait are the main financial backers of Sisi's government, having pledged around $12 billion to Cairo since he came to power.
In an interview with Saudi-owned Al Arabiya news channel ahead of the visit, Sisi insisted that Cairo's relations with Riyadh were strong.
His visit came at the same time as Erdogan, who on Saturday travelled to the Muslim holy city of Mecca to perform a pilgrimage, before leaving to Medina the next day.
Sisi said the timing of the visits was a "coincidence".
But he also urged Turkey to "stop interfering in Egypt's internal affairs", in the interview with Al Arabiya.
Cairo accuses Ankara, as well as Doha, of supporting the Muslim Brotherhood, the movement of Morsi, blacklisted by Saudi Arabia and the UAE as well as by Egypt.
Related Articles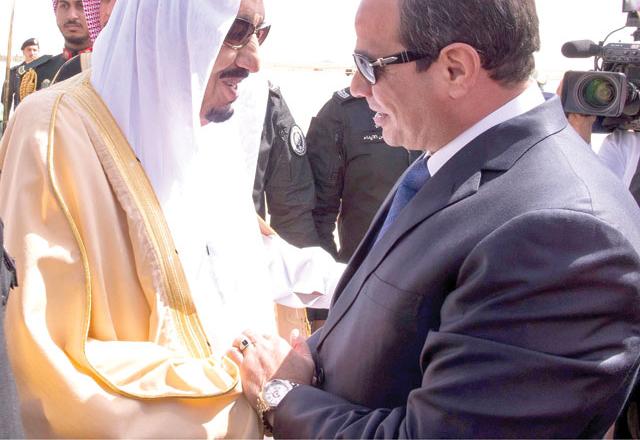 Mar 09,2015
Under its new monarch, Saudi Arabia appears to be moving to improve relations with Turkey and Qatar and soften its stance against the Muslim Brotherhood with the aim of weakening Iran. The shift could lead to pressure on its ally Egypt to reconcile with them as well.
Dec 21,2014
Qatar has pledged its "full support" to Egypt, an official statement said, ending more than a year of regional isolation over its support for Cairo's ousted Islamist president.
Jun 19,2014
Saudi Arabia's King Abdullah will pay a brief visit to Egypt on Friday in a show of support for its newly elected president, Abdel Fattah Al Sisi, two Saudi sources told Reuters on Thursday.
Newsletter
Get top stories and blog posts emailed to you each day.