You are here
Kuwait commutes death sentence of 'pro-Iran cell leader'
By AFP - Jun 19,2017 - Last updated at Jun 19,2017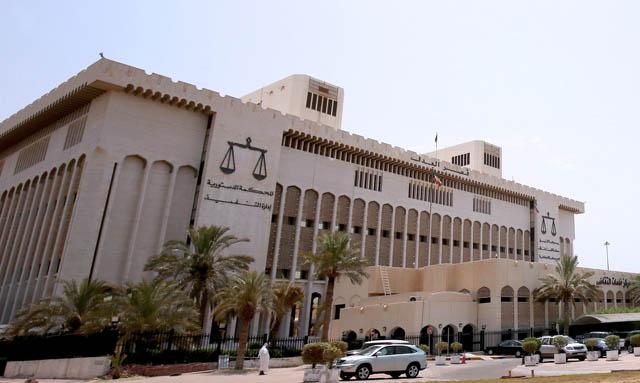 A photo taken on Sunday shows the Palace of Justice in Kuwait City, which is home to Kuwait's supreme court (AFP photo)
KUWAIT CITY — Kuwait's supreme court on Sunday reduced the death sentence of a Shiite citizen convicted of forming a pro-Iranian cell and of plotting attacks to life in prison.
Hasan Abdulhadi Ali was sentenced to death by the lower and appeals courts last year after he was convicted of being "the mastermind of a cell" of 26 Shiites accused of links to Iran and of plotting attacks in the Gulf emirate.
Members of the cell had been charged with spying for Iran and hiding large quantities of arms, explosives and ammunition in underground warehouses.
Ali was also found guilty of having been an operative of Lebanon's Shiite Hizbollah movement since 1996 and of smuggling significant amounts of arms and explosives from Iran into Kuwait.
The supreme court judges, whose rulings are final, sentenced 20 other members of the cell to between five and 15 years in jail and acquitted two.
The cases of the remaining three members were not taken up by the supreme court because they remain fugitives.
They include the only Iranian member of the cell, Abdulredha Haider, who was handed the death penalty in absentia by the lower court in January last year.
The court had accused Haider of ties to Iran's elite Revolutionary Guard and of recruiting the Kuwaiti Shiites and facilitating their travel to Lebanon, where they received military training from Iran-backed Hizbollah.
The 23 defendants present at the trial have denied the charges and said that their confessions were extracted under torture.
Iran has denied any links to the group.
Around a third of Kuwait's native population of 1.35 million is Shiite.
Related Articles
Jan 13,2016
KUWAIT CITY — Kuwait on Tuesday sentenced two defendants to death, including an Iranian being tried in absentia, after they were convicted o
Jul 21,2017
KUWAIT CITY — Kuwait on Thursday expelled Iranian diplomats and closed some embassy missions after the emirate's top court convicted a "terr
Jul 27,2016
KUWAIT CITY — A Kuwaiti court on Wednesday sentenced a Shiite lawmaker to 14 years and six months in absentia for remarks deemed highly offe
Newsletter
Get top stories and blog posts emailed to you each day.