You are here
Israeli authorities tell churches they do not seek to seize lands
By AFP - Oct 23,2018 - Last updated at Oct 23,2018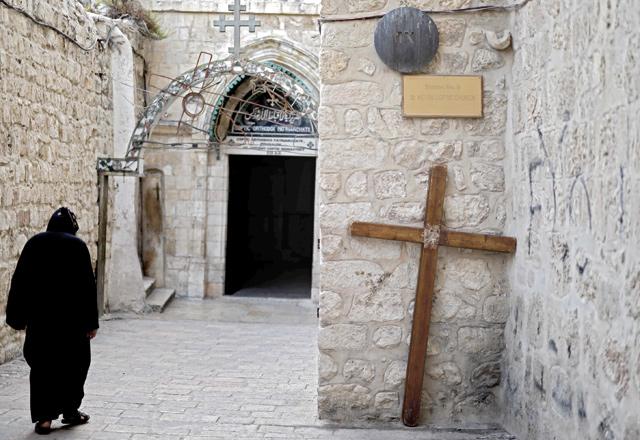 A Coptic Christian monk walks past a cross on the roof of the Church of the Holy Sepulchre in the occupied Jerusalem's Old City on Saturday (AFP photo)
OCCUPIED JERUSALEM — An Israeli official on Tuesday assured major churches in the occupied city of Jerusalem that the occupation authorities are not seeking to expropriate church properties.
An official statement said Regional Cooperation Minister Tzachi Hanegbi met leaders of the Armenian, Greek Orthodox and Roman Catholic churches in response to a letter they sent last week to Israeli Prime Minister Benjamin Netanyahu.
In it, the churchmen called to block the draft legislation aimed at expropriating church real estate and property.
Israelis "have no intention to confiscate church lands or to cause any economic damage to the churches," the English-language foreign ministry statement quoted Hanegbi as telling them at Tuesday's meeting.
Swathes of Jerusalem are held by various churches, in many cases under long-term leases.
In some cases the churches then sublet the properties on the commercial market.
The Israeli Knesset is currently working on a law that would allow the state to intervene in the resale of residential property leases to commercial property developers.
Christian religious leaders protested by closing the Church of the Holy Sepulchre, the site in occupied Jerusalem where Jesus is believed to have been crucified and buried.
Israeli authorities then froze the legislation, committing to a dialogue with the churches.
The churches appealed the draft bill when was placed on the agenda for an October 21 meeting of a government committee on pending legislation.
"We were astonished to realise that this disgraceful bill was listed on the agenda of the ministerial committee for legislation," they said.
The discussion was subsequently postponed for a week.
Listed as a bill for tenants' rights, the draft aims to safeguard residents of properties assigned to "various bodies" on 99-year leases during the 1950s.
It does not specifically mention church holdings.
"Minister Hanegbi reiterated that the Christian community is extremely important," Tuesday's statement said.
"Minister Hanegbi also stated that this is not a church-specific issue."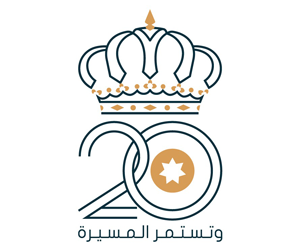 Newsletter
Get top stories and blog posts emailed to you each day.