You are here
Israel arrests 39 after clashes in Jerusalem and West Bank
By AFP - Sep 20,2015 - Last updated at Sep 20,2015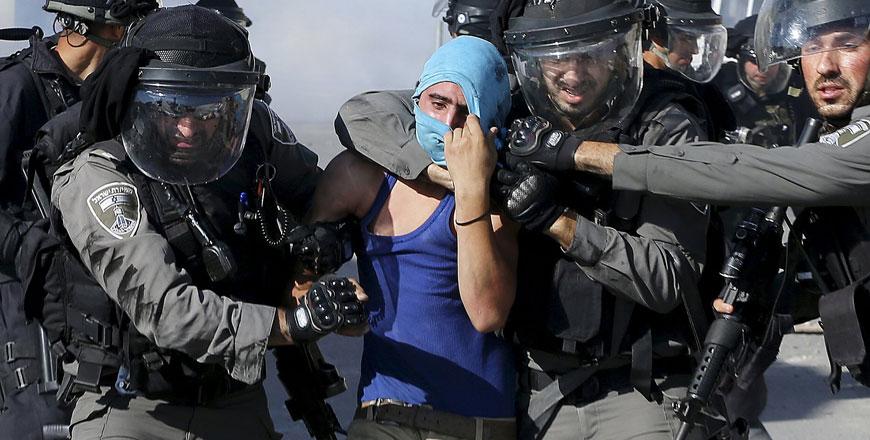 Israeli forces detain a Palestinian protester during clashes in Shuafat refugee camp, near Jerusalem, on Friday (Reuters photo)
OCCUPIED JERUSALEM — Israeli forces said Sunday they had arrested 39 Palestinians in the West Bank and East Jerusalem after days of protest and clashes over the flashpoint Al Aqsa Mosque compound.
Palestinians clashed Friday with Israeli security forces in Jerusalem and several cities in the occupied West Bank, in a "day of rage" to protest an increase in Jewish visitors to Islam's third-holiest site.
Jews visited the site in Jerusalem's Old City for the start of the Jewish new year last Sunday, sparking days of clashes between Muslims and Israeli forces on and near the plaza that houses the famous golden Dome of the Rock shrine and Al Aqsa Mosque.
The site is also the most sacred in Judaism, as it is believed to be the location of its first and second temples.
Israeli forces said they had arrested 12 Palestinians in the West Bank and 27 in occupied East Jerusalem over the previous two days for "disturbing the peace", "taking part in riots" and "throwing stones and Molotov cocktails".
Israeli Prime Minister Benjamin Netanyahu on Wednesday vowed "war" on stone throwers with tougher penalties and new rules for security forces on when to open fire.
On Sunday, calm had returned to the Al Aqsa compound, with 350 tourists and 150 Jews visiting the site.
A controversy has, meanwhile, been growing over the treatment by Palestinian police of protesters in the 17 per cent of the West Bank that they control, after a video was uploaded showing police beating a protester on Friday in Bethlehem.
The video shows half a dozen policemen beating and kicking a young man on the ground.
The Palestinian government said Friday it would open an investigation into the incident, with Prime Minister Rami Hamdallah calling it "an unacceptable act" and promising to "hold its perpetrators accountable".
A government source who spoke on condition of anonymity said that the video was "very damaging to the Palestinian Authority".
The authority is already under fire from the Islamist opposition and some in the Palestinian public for not having taken any measures against Israel in response to the recent increase in Jewish visitors to Al Aqsa site and Israeli forces entering the compound.
Related Articles
Apr 16,2014
Dozens of Palestinians were wounded in clashes with Israeli forces that erupted Wednesday when Jerusalem's flashpoint Al Aqsa Mosque compound was opened to Jewish visitors, an AFP correspondent said.
Apr 17,2014
Thousands of Jews prayed at the Western Wall in Jerusalem's Old City on Thursday, after a series of clashes at the adjacent flashpoint Al Aqsa Mosque compound.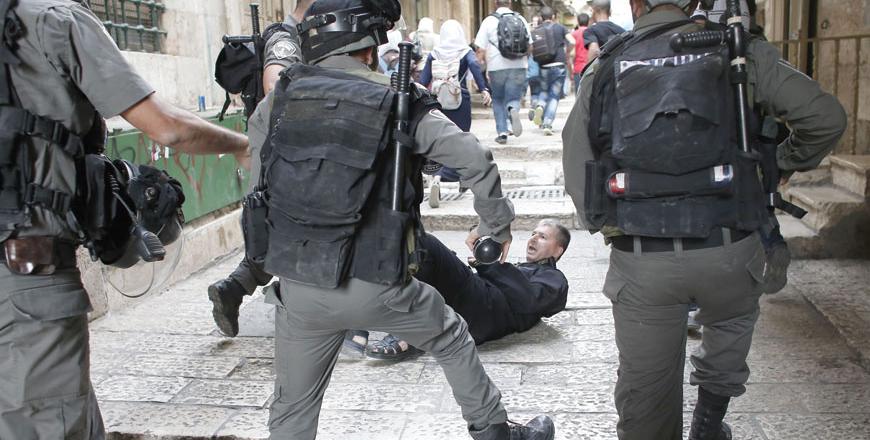 Sep 15,2015
OCCUPIED JERUSALEM — Palestinians and Israeli forces clashed at Jerusalem's flashpoint Al Aqsa Mosque compound for a second straight day Mon
Newsletter
Get top stories and blog posts emailed to you each day.