You are here
Israel to advance plans for nearly 4,000 settler units — official
Hebron is home to around 200,000 Palestinians, with about 800 settlers living under Israeli army protection
By AFP - Oct 10,2017 - Last updated at Oct 10,2017
This photo shows the Israeli settlement of Tal Rumeida (back right) near a Palestinian neighbourhood in the divided city of Hebron in the Israeli-occupied West Bank on Monday (AFP photo)
OCCUPIED JERUSALEM — Israel is to advance plans for nearly 4,000 settler units in the occupied West Bank as part of a push to greatly boost settlement growth, an Israeli official said on Tuesday.
The approvals are to include units in the flashpoint West Bank city of Hebron for the first time in years.
The official, speaking on condition of anonymity, said "3,736 housing units will be approved at different stages of planning and construction".
He did not give a timeframe or a precise breakdown, but said the units would be located throughout the West Bank, including in Hebron and at the Migron and Beit El settlements near Ramallah.
"In total, about 12,000 housing units will be approved in 2017, at various stages of planning and construction, four times the number in 2016," the official said.
Israel faced heavy criticism of settlement construction from US president Barack Obama's administration, but that has not been the case with his successor Donald Trump.
A US official said "while we are not going to respond to every announcement or report, our policy towards settlements remains unchanged".
"The administration has made clear that unrestrained settlement activity does not advance the prospect for peace. At the same time the administration recognises that past demands for a settlement freeze have not helped advance peace talks."
Israeli media say that a planning council is expected to meet next week to approve at least some of the plans.
The Peace Now NGO, which closely monitors settlement construction, said the meeting is likely to be Tuesday or Wednesday, with at least 2,156 units on the agenda.
It said that if the Hebron housing is approved it would be the first time for the southern West Bank city since 2002.
Netanyahu under pressure
Hebron is home to around 200,000 Palestinians, with about 800 settlers living under Israeli army protection in several heavily fortified compounds in the heart of the city.
It is holy to both religions, with Old Testament figures including Abraham believed to be buried there.
The 1994 massacre of 29 Muslim worshippers in Hebron by Israeli-American Baruch Goldstein led to an agreement three years later giving the Palestinian Authority control over 80 per cent of the city.
The settlers and about 30,000 Palestinians living adjacent to them fall under Israeli military rule.
Last month, Israel gave the settlers there the authority to manage their own municipal affairs in what critics denounced as reminiscent of "apartheid".
About 430,000 Israeli settlers live among 2.6 million Palestinians in the West Bank, occupied by Israel in the 1967 June War.
Settlement units building in the occupied West Bank and annexed East Jerusalem is considered illegal under international law.
It is also seen as a major obstacle to peace as the settlements are built on land the Palestinians see as part of their future state.
Israeli Prime Minister Benjamin Netanyahu's right-wing coalition government leans heavily on settlers and their supporters to maintain its thin parliamentary majority.
Netanyahu is also facing a graft probe that could potentially force him from office and has sought to rally his right-wing base behind him.
"We are afraid that, as Netanyahu gets more and more under pressure from the investigations and from his coalition, he is going to approve more and more plans," said Peace Now's Hagit Ofran.
However, settler leaders view the new plans with scepticism, saying they want to see construction move ahead.
"Announcements are nice, but bricks and mortar are what is needed," Oded Revivi of the Yesha Council settlers' organisation said in a statement.
Related Articles
Oct 19,2017
OCCUPIED JERUSALEM — Israeli authorities advanced plans on Tuesday for 1,292 settler units in a new push by Prime Minister Benjamin Netanyah
Jul 30,2015
OCCUPIED JERUSALEM — Israeli Prime Minister Benjamin Netanyahu on Wednesday approved the "immediate" construction of 300 settler units in th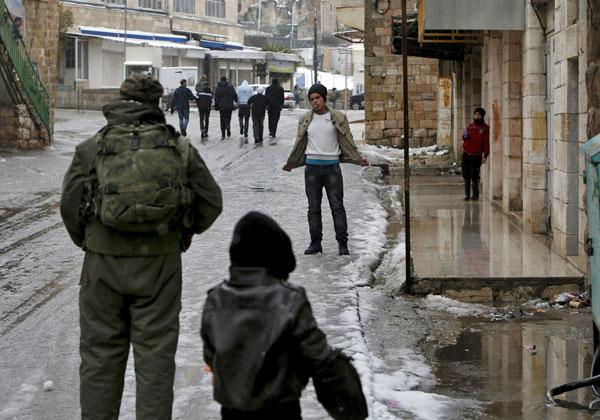 Jan 26,2016
OCCUPIED JERUSALEM — Israel's defence ministry has approved plans to build 153 new settler units in the occupied West Bank, a spokeswom
Newsletter
Get top stories and blog posts emailed to you each day.