You are here
Iraqi president expects US-led coalition air strikes on Tikrit soon
By Reuters - Mar 25,2015 - Last updated at Mar 25,2015
BAGHDAD — Iraqi President Fouad Massoum said on Wednesday that the US-led coalition would soon carry out air strikes against Daesh terror group in the Sunni city of Tikrit, after starting aerial reconnaissance flights this week.
A three-week offensive by Iraqi government forces and Iranian-backed Shiite paramilitaries has failed to flush out Daesh fighters from Tikrit, the birthplace of former leader Saddam Hussein.
"Since yesterday, aerial support and reconnaissance flights started in Tikrit. They first begin with reconnaissance missions; then they compile the aerial reports; and afterwards the aerial [strike] operations start," Massoum told Reuters in an interview at the presidential palace in Baghdad.
Iraqi military commanders had asked for air strikes, while the Iranian-backed Shiite militias had publicly rejected the US role in the campaign to retake the jihadist bastion.
Faced with the deadlock, the Iraqi government had called a halt to most operations a week ago, citing concerns about civilian and military casualties.
But Massoum made clear that the Iraqi government had decided to ask for the US-led alliance's air support in the battle despite the strong aversion of Shiite paramilitary leaders, who boast the strongest fighting force in the war against the militant Daesh.
"The Iraqi government along with residents of the area wanted an active contribution from the international coalition... The Iraqi government alone decides and no other force decides," Massoum, a veteran Kurdish politician who became Iraq's president last summer, said.
Upon being informed of Massoum's comment, Shiite paramilitary commander Hadi Al Amiri, one of the most powerful men in the country, who enjoys close ties with Iran, told reporters in Samarra, north of Baghdad, that he had no knowledge of the decision and had not been consulted.
"If we need air strikes, we will tell our government... up until now, we don't," he said.
For his part, Massoum alluded to the United States' previous reluctance to participate in battles alongside Iranian-supported Shiite armed factions and their Iranian advisers.
"If there were any kind of hesitation in the position of the coalition to support the [Iraqi] army and volunteers in Tikrit, it seems now that this sensitivity has ended," Massoum said.
"Of course, the participation of the coalition will have an impact."
The start of air strikes would mark the first active participation by the US military and Iranian advisors in the same battle space since US air strikes were carried out last August to help liberate the Shiite Turkmen town of Amerli.
Massoum said the country was not beholden to Iran despite its neighbour's substantial contribution of weapons and advisers since Daesh seized large parts of northern and western Iraq last year, imperiling Baghdad.
"Iran has provided military and humanitarian help to Iraq from the first day... [But] they have no right to object to any Iraqi decision," Massoum said.
The president stressed that Iraq was seeking a balance among its Iranian, Western and Arab states participating in the fight against Daesh, which aims to create a modern-day "Islamic caliphate" imposing a militant form of Islamic law across the Middle East.
"The coordination of the Iranians is not at the expense of Iraq's independence and sovereignty. The same applies with our coordination with the coalition countries," Massoum said.
The president said the timing of the air strikes would be determined by Iraqi and coalition military experts.
"The experts decide whether this needs one week, less or more," Massoum told Reuters.
He emphasised that the strikes would avoid targeting civilian populations despite what he called Daesh's attempts to use civilians as human shields.
He said the coalition air strikes would clearly target Daesh's fighting positions.
The president said the security forces and other fighters were working hard to avoid any human rights violations.
Sunnis had accused Shiite paramilitary fighters of carrying out executions and burning houses during previous campaigns to expel Daesh from Sunni areas.
Massoum said those violations were isolated and not widespread; but, despite Iraq's best efforts, he said he could not rule out the possibility of new incidents during the Tikrit campaign.
Massoum added that Iraq was looking at western Anbar province as its next military battle before attempting to retake the north's largest city Mosul, which Daesh seized last June as it swept across Sunni parts of Iraq.
Massoum said he was worried that the battle for Mosul would displace hundreds of thousands of Iraqis, exacerbating an already dire refugee crisis that has seen more than 2 million people displaced since last year.
The president said Iraq was weighing calling an international donor conference to help it deal with its refugee problem.
Related Articles
Mar 29,2015
Iraqi security forces battled Daesh militants in central Tikrit on Sunday as the United States and its allies provided aerial support and local officials warned that the battle to retake the Sunni Muslim city would not be quick.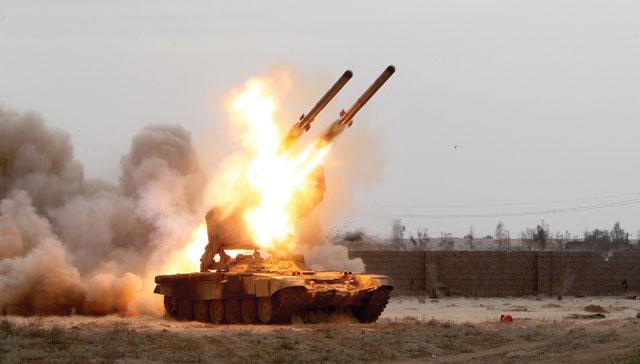 Mar 28,2015
Retaking the city of Tikrit, where Daesh militants have rigged streets and buildings with explosives, will require "major sacrifices" on the part of Iraqi forces, a senior intelligence officer said Saturday.
Mar 24,2015
Washington is providing reconnaissance support for Iraqi forces fighting to retake Tikrit from Daesh terror group, an official said Tuesday, the first confirmation of American involvement in the operation.
Newsletter
Get top stories and blog posts emailed to you each day.