You are here
Iraqi Kurds pressure Baghdad with referendum bid
By AFP - Sep 19,2017 - Last updated at Sep 19,2017
Kirkuk's provincial governor Najim Al Din Karim (3rd-right), who was sacked by the Iraqi parliament the previous week, attends a rally in support of the upcoming independence referendum in Kirkuk on Tuesday (AFP photo)
ERBIL, Iraq — An Iraqi Kurdish plan to hold a September 25 independence referendum, which has hit a legal roadblock with just a week to go, is more of a tool to pressure Baghdad than a step towards actual secession, observers say.
Iraqi Kurdish leader Massud Barzani announced the referendum in June and has stuck to his course despite strong opposition from regional powers, the Kurds' international backers and the central government in Baghdad, which considers it unconstitutional.
On Monday, the supreme court in Baghdad stepped in at the request of lawmakers including Prime Minister Haider Al Abadi. It ordered a suspension until judges determine whether the poll violates the constitution.
There was no immediate reaction from Barzani's Kurdish Regional Government (KRG), but streets in the northern region's capital of Erbil remain festooned with red, white and green Kurdish flags and huge crowds have gathered at rallies to support the vote.
The result seems a foregone conclusion. The Kurds — more than 30 million people spread across Iraq, Turkey, Iran and Syria — have long sought their own state.
But with the United States and United Nations opposing the vote along with Baghdad, Turkey and Iran, the Kurds' chances of actually gaining independence are slim.
Instead, observers say, Barzani is using the referendum as leverage in the KRG's longstanding disputes with federal authorities.
He is hoping the referendum will deliver "wide-ranging benefits" on issues including oil exports, budget payments and control of ethnically divided areas, Karim Pakzad of the Paris-based Institute for International and Strategic Affairs told AFP.
He said the Kurdish leader wants to pressure Baghdad to resume paying the cash-strapped Kurdish region its share of the national budget, long blocked over the autonomous region's unilateral oil sales.
Barzani is aiming to win "a greater political and economic role and recognition of the Kurds' right to exploit and export oil from the north", Pakzad added.
The other key bone of contention is control of areas with mixed populations of Kurds, Arabs and other groups.
The KRG has already expanded the territory it effectively controls and its peshmerga forces have seized areas outside its borders from the extremists of the Daesh terror group.
But some observers are warning that Barzani's power play is a dangerous gamble, raising the threat of sectarian clashes.
The oil-rich province of Kirkuk in particular has become a tinderbox.
Home to numerous minorities, it voted in August to take part in the referendum in defiance of Baghdad.
The government responded by sacking Kirkuk's Kurdish governor, who has refused to leave his post. Rival communities are reportedly stockpiling arms in anticipation of clashes.
Hadi Al Ameri, head of the powerful Iranian-backed Badr organisation, has vowed to defend the unity of Iraq, warning that the poll could trigger partition and civil war.
Pressure has mounted to delay the vote, with Washington urging the KRG to resolve its differences with Baghdad without dividing Iraq.
Washington argues that the vote will weaken Arab-Kurdish joint military operations which have helped send Daesh into retreat in both Iraq and neighbouring Syria.
The US and other Western nations support a UN-backed alternative plan for immediate talks on future relations, providing the referendum is dropped.
Turnout is real test
Turkey, worried that the poll will stir separatist ambitions among its own Kurdish minority, has threatened Kurdistan it will pay "a price" in the event of a "yes" vote.
The autonomous region's economy is heavily dependent on oil exports via a pipeline through Turkey to the Mediterranean.
Israel is alone in openly supporting Kurdish independence.
KRG officials have sought to downplay concerns, with the Iraqi Kurdish envoy to Iran Nazem Dabbagh saying in July the referendum was more about "solving problems with Iraq" than breaking away.
Barzani has said a "yes" vote would not lead to a unilateral declaration of independence but rather kick-start "serious discussions" with Baghdad.
Some believe the vote is also designed to help Barzani stay in power, two years after his mandate as president expired.
Kurdish officials have said the real test in the referendum will not be the result itself but the level of participation. Anything less than 70 per cent would be a failure, they said.
Some Iraqi Kurds oppose the vote, especially among Barzani's political rivals.
Rebwar Khudar of the KRG's Jamaa Islamiya opposition movement said the referendum was premature.
"Before the referendum, we must put our Kurdish internal affairs in order and hold a real dialogue with our neighbouring countries so they will support us," he said.
But in Erbil, many relish the chance to finally vote for their independence.
Berwar Aziz, 23, flashed a wide smile in the shop where he sells scarves near in the city's famed citadel.
"I will vote 'yes' with all 10 fingers," he said.
Related Articles
Jun 07,2017
ERBIL, Iraq — Iraq's autonomous Kurdish region on Wednesday announced it would hold a referendum on independence, in a move the central gove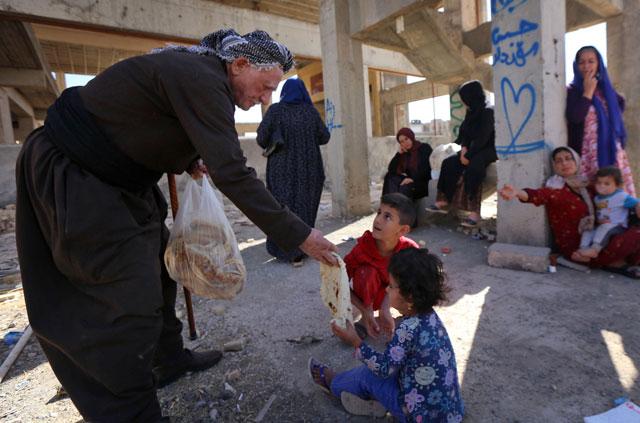 Oct 19,2017
ERBIL, Iraq/BAGHDAD — About 100,000 Kurds have fled the Kirkuk region for fear of persecution since Iraqi armed forces retook disputed terri
Oct 29,2017
ERBIL/BAGHDAD Iraq — Iraqi Kurdish leader Masoud Barzani informed the region's parliament on Sunday that he would give up his position as pr
Newsletter
Get top stories and blog posts emailed to you each day.