You are here
Iraq hands over to Russia four women, 27 children linked to Daesh
By Thomson Reuters Foundation - Feb 22,2018 - Last updated at Feb 22,2018
ERBIL, Iraq — Iraq has handed over to Russia four women and 27 children suspected of having ties to the Daesh militant group, local television broadcaster Al Sumaria quoted the foreign ministry as saying on Thursday.
Iraq is currently conducting the trials of hundreds of foreign women who have been detained, along with hundreds of their children, since August by Iraqi forces as Daesh strongholds crumbled.
"Iraq has returned to Russia 27 children and 4 women who were tricked into joining Daesh," the ministry spokesman told reporters.
The women and children were investigated by authorities who concluded that they did not participate in "terrorist operations against civilians and Iraqi security forces", the spokesman said, adding that "they will be prosecuted in Russia for entering Iraq illegally".
Thousands of foreigners fought on behalf of Daesh in Iraq and Syria since at least 2014. Many foreign women came — or were brought — from overseas to join the militants.
More than 1,300 women and children surrendered to Kurdish peshmerga in August, after government forces expelled the extremist group from the northern Iraqi city of Tal Afar. Their numbers swelled to about 1,700 as more foreign nationals surrendered or were captured during operations to root out the militants, according to aid officials.
Iraq declared victory over the militant group in December, and has since begun prosecutions of foreign militants and their families, who are seen as having colluded with Daesh. According to Iraq's counterterrorism law, aiding or belonging to Daesh carries the penalty of life in prison or death.
Since January, the Baghdad Criminal Court has sentenced two women to death for their membership to the Daesh group: A German woman and a Turkish woman. The same court on Sunday also sentenced nine Turkish women and one Azeri woman to life in prison. All verdicts can be appealed
Related Articles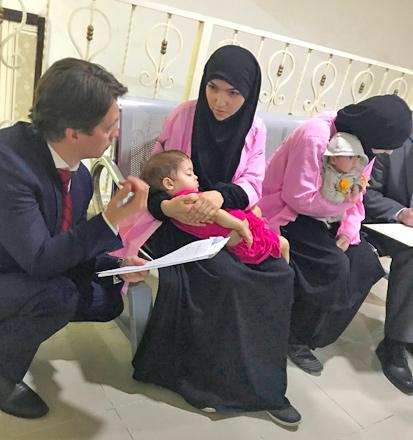 Apr 17,2018
BAGHDAD, Iraq — Iraq on Tuesday sentenced a French woman to life in prison for belonging to the Daesh group, raising to more than 180 the nu
Sep 10,2017
SOUTH OF MOSUL, Iraq — Iraqi authorities are holding 1,400 foreign wives and children of suspected Daesh militants in a camp after governmen
Dec 28,2017
PARIS — Three French-born children belonging to suspected Daesh terror group militants and who were being held by Iraqi authorities have bee
Newsletter
Get top stories and blog posts emailed to you each day.