You are here
Iraq's civilian death toll drops by nearly 80 per cent — reports
By Agencies - Jun 10,2018 - Last updated at Jun 10,2018
People inspect a debris removal after an explosion near a mosque in Baghdad's Sadr City district, Iraq, on June 07 (Anadolu Agency photo)
Baghdad/KIRKUK/BAQUBA — The number of Iraqi civilians killed in acts of violence since the beginning of the year has significantly dropped, largely due to defeat of the Daesh militant group, United Nations and a monitor have said, according to Agence France-Presse.
On Saturday, however, at least one person was killed and 8 were wounded after a bomb went off in Iraq's Diyala province, according to security sources and reported by Reuters.
Reports released this week by the United Nations Assistance Mission for Iraq (UNAMI) and the Iraq Body Count database there was an 80 per cent drop in civilian deaths in the first five months of 2018 compared to the same period last year, Agence France-Presse reported.
UNAMI said 477 Iraqis were killed in acts of violence since the beginning of the year compared to 2,014 in the first five months of 2017, a drop of 76.3 per cent.
The number of wounded during the same period dropped from 2,977 to 939, a decrease of 68.4 per cent, it said.
The London-based Iraq Body Count, which tracks violent deaths in the country, gave similar figures.
The number of civilian deaths from political and religious violence dropped from 7,708 in the first five months of 2017 to 1,818 during the same period in 2018 — a decrease of 76.4 per cent, according to Agence France-Presse.
On Friday, at least one person was killed and 14 people were wounded when an improvised explosive device went off in the ethnically-mixed Iraqi oil city of Kirkuk, security and medical sources said late on Friday, according to Reuters.
The bomb exploded in a crowded market area in the evening, a peak time for shopping during the Muslim fasting month of Ramadan. A second explosive device went off in another area of the city but caused no casualties, the sources said, as reported by Reuters.
There was no immediate comment or official statement from Iraq's security forces. Qatari-owned Al Jazeera and Saudi-owned Al Arabiya both reported seven people were killed.
Tensions are high in Kirkuk, where the results of a parliamentary election in May are being disputed by the Turkmen and Arab communities after a Kurdish party appeared to have won.
In October, Iraqi forces backed by Shiite militias dislodged Kurdish Peshmerga fighters who had taken control of Kirkuk city in 2014. The Kurdish Peshmerga move had prevented the city's capture by Daesh militants who had overrun Iraqi army positions in northern and western Iraq.
The central government recaptured the city and its oilfields along with other areas in northern Iraq claimed by both Baghdad and the Kurds following an offensive launched in retaliation for a Kurdish independence referendum.
The return of the Iraqi army to Kirkuk was greeted with relief by the Arab and Turkmen populations there but the city's Kurds accuse Iraqi government forces and Shiite militias of violations.
Daesh militants have also carried out attacks in the city as well as other parts of Iraq in recent weeks and months.
Iraq declared victory over Daesh in December. But security officials have said the hardline militant group is likely to wage an insurgency in Iraq after its self-proclaimed caliphate collapsed and the militants were dislodged from all the territory they held in the country.
Related Articles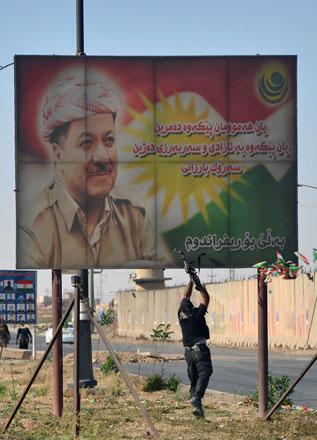 Oct 16,2017
BAGHDAD/KIRKUK — Iraqi government forces captured the Kurdish-held city of Kirkuk on Monday, responding to a Kurdish vote on independence wi
Jul 31,2016
KIRKUK, Iraq — Militants assaulted a gas facility and a nearby oil field in north Iraq on Sunday, killing five people in rare attacks inside
Aug 22,2016
KIRKUK, Iraq — Iraqi security forces apprehended a teenager wearing a suicide belt before he was able to detonate it in the city of Kirkuk,
Newsletter
Get top stories and blog posts emailed to you each day.