You are here
Iranian navy endangering international navigation in Gulf — US commanders
By Reuters - Mar 22,2017 - Last updated at Mar 22,2017
ABOARD THE USS GEORGE H.W. BUSH — US Navy commanders accused Iran of jeopardising international navigation by "harassing" warships passing through the Strait of Hormuz and said future incidents could result in miscalculation and lead to an armed clash.
They spoke after the US aircraft carrier George H.W. Bush confronted what one of the commanding officers described as two sets of Iranian Navy fast-attack boats that had approached a US-led, five-vessel flotilla as it entered the strait on Tuesday on a journey from the Indian Ocean into the Gulf.
It was the first time a US carrier entered the narrow waterway, where up to 30 per cent of global oil exports pass annually, since President Donald Trump took office in January pledging a tougher US stance towards Iran.
US commanders said Tuesday's incident, in which the George H.W. Bush sent helicopter gunships to hover over the Iranian speedboats as some came as close as 870 metres away from the aircraft carrier, ended without a shot being fired.
But it underscored growing tension between the United States and Iran since the election of Trump, who has condemned the 2015 nuclear deal that his predecessor Barack Obama and leaders of five other world powers struck with Tehran and labelled the Islamic Republic "the number one terrorist state".
The encounter with Iranian Navy boats occurred as the USS George H.W. Bush was en route to the northern part of the Gulf to participate in US-led air strikes against Daesh militants in Iraq and Syria.
"What I don't like about that is they [Iranian boats] were in the middle of international transit waters [while] we had a right to be there as we were exercising freedom of navigation on our way into the Arabian Gulf," Rear Admiral Kenneth Whitesell, commander of the Carrier Strike Group 2, told journalists aboard the aircraft carrier.
"They also had weapons uncovered as some of the cameras were able to tell. They had some of the weapons manned. We also have aerial data that they were arming all of these weapons."
Territorial waters or not?
Whitesell said Iran's position was that the US-led flotilla, which included a Danish frigate and a French destroyer, had breached its territorial waters, which he denied.
There was no immediate comment from Tehran.
In another incident, Iran's Revolutionary Guards said a US Navy ship changed course towards Iranian vessels in the Strait of Hormuz on March 4 and accused Washington of "unprofessional actions...[that] can have irreversible consequences".
A US official told Reuters on March 6 that multiple fast-attack vessels from the Revolutionary Guards had come within 550 metres of the USNS Invincible, a tracking ship, forcing it to change direction.
Years of mutual animosity eased when Washington lifted sanctions on Tehran last year after the deal to curb Iran's nuclear ambitions. But strong differences remain over Iran's ballistic missile programme and conflicts in Syria and Iraq.
Captain Will Pennington, commanding officer of the George H.W. Bush, told Reuters that the behaviour of the Iranian navy had become "more aggressive and less predictable".
He added, "[They have] every right to come out and see who we are and query what our intentions are...It is the method with which they do that which is unprofessional and adds greater risk to miscalculation in our need to manoeuvre the ship, and often presents a risk to the merchant traffic that's around us."
Pennington accused the Iranian Navy of threatening one of the helicopters that flew over the Iranian boats as they approached the flotilla, sometimes at high speed.
"I would say that approaching at a high rate of speed while loading your weapon and while essentially threatening a helicopter that is part of our group while we are behaving completely in line with international law..., I wouldn't call it a grave threat, that would be an overstatement, but it is certainly unprofessional behaviour," he said.
The last serious naval incident was in January when a US destroyer fired three warning shots at four Iranian fast-attack vessels near the strait after they closed in at high speed and disregarded repeated requests to slow down.
While still a presidential candidate in September, Trump vowed that any Iranian vessels that harassed the US Navy in the Gulf would be "shot out of the water".
Related Articles
Dec 30,2015
DUBAI — The US on Wednesday accused Iran of launching a "highly provocative" rocket test last week near its warships and commercial traffic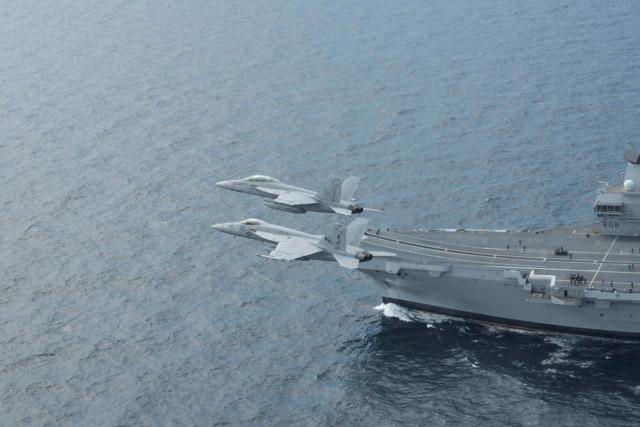 Aug 08,2017
WASHINGTON — An unarmed Iranian drone came within 31 metres of a US navy warplane as it prepared to land on an aircraft carrier in the Gulf,
Newsletter
Get top stories and blog posts emailed to you each day.