You are here
Iran's president threatens response to new US sanctions
By AFP - Jul 19,2017 - Last updated at Jul 19,2017
A handout photo provided by the office of Iranian President Hassan Rouhani on Wednesday shows him chairing a Cabinet meeting in Tehran (AFP photo)
TEHRAN — Iranian President Hassan Rouhani said on Wednesday that Tehran would "respond appropriately" to new US sanctions but that Iran remained committed to its nuclear deal with world powers.
"The Islamic Republic of Iran will always stick to its international commitments," Rouhani said in a televised Cabinet meeting.
But if the US wants "to press forward with new sanctions under any pretext... the great nation of Iran will respond appropriately", he said.
"We will not forgive violations by the Americans and we will stand against them."
His comments came a day after the US and Iran traded tit-for-tat sanctions over the Islamic republic's ballistic missile programme.
The State Department slapped sanctions on 18 individuals and entities in Iran, hours after the White House admitted Tehran was adhering to the 2015 agreement.
Iran hit back with its own sanctions against "American people and entities that have acted against the Iranian people and other Muslim peoples of the region."
Rouhani on Wednesday accused Washington of "duplicity".
"On one hand they send official reports to Congress verifying that Iran has been completely loyal to the nuclear deal," Rouhani said.
"On other hand they seek new sanctions under various excuses against logic [and] the spirit and text of the accord, "he said.
Missile funding
Iran's parliament on Tuesday voted to streamline a bill that would increase funding for the country's missile programme and Revolutionary Guards in response to Washington's "adventurism" in the region.
An overwhelming majority of lawmakers voted to prioritise the motion that would see an additional $260 million allocated to the missile programme and the same amount to the elite Revolutionary Guards' foreign operations wing, the Quds Force.
Rouhani accused his American counterpart Donald Trump of breaking international deals signed by his predecessor Barack Obama on Cuba, North Korea and climate change.
The Iranian president said Washington was pushing Iran to "abandon its commitments" and that the US was "worried over improved economic relations between Iran and Asia and Europe".
"We are happy that so far the 5+1 [world powers] have stood strongly to protect the nuclear deal, "he said.
Later in the day, Revolutionary Guards chief Mohammad Ali Jafari warned the US of Iran's growing power.
"Iran's missile power is advancing at a great speed in air, land and sea and this is a cornerstone of our policy," he said in comments on the force's Sepahnews website.
Before imposing "sanctions on defence and the Revolutionary Guards", the US should close its bases within 1,000 kilometres of Iran, he added.
Iran's Gulf Arab neighbours to the west and Afghanistan to the east host several major US military bases.
Jafari warned US "miscalculation" could have a "high cost".
"The domain of the Islamic revolution's influence has expanded so much that Iran is active close to American interests in many parts of the world, "he said.
Such influence, he added, is partly the result of Iran's military strength and "the roar of the missiles".
Related Articles
Nov 26,2017
LONDON — The deputy head of Iran's Revolutionary Guards warned Europe that if it threatens Tehran, the guards will increase the range of mis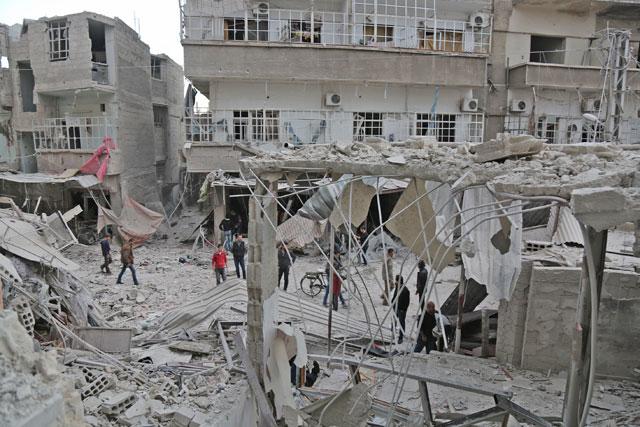 Nov 23,2017
ANKARA — Iran's Revolutionary Guards are ready to help rebuild Syria and bring about a lasting "ceasefire" there, chief commander Mohammad A
Aug 24,2014
Iran's elite Revolutionary Guards said Sunday its forces shot down an Israeli drone as it approached an Iranian nuclear site, recovering major parts of what it described as an advanced aircraft. Israeli officials could not be immediately reached for comment.
Newsletter
Get top stories and blog posts emailed to you each day.